Have a coffee with Manuel Bostanci
1. How do you drink your coffee?
Even after ten years at jambit, I only drink one coffee a day – with a lot of milk foam!
2. What has been your most exciting project at jambit so far?
I can think of two favorite projects that were exciting in a different way.
The SZ Digital project of Süddeutsche Zeitung scores with the biggest reach. On my way to the office, I saw people reading the digital newspaper in the subway. So I could practically follow my work live. That was really cool.
A second project that sticks in my mind was for an insurance company. Together with other team members, I developed an app for insurance agents. The goal was to create rankings showing the performance of the agents on a weekly and monthly basis. This feature alone increased efficiency on the client's side enormously. Incredibly, the previous process to get a ranking took over three hours and consisted of numerous, cumbersome steps. Within four months, three of us reduced the entire process to just one click. A clear data presentation was also included. Our client was very impressed!
3. What has gone wrong in your career so far that you can laugh about now?
In the enthusiasm of youth, shortly after my vocational training, I filled in the jambit sales CV and called myself a CSS guru. Unfortunately, that didn't go down so well with the client during the job interview. They were quite surprised. The "guru" sitting across from them was only eighteen years old at the time. Fortunately, they signed me on anyway and I was allowed to work on the project for two years. The story developed into a running gag and in the end, everyone could laugh about it.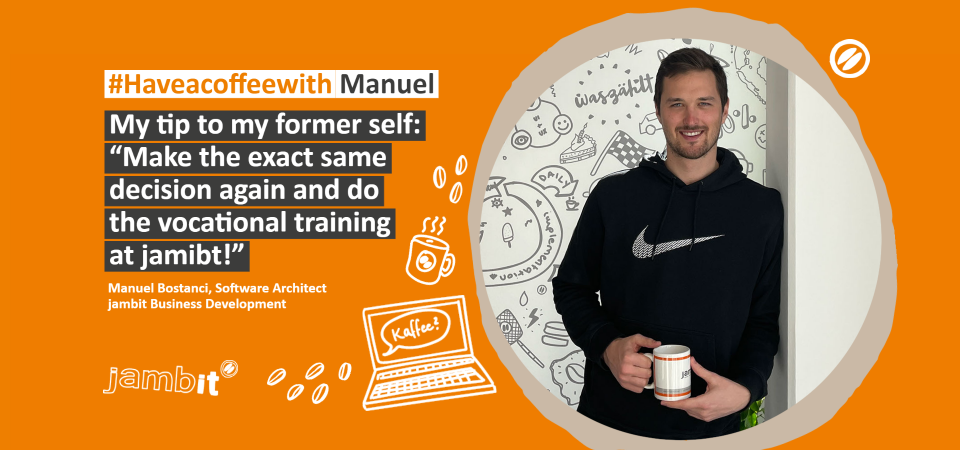 4. Which tip would you give your former self?
"Make the exact same decision again and do the vocational training at jamibt!" A few years ago, I was accepted for the vocational training at jambit and for the sports test at the police at the same time. Of course, I sometimes ask myself: what if I had taken a different path back then? But in the end, I'm very happy about how things turned out. I also have no regrets about my decision to do the training first and to study afterwards. I already knew many of the topics in my studies from practical experience, which made it easier for me than for my fellow students.
5. What do you think will be a big tech trend in the next few years?
Next to Test Driven Development (TDD) we will see: Dog Driven Development (DDD)! I expect many office dogs at jambit in the future. The four-legged friends are now officially allowed to come to the office bringing a good mood with them – if it's okay for the rest of your team. I am very happy about that! I am currently adopting a puppy myself – a sweet Labrador lady from southern Italy, who will accompany me to work in the future.
6. What is your "most unpopular tech opinion"?
That's an easy one: IntelliJ request files are better than Postman. They make the process much easier and faster. Unlike Postman collections, request files can be versioned very easily. I think many people just don't know about the IntelliJ plug-in yet. But don't worry, I will introduce that in a Toilet Paper soon to convice everyone.
7. Which advice would you give to future jambitees?
I can only recommend our jambit recreational groups to everyone! I am especially happy about new members in the basketball and motorcycle group. I am a very active member myself. By the way, I am always happy about visitors in my office – on the sixth floor at the very back! Just drop by for a cup of coffee or bring some cake on your first day, I'd love that.