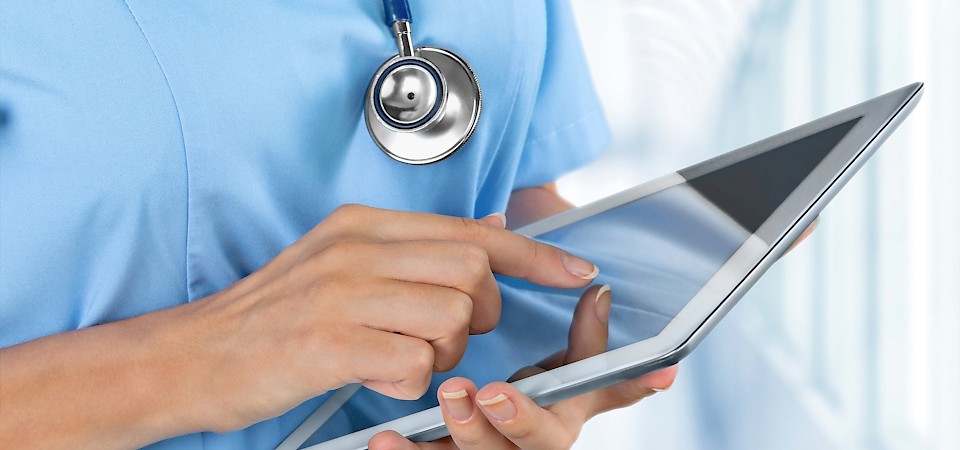 Trends in the Health Sector:
eHealth, vital data tracking, telemedicine & Co.
The rise in health consciousness, the ageing population and advances in medical technology are major drivers of growth in the health sector. The secondary healthcare market is booming, in particular the wide variety of self-funded health services from areas such as sport, wellness, nutrition and tourism. The willingness to pay for these services is high, as long as they represent genuine added value for the consumer.
In the digital age, added value is provided primarily by eHealth services. The demand is high for mobile health apps, such as diet or fitness apps, web-based health portals with digital information and consultancy, or intelligent assistance and emergency call systems and IT-supported living technology for the elderly.
The tracking of vital data via mobile measuring devices, smartphones or wearables, such as fitness wristbands, is also enjoying increasing popularity. Countless users are already tracking their exercise data and body parameters during sport and leisure time. But the tracking of vital data can also enrich patients and doctors in the primary healthcare industry: real-time monitoring and the digital transmission of, for example, the blood sugar level or heart rate, are opening up completely new possibilities of monitoring and diagnosis.
In addition, modern telemedicine makes the professional remote monitoring and treatment of patients possible. Due to technological progress, it is increasingly becoming an integral part of the healthcare system.
Electronic patient files, innovative IT-supported medical technology or surgery and hospital apps for organisational matters are contributing to improved medical care and cost-efficiency – two of the greatest challenges of the healthcare sector.
Innovative software applications and powerful IT infrastructures which provide maximum data security are indispensable in the course of the digitalisation of the healthcare sector.
Our competences:
Health apps, web portals, assistance systems & more.
Entertainment and health applications are increasingly merging – this is why cross-sector knowledge, in particular, is required, as well as an understanding of the health sector. jambit's many years of experience in a wide variety of sectors and projects, combined with the latest technological knowledge, makes jambit the perfect partner for companies and institutions from the primary and secondary healthcare market. Traditional and agile methods of software development and project management guarantee the highest level of quality and flexibility – from the generation of ideas to their realisation and maintenance.
The main focus of our work is on the following areas:
Health app development: Native (Android, iOS, Windows Phone), HTML5, Hybrid
Development of interactive web portals interaktiver Webportale
UI/UX design for apps and web portals
Development of intelligent assistance systems and Smart Home applications
Development of realtime applications and embedded systems
Connectivity of medical technology products and PDMS systems
Back-end development: Cloud solutions (PaaS, IaaS, hybrid), Big Data infrastructures
Operations and maintenance of IT solutions
Project management / project controlling