Individual Perspectives
80% of all jambitees are software architects and software engineers. We believe that project leaders should have a technical background and therefore always fill these roles from our developer base. This is not a one-way street however, as in different projects you can easily switch between different roles with more or less coding or organizational responsibility. If you have already found your favorite stack, you can develop it with us as an expert. Or you can simply remain a flexible all-rounder with broad experiences: This allows you to adapt quickly to the newest developments and cutting-edge technologies, always staying up-to-date in the fast moving IT world, recognizing and using cross-links.
Our clients are loyal to us, and so it could well be the case that you are involved in a continually developing project for many years. We do, however, actively promote project and departmental changes, so that our employees stay technically and methodologically fit and network with the entire company. At least twice a year, in talks with your supervisor, you will discuss your talents and preferences. It is really important for us to tailor your professional development and project appointments according to your competences and wishes.
In addition to project work, there are numerous opportunities for further personal development. You can for example:
share your knowledge with colleagues and clients as a trainer, referee or author of whitepapers
help your colleagues with their questions in specialized "Communities of Practice (CoP)"
choose the best new jambitees as a "candidate interviewer"
take on responsibility for our apprentices as IT specialists or our working students.
Should you actually need an important qualification or academic degree, we will happily encourage your further vocational education. In particular roles, which we adapt to our needs consistent with the growth of jambit, you will gain your individual personal profile.
Learn more about the staffing of software development projects at jambit!
Continuing Professional Development and Knowledge Management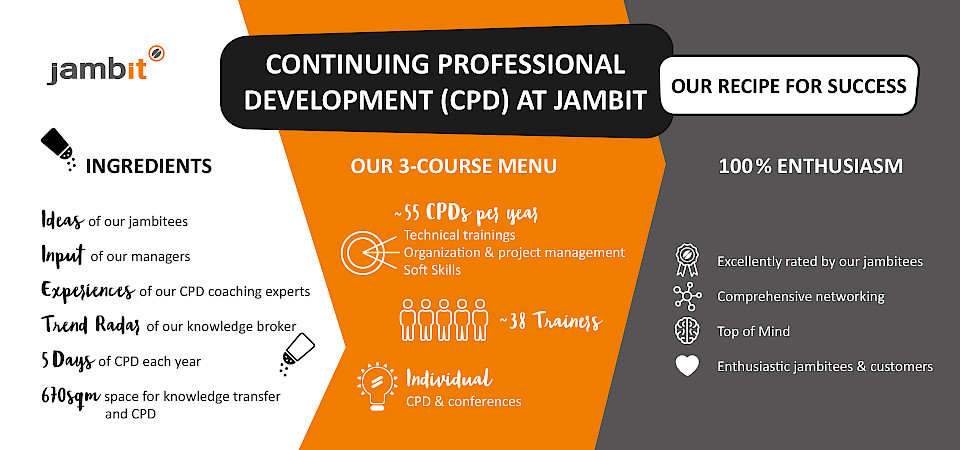 We want to fully utilize the potential of our employees and therefore offer various and individual opportunities for continuing professional development (CPD). We promote the personal and professional development of our employees through CPD courses, workshops and conferences on technological topics, but also on methodological competences in project management, communication and further soft skills. To encourage this, each employee has five days of CPD per year.
Because we believe that the network between colleagues is best cultivated through joint activities, we generally organize CPD courses in-house and offer a new, comprehensive portfolio with current topics each year. As part of their biannual meetings, supervisors and employees jointly develop an individual career strategy and choose the most appropriate CPD activities for achieving the set goals. Even visiting relevant conferences and fairs in Germany and abroad or participating in individual external CPD courses is a possibility. Individual contributions to conferences and other publications are encouraged.
For knowledge sharing between jambitees, additional internal CPD sessions take place regularly. Every three months, we invite all jambitees as well as selected external guests to our CoffeeTalks afternoon. Current issues from daily project work can be discussed in our Communities of Practice. Completed projects and Lessons Learned are presented and discussed at employee meetings, short presentations and evening events. This way, we foster a know-how pool, which adds value to our client projects.
Our library ensures a sustainable database of knowledge, and all employees can order specialist books and magazines for it. Furthermore, our "Tech Scout" and our "Innovation Scout" filter the information jungle and gather important pieces of information and trends for the other jambitees in their blogs.
More about knowledge management at jambit with communities of practice
Events & leisure time groups
Because respectful, happy collaboration with one another is part of our company philosophy, every year we organize numerous large and small events.
In January, we welcome all jambitees into the New Year as part of our two-day "jupdays". We celebrate the successes of the past and build enthusiasm for the upcoming challenges. With sports excursions such as skiing and canoeing, sailing, mountain biking and go-karting, team participation in the B2Run, table soccer championships, and company tables at the Oktoberfest, the jambit events calendar keeps on going. The crowning glory to round off the year is a lavish Christmas party with gifts for everyone.
In addition to the regular events organized by jambit, we are particularly pleased at the growing number of employee initiatives. If the weather is good, we play soccer in the park, surf the Eisbach wave at four in the morning, or organize spontaneous visits to a beer garden or barbecues on our roof terrace. jambitees with exceptional hobbies share their knowledge with colleagues and organize tastings or chess and poker tournaments. In the lunch break, some jambitees go for a run or play badminton together. Others use our HD beamer in the large meeting room for movie nights after work. The jambit band rocks the company's rehearsal room and prepares its gigs at our summer and Christmas parties. Then there are our alpinist lovers, who go on via ferratas and hiking trails, organize weekends in mountain huts and practice bouldering skills in Munich's climbing gyms.
If possible, friends and family are always welcome, as well as new event ideas!