jambitee | [ˈjambɪti] | noun, diverse Creative, solution-oriented individuals working in software development and our back office at jambit. Almost 400 talented team players with excellent technical expertise and a thirst for knowledge.
Individual Perspectives
80% of all jambitees work in diverse projects and develop excellent software solutions. In different projects you can easily switch between different roles with more or less coding or organizational responsibility. You can even work as project lead. At least twice a year, you will discuss your talents and preferences with your responsible manager. It's really important for us to tailor your professional development and project appointments according to your competences and wishes.
Learn more about the staffing of software development projects at jambit!
In addition to project work, there are numerous opportunities for further personal development. You can for example:
share your knowledge with colleagues and clients as a trainer, referee or author of whitepapers
help your colleagues with their questions in specialized "Communities of Practice (CoP)"
choose the best new jambitees as a "candidate interviewer"
take on responsibility for our apprentices as IT specialists or our working students.
We live more than "well, it's required"
A respectful, happy collaboration with each other is part of our company philosophy. Beyond each other's divisons, we connect and spend our time together apart from our daily business. Our jambitees bring their own efforts and ideas, which continually create new activities, events and free time groups. That's what defines our own jambit spirit.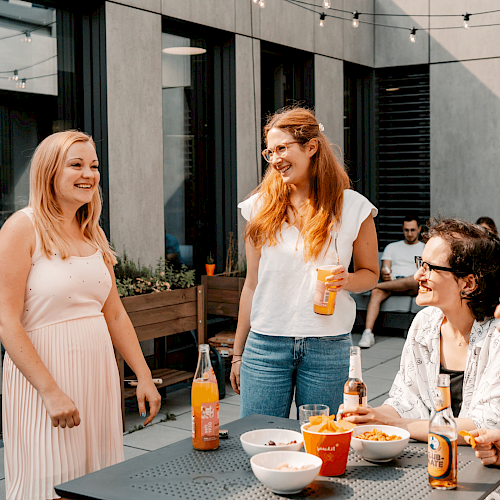 Anything - except ordinary
jambitees with unconventional hobbies share their knowledge with their colleagues and host tastings, photographic events, game or movie nights. At lunchtime, many jambitees eat together or go for a run. The jambit band rocks at the company's summer and christmas partys and practices for the concerts in the company's own rehearsal room.