Our employees declare jambit to be one of the best employers
Great Place to Work® employee surveys
For Great Place to Work® (GPTW), trust forms the basis of a successful workplace culture. "Trust is the result of credibility (1), respect (2) and fairness (3) practiced at the workplace. In a culture of trust, team spirit (4) and pride (5) arise," as per GPTW. The Great Place to Work® employee survey measures the severity of these five dimensions.
93% of the jambitees confirm: "All in all, I can say it's a very good workplace."
The approval rate across these five dimensions provides information about jambit's strengths and development potential. Here is a first overview: jambit's strengths are especially...
Team spirit (95% jambit vs. 63% benchmark)
Credibility (90% vs. 61% benchmark)
Fairness (90% vs. 62% benchmark).
...closely followed by...
Respect (85% vs. 54% benchmark)
Pride (84% vs. 71% benchmark)
Creating this kind of employer brand in their daily working life is a challenge for many service providers. We, as well, encounter these again and again and therefore work on our workplace culture on a daily basis.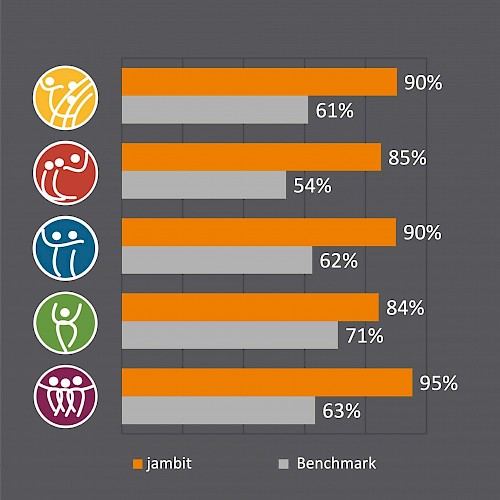 "EXCELLENT" workplace culture – jambit receives top marks
Our first résumé is very positive. Why? If we compare our rating with the market benchmark determined by GPTW, we are way above it in all five dimensions and even in the overall rating. This makes jambit one of the top 5% of companies earning the title "excellent".
But rather than resting on our success, we perceive critical feedback, recognizable gaps, and for jambit standard relatively low figures ​​as a gift. We can learn a lot from this and make jambit an even better employer.
Concrete results of the Great Place to Work® survey at jambit
Before we get to the actual results, first of all we would like to thank all the jambitees who have participated in the employee survey. At jambit, there is a spirit of openness to dialog: a total of 71% of our employees have rated our workplace culture and credibility, respect, fairness, pride and team spirit at jambit.
And the result is extremely gratifying...
The working environment is just great. The people really take care of friendliness and respect. At jambit, you are appreciated.

As an employee at jambit, I can contribute and implement my ideas and often have the freedom to create things and make own decisions.

The selection of colleagues is excellent. No matter who your teammates are, you can be sure that you match personally and professionally.

The management style is very honest, humane and based on making every important decision clear to the employees.
An independent team of experts confirms jambit's good workplace culture
Everything about the Great Place to Work® culture audit
While 2/3 of the ranking depends on the opinions of our jambitees, we also receive competent assessment of our actions by an independent GPTW team of experts. The team analyzes processes, measures and instruments of the personnel and cultural work at jambit. The results are compared with other companies in our industry sector. Due to this procedure, strengths and weaknesses become visible and the effectiveness of our HR work can be classified.
A few highlights:
A total of 193 companies from the "information and communication" (ICT) industry were compared.
On average, an awarded ICT employer receives 60% points in 2019.
With 72%, jambit lies a whole 12 points above!
"Very good" to "Excellent" are assessed as individual measures compared to other companies.
In 6 of the 9 evaluated fields, jambit receives the award "Excellent". These include listening, informing, developing, recruiting and integration as well as team spirit and celebrations.
Explanation: In the category "Excellent", companies are listed that offer their employees "excellent" implemented measures and programs. They represent the 20% of companies that achieve the highest scores in the culture audit.
The full report will now be studied in detail by our HR team to continuously develop jambit's workplace culture.
jambit impresses with a wide scope of creative freedom, team spirit and innovative ideas. A multitude of creative neologisms reflect the uniqueness of the jambit culture. A Great Place to Work!
About Great Place to Work® and jambit
Workplace culture – lived and tested out
What and who is Great Place to Work®?
Founded in 2002 and active in 52 countries, Great Place to Work® is an independent research institute that measures the workplace culture of companies.
Great Place to Work® conducts its studies every year and uses two proven survey instruments to evaluate the lived workplace culture:
an employee survey (rated 2/3)
and the culture audit (rated 1/3).
Interesting in the employee survey: 90% of the participating companies form the market benchmark. 5% are below the bottom line. These are considered "very critical". And 5% of all companies are above the upper threshold and are given the title "excellent".
In the end, only the 100 best companies in Germany are really awarded "Germany's Best Employers". Classified into size categories and according to the respective industries and regions, these best companies receive an award.
Why are we participating...
...for an attractive workplace, trust and corporate culture! We want to know where jambit really stands in terms of future-oriented workplace culture – confirmed by an independent body. And that's exactly what GPTW does.
In addition, GPTW offers a benchmark comparison. We find it extremely useful to compare our own results with other companies.
This is why we added this external perspective to our internal "Stimmungsbarometer" (opinion surveys). This classification allows us to review and develop our HR instruments and measures strategically, and gives us additional inspiration thanks to best practices.
In 2018, jambit took part in GPTW for the first time and was already able to place itself directly among the 100 best employers. In addition to "Germany's best employer", we were awarded one of the best employers in Bavaria and in ICT.
You might also be interested in...