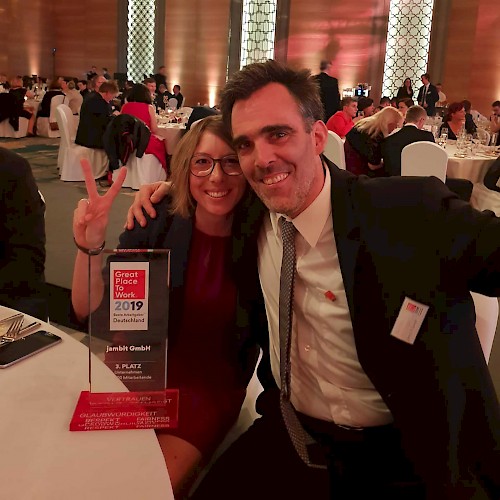 jambit in 3rd place of "Germany's Best Employers 2019"
Bronze medal for jambit's workplace culture
On March 14, 2019, jambit was ranked as one of the best employers in Germany at the big award ceremony in Berlin. Out of a total of 680 participating companies, 100 employers of all sizes, industries and regions received an award for a great workplace culture.
Also in 2019, in our second participation, the Great Place to Work® Institute officially presents us with the award "Great Place to Work". In the size category of companies with 251-500 employees, jambit ranks 3rd in 2019.
Third place – a clear improvement to the ranking of the previous year, and even in a higher size category. The result makes us incredibly proud. Why? Because 2/3 of the evaluation is based on the opinion of our own employees.
93% of our jambitees confirm this in the Great Place to Work® employee survey:
"All in all, I can say this is a very good workplace."
This is just awesome – our Recruiter Johanna Pröhl and Founder Markus Hartinger are still flashed and excited. The two of them, along with 100 other great German employers, were thrilled yesterday in Berlin to receive the results. They accepted the award on behalf of all jambitees.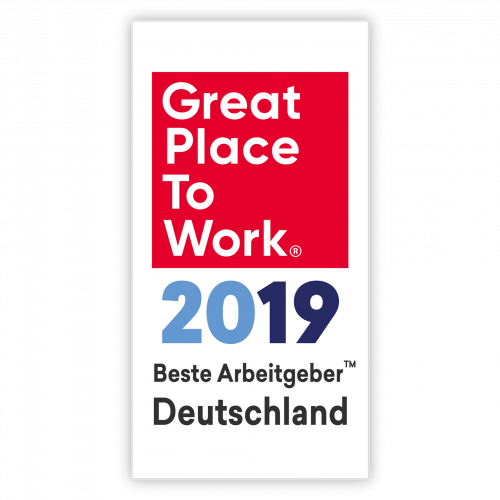 With this award, the Great Place to Work® Institute is officially confirming our attractive corporate culture. This makes jambit one of the companies in Germany that offers its employees a particularly good and attractive workplace culture.
The "Great Place to Work®" award makes us deeply proud. From the results, we can draw helpful insights and suggestions to further improve our workplace culture.

As an employee at jambit, I can contribute and implement my ideas and often have the freedom to create things and make own decisions.

The management style is very honest, humane and based on making every important decision clear to the employees.
Good to know
The concrete results in detail
You would like to know, why our employees declare jambit one of the best employers? Click here to get a closer view to the concrete results of the Great Place to Work® survey at jambit.
Or do you want to become a jambitee?
Just check our current vacancies and become part of our team.