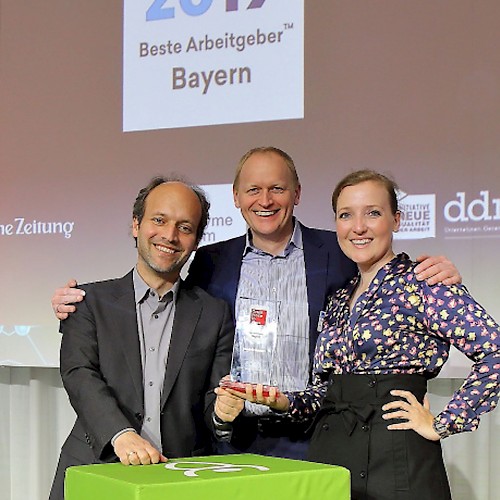 Silver medal for jambit as one of "Bavaria's Best Employers 2019"
2nd place in the competition "Bavaria's Best Employers 2019"
As of April 3, jambit is officially one of the best employers in Bavaria again in 2019. This is what the research and consulting institute Great Place to Work® announced yesterday at the award ceremony in the Haus der Bayerischen Wirtschaft. In the federal competition "Bavaria's Best Employers 2019", jambit ranks 2nd (in the size category with 251 - 500 employees). We are awarded with silver medal for our workplace culture.
At the Personalkongress IT 2019, they presented Bavaria's best employers in 2019 and much more:
For a whole day, the focus was on corporate culture. jambit was invited to give a practice-oriented talk. Frank Strobl, Business Division Leiter von New Business, held on the topic "Corporate Culture and Innovation in Artificial Intelligence".
CEO Peter F. Fellinger and Franziska Kupfer, Head of Marketing and Communications, were on-site and celebrated the award together with Frank. It was a moment of great joy for us, because after winning "Germany's Best Employers 2019" and "Best Employers in ICT 2019", jambit brought home the third coveted award.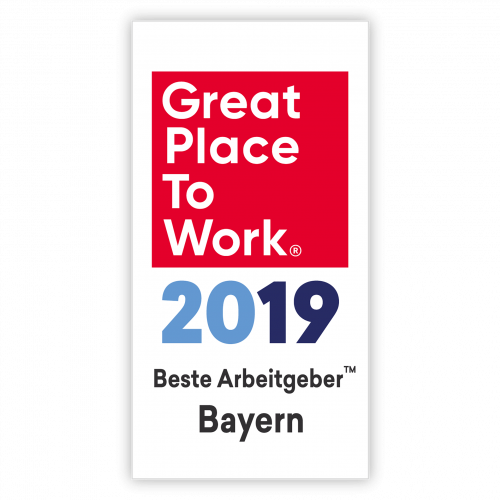 In 2018, jambit received the Great Place to Work® award directly at the first attempt to participate. That makes us deeply proud. GPTW helps us to further improve our workplace culture. We could draw further helpful insights and suggestions from last year's results. That's why we are participating again.
What makes jambit a Great Place to Work®?
That's what our employees say...
Our jambitees appreciate the very good work-life balance, fair management style and recognition of their work at jambit. So it's not surprising that our employees like coming to work.
Learn more interesting details that make jambit a good employer.
Lifelong learning motivates and pushes our jambitees. Read here how we stay Top of Mind.
Become part of the team! Click here for our current job offers.