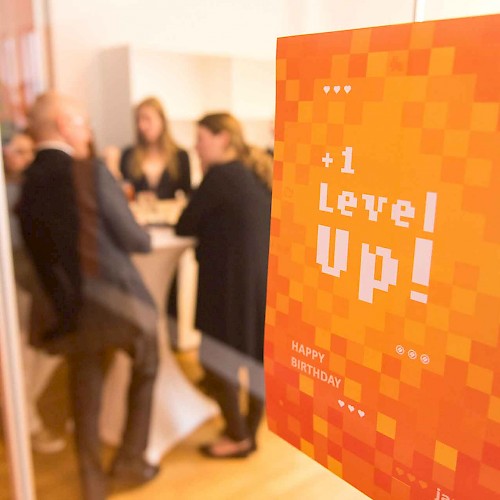 Software service provider jambit celebrates its birthday and expansion in Leipzig
On Thursday, 23 May 2019, jambit celebrated the first birthday of its Leipzig office with friends, business partners, neighbours and colleagues – directly in the new office space. The office in Klostergasse 3 is expanded by a further floor. Due to successful projects and employee growth, the space on the third level began to become too small. With some luck it was possible to rent an additional space within the same building right in time for the first anniversary.
A year full of successful software projects in Leipzig
In May 2018, jambit opened its software development office in Leipzig. At this location, our software developers work for jambit across locations and customers. A lot has happened in one year: new colleagues, successful projects and tailor-made software solutions for customers like Audi, BMW and Daimler, media customers like FAZ.net as well as from the banking sector.
In order to celebrate this success, jambit invited to a big one-year birthday and inauguration party in May 2019. After the opening by subsidiary manager Philip Achenbach, the guests discovered the new floor on their own. In a relaxed atmosphere, with tasty drinks and a buffet, they enjoyed the most beautiful moments of the past year.
"I was especially impressed by the many interesting discussions and the positive feedback on our first year here in Leipzig," Philip thanked the external guests from the University of Leipzig, HTWK and Berufsakademie as well as from the City of Leipzig.
True jambit spirit: The Leipzig jambitees celebrated with their partners and colleagues from other locations in Munich and Stuttgart until late in the evening. An overall successful evening.
Expansion of office space in the heart of Leipzig
On 1 May 1st 2019, the jambit location in Leipzig is moving into an additional floor at Klostergasse 3, doubling its office space in the same building. The expansion is jambit's response to the increasing number of employees due to the continuing strong demand for projects. Initially started with 4 software developers, 23 jambitees are currently working in Leipzig and now provide software services across jambit's entire service portfolio on 550 square meters.
The striking, historic building in Klostergasse is proving to be a truly stroke of luck for jambit. The central location, excellent infrastructure and bright floor spacing already convinced jambit in its choice of the site in 2018. Such areas are also rare in Leipzig's inner city. Through a happy coincidence and good contacts to the house neighbors, the second level, which had become vacant, could now also be acquired.
Growth for the future, support for the IT community
The conclusion after one year: The decision to go to Leipzig has proven to be a correct and important one for jambit. The positive employee and project development confirm this step. The Leipzig-based jambitees are just as enthusiastic and pleased about this development as site manager Philip Achenbach. In the future, he would like to further increase the value contribution for the entire jambit company. Part of this is the good connection between and to current and potential employees as well as networking with the regional developer scene.
Since June 2019, jambit supports the Java User Group (JUG) Saxony as a member. The association is open to all Java enthusiasts for knowledge transfer and networking and has developed to an indispensable platform for the IT community in Saxony. As a software service provider and partner, jambit intends to further support the software and IT community in Saxony and enrich it with its expertise.
Our CEOs Markus Hartinger and Peter Fellinger are quite proud of jambit's performance and location development in Leipzig. They are impressed that Leipzig has gained a strong position in the jambit family and are looking forward to further exciting exchange and expansion.