Have a coffee with Enrico Reitberger
1.How do you drink your coffee?
Black. I used to like it with milk & sugar, but now I prefer to enjoy it pure - the pure taste of the bean. (grins)
2. What is your job at jambit?
I'm involved in a Handelsblatt project with very modern technology, namely JavaScript, TypeScript, Node.js, Vuejs. That was a paradigm shift for me since I've always worked with Java for the last few years. When I started at jambit, it meant for me - rethinking, relearning, changing into the role of a student and many new topics. I feel really comfortable and well included in the team. They gave me the time to reorient myself at Handelsblatt. Now I'm fully on board. Fortunately, because we are currently in the exciting phase of the go-live.
3. How did you hear from jambit and what convinced you?
It was quite a coincidence. I was born in Erfurt, but most recently lived in Hamburg for years. Then I moved back to Thuringia in summer 2022 and worked remotely for my previous employer. Last fall, there was quite a lot of advertising for the comeback fair for returnees. I went with no expectations and was simply curious to see which companies had settled in Thuringia in the meantime. Shortly before I was about to leave, I spontaneously discovered jambit and got into conversation with a recruiter.
I wasn't only convinced by the coffee, but also by the exciting references, projects and technologies. This versatility together with the new challenge of co-opening the subsidiary in Erfurt including a new office was the decisive factor for me in the end.
4. Why did you move back to Erfurt?
I really liked it in Hamburg, but as a real Erfurt puff bean and a big family person, I simply wanted to return home after more than 10 years. jambit made it even easier for me to arrive. Just the 7-minute bike ride to work is brilliant. I look forward to the office every morning. The exchange is simply on a completely different level than just remote. I also enjoy the fact that private activities evolve. I recently went to the Chaos Communication Camp with a colleague and her partner. Great!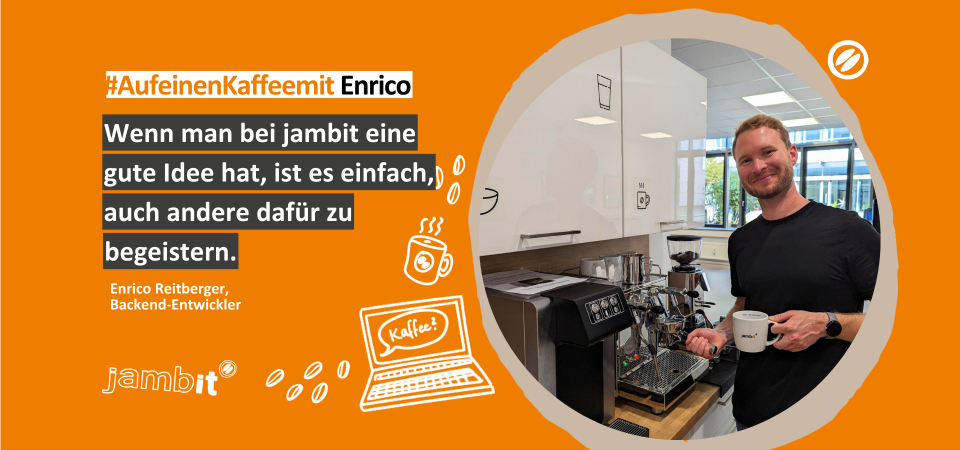 5. Which advice would you give to your former self?
Get out of your comfort zone, dare something! The last time I did that was when I changed to jambit this year. My need for security made the decision not easy - leave the safe haven of the old employer for something new. But I didn't regret it until today. On the contrary, my decision is only reinforced every day at work.
6. If you were a programming language, which would it be and why?
I used to think I was more of a Java guy, but now I realize that TypeScript suits me very well. The language is very progressive and modern, which expanded my horizons. Now I feel that I can get to the solutions much faster and more pragmatically and focus much more on the result.
7. What's your unpopular tech opinion?
I disagree with the click baiting statements that chat GPT or AI in general will make us superfluous as developers. In my eyes it's just an abstraction layer and will make our lives easier in the end. Our work will become more comfortable and we'll be even better and more successful programming great software. To me, it doesn't sound like a threat to abolish my profession at all.
8. What excites you about jambit?
When you have an idea or a wish, it's pretty easy to generate enthusiasm for it in the company and get support. There's a pragmatic hands-on culture. One example is the organization of the meetup, which we held for the first time a few weeks ago with our new Erfurt meetup group. The colleagues who only started a few weeks ago were very quickly involved in the organization and helped a lot. And even colleagues from Munich and Leipzig were there.
And that's actually the case throughout the entire company. I can also try out new ideas quickly within my current Business Division Media and, if it fits, implement them. For example, I was able to develop a Livingdocs onboarding track for new colleagues in consultation with the head of the department and a colleague. Livingdocs became well established as a CMS at the publishing companies and we want to build up more knowledge in this area. The track was very well received by the new colleagues and they even programmed AI use cases with Livingdocs and demonstrated them in client situations. The use cases are really well received by the clients and will be integrated in the next business year.