Have a coffee with Heike Sambs
1. How do you drink your coffee?
I don't drink coffee every day, but more in between now and then. Either when I feel like it or when I need a push. My favorite coffee is a double espresso.
2. You work in the payroll team as well as in personnel development. How did you end up in this special role?
I started in personnel development at jambit. Through a former IHK course in payroll accounting, I could occasionally support the payroll team from the beginning when a helping hand or brain was needed. Later, they were looking for a permanent support there - and I was in. Since then, I split my working time and dedicate one half to personnel development and the other to the payroll team.
3. That sounds very versatile. What opportunities and challenges does this implicate?
Oh yeah! That's a big, colorful bouquet of topics. This has the advantage that I have a much broader view of the topics and jambit as a whole. There are also many connections between the two areas, and it helps with some topics.
On the other hand, there are obviously also challenges because they are still two independent areas. You never know where and when something will pop up. Often in both areas at the same time. Prioritization is then the key.
Nevertheless, I see it as a huge privilege that I was able to gradually shape my position according to my interests and strengths. I work on the topics that I really enjoy and that suit me. Such a position probably doesn't exist in any other company.
What's really great about my job and what makes me happy every day is my team. Even when it gets really tough, I just have really great colleagues. I feel very comfortable and we work together at such a high level. That's fun! That's worth so much - every job gets on your nerves from time to time, that's always the case. But I can always rely on my team.
4. You are also a trusted advisor at jambit. What does that mean exactly?
In the HR team, we have occasionally realized that jambitees come to us with problems, but each time they approach us individually. The topics always arrived at different corners. Sometimes people also dealt with the same issues in parallel without knowing about it, as they are confidential. To address these challenges and to have a fixed contact person, the trusted advisor role was created about 1.5 years ago. I gladly took over this voluntary offer to the jambitees. It's important that jambitees aren't alone with their problems but are supported and accompanied.
As a neutral contact person, I listen to the individual challenges and support the jambitees who talk to me. I help to sort thoughts, advise in the framework of my expertise and also initiate thought processes if necessary. My training as a systemic business coach and team coach is a great help here.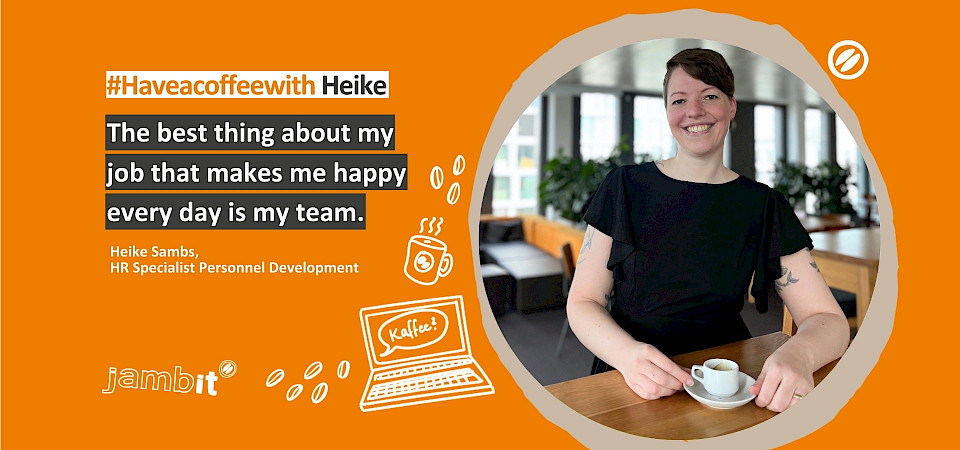 5. What are your favorite instruments in personnel development?
Clear - asking questions! Especially in personnel development, you can't just go over everyone with the watering can and hope to catch everyone once. It's immensely important to find out what the individual situations and goals are.
In the next step, of course, you have to think about how to achieve these goals. I prefer to ask targeted questions. On one hand, I then understand better where the problem is and what possible solutions there are. On the other hand, the people themselves then begin to think differently about the challenges. They often question what their goal really is and where they want to go.
6. Where can we find you when you're not working?
I actually really like being at home. That is my retreat, my nest. There I can sort my thoughts and rest. When I go out, I like to meet up with friends to chat or visit my family. I'm also a big fan of plants and gardening. Just last weekend, I went to the botanical garden. It was really nice.
7. Which tech trend can we expect the next years?
I notice that a lot of people are currently interested in AI and ChatGPT. This raises a lot of questions for me, for example: Do we still need to learn certain content in school, or can we just ask ChatGPT? Or do I still have to write a paper if ChatGPT can do it for me?
It's not just about the content, but also about what happens in our brains when we have to work out a topic ourselves, summarize it, write it down and present it coherently. We don't know how our brains will react if all of that goes away. I don't want to say that one option is better or worse, but in the future, we need to analyze and evaluate the effects, risks and opportunities.
8. Which advice would you give to your former self?
I would give my former self the following tip: not to stress so much about finding the right career path. In the end, it'll all work out as it should. I've had a somehow chaotic path of two degrees with various contents, industries and activities behind me. I always chose the option that was the best solution at that time. And although it felt right, I was always worried if I took the right path. I would advise my former self to just be more relaxed. I'm grateful for all the experiences I've had. Only thanks to them can I do my job the way I do it.