Have a coffee with Anja Ohlhäuser
1. How do you drink your coffee?
Well, if I drink coffee at all, it's with milk. But I'm actually a passionate tea drinker. I can't do anything without black tea! I have a pot every day, even with rock candy.
2. Which application you can't live without?
In my private life, it's definitely messenger services. My circle of friends is spread across Germany and my family lives in Baden-Württemberg. It's essential for me to keep in touch regularly and a lot. That also involves lots of texting.
Professionally, I would say IntelliJ. The development environment can be used very widely, includes many tools and we simply match well.
3. If you were a programming language, which would it be and why?
I think Python. I think it's the perfect language for quickly implementing ideas and trying out projects or small experiments. Python is also ideal if you want to program something with the Raspberry Pi.
4. How did you get into software development?
Technology has always been my thing. After finishing secondary school, I did a training as an electronics technician for devices and systems. A friend of mine had started this a year earlier and it sounded exciting. In addition to circuits and soldering, we programmed microcontrollers with assembler and C. I discovered my passion for programming and then went on to study computer science.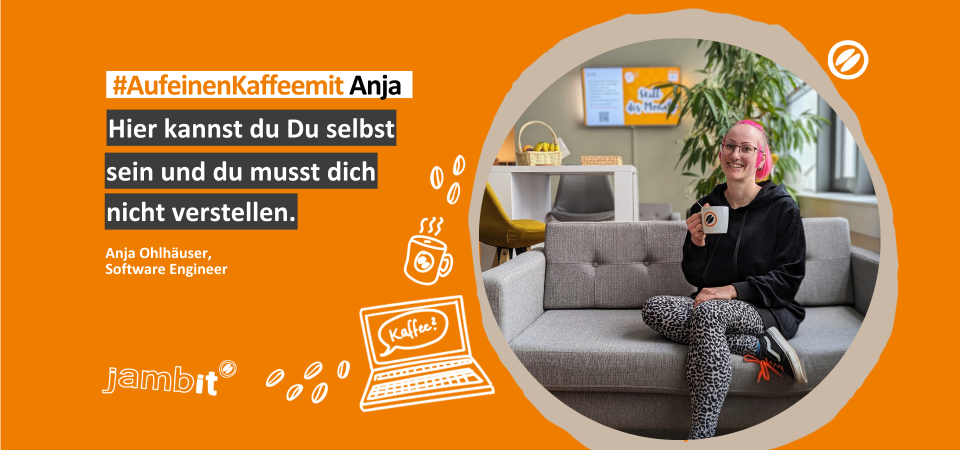 5. What has been your best project at jambit so far?
My very first - that was for Automotive. On one hand, the project itself was exciting and also very educational for me as a student. We worked at a comfortable pace, made good progress and were able to achieve our goals in the sprints.
On the other hand, the team was simply great. We had great team spirit, exchanged ideas on an equal footing, played lots of table football during the breaks and got on really well with each other. At the end of the day, a well-functioning team is half the battle. It's totally normal to be involved in a very challenging project from time to time where not everything runs smoothly. And bumpy communication with clients is also part of it. But if you work in a team that appreciates and supports each other, you can also overcome difficult situations together.
6. Which advice would you give to your former self?
At the beginning of my career in IT, I once had to deal with people who didn't always listen when I asked questions. Especially as a newcomer in a field, you don't know a lot of things yet and would like to learn from the wealth of knowledge and expertise of experienced colleagues. But if you then work with people who answer questions with an annoyed "just google it", at some point you won't have the confidence to do anything. You don't ask, you don't learn, you withdraw and feel small. Totally unnecessary! I would advise my former self not to let it get me down, to stand up for myself and to reflect to people that this isn't collegial behavior.
I was even more surprised and happier to see that things can work quite differently at jambit. My colleagues always have an open ear and are happy to share their expertise. Asking questions and growing is very welcome here, there's plenty of room for knowledge exchange and there's a great learning and healthy error culture.
7. Which advice would you give to future applicants?
At jambit, "come as you are" isn't just a catchy advertising slogan that marketing prints on a poster, it's actually practiced here! You can be yourself and don't have to pretend. That starts at the job interview. You don't have to put yourself under any unnecessary pressure or play a role. I didn't have to take out my piercings or squeeze into an uncomfortable outfit. It was my own free will to wear the blazer. (laughs)
You automatically fit in here as a person if you're open and tolerant. If you have a good dose of curiosity and like to share your knowledge with others, I would say it's a perfect match.