Have a coffee with Christoph Schaffer
1. How do you drink your coffee?
Mostly I drink espresso with sugar, my favorite one is ristretto. I drink three to four shots during the day. And of course, I'm a big fan of the delicious jambit coffee.
2. Why did you choose jambit back then?
I saw jambit at the IKOM. As a physicist, I was looking for a career change back then. Actually, I only wanted to get a free coffee at the jambit booth and then I started a conversation with one of the recruiters. In the end, I talked two hours with them about my career change possibilities at jambit. They showed me lots of appreciation from the start. It was like this during the whole application process: long conversations, my name at the welcome board in the office, the individual choice of my interviewer during my technical interview and more. These details indicated a great value culture, which turned out to be true. Even after six years nothing changed.
3. What has been your most exciting project at jambit so far?
My time at SWISS Life was the most exciting project time for me because it opened my eyes about real software development. Software development was always really technical in my imagination. I thought that you simply enjoy coding until everything works. But in this project, I learned that it doesn't work like that at all. A completely different component is at least half responsible for successful development: the social relationships. To ask the right questions, to convey and be present is at least as important as working technology.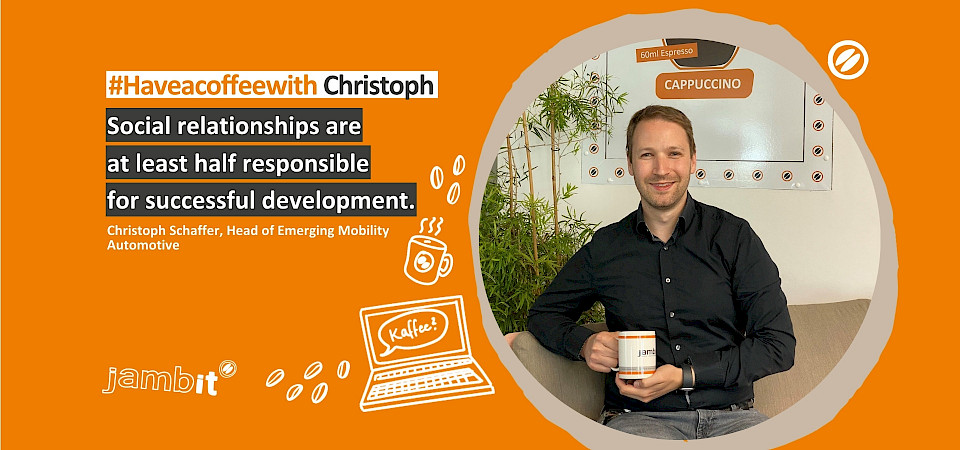 4. Which tech stack do you prefer working with?
My favorite technology is the coffee machine. It sounds strange, but it's like that. As the Head of a Department, I especially keep an eye on conveying, causing sense and listening to the pain points of others. The coffee machine has often the function to be a meeting point and to have conversations. Practically I work a lot with Excel, Confluence and I use my iPad for notes, mails, and MS Teams as a replacement for the coffee machine.
5. Which application you can't live without?
I like to make music as a hobby. An app, which I can't live without is therefore ForScore to organize and manage music notes. You can put your whole notes library on the iPad. It doesn't matter if you play piano, guitar, or another instrument – it's good sorted and easily to retrieve. Really functional!
6. Which tip would you give your former self?
Rely on your gut feeling, it'll be the right thing. The head has already thought a lot about the issues and the gut feeling mostly gives the significant impulse to the right direction. I would also give the following advice to myself: do many things in the same way. You can only recognize the right way in retrospect. You can buy a compass and look in the direction, but in the end it mostly turns out to be different than planned anyway.