Have a coffee with Ruben Barseghyan
1. How do you drink your coffee?
As espresso with sugar. Sugar is the most important ingredient – espresso doesn't taste good to me without it. And whether I drink a single or double espresso depends in the day, mood, weather, and project situation. (grins) Mostly I prefer a double.
2. What was your most exciting project at jambit so far?
I have been working in the same BMW project for over 2 years. There we develop new modules using new technologies. For me everything in the project is very new and especially working with modern frameworks like Angular is exciting and gives me more confidence. I also especially value the collaboration in my team, how we work together and the way we communicate.
3. How did you come to jambit?
Through a friend from my previous company. My friend moved to jambit and I started getting interested in the company.
At that time, I was also working in a German company and felt comfortable there. I generally really appreciate German customs and the culture, how colleagues work together. And yet I was very interested in jambit, I browsed through their website, read about their projects and corporate culture and met with Dvin, our Head of Subsidiary. In the end, all of this convinced me and I haven't regretted it to this day.
So, my friend was the first jambitee in Yerevan and I was the second. It was very adventurous. At first, we just worked with our laptops in a coworking space. We grew quickly, then gradually built everything up and now have a great office with a garden. I hope our Armenian success story continues this way.
4. What is your unpopular tech opinion?
It doesn't feel good to learn a new technology especially for a project and then not need it anymore after the project. It actually demotivates me to continue learning at all. It is better to learn a popular technology that can be used sustainably in several projects. That's more fun and keeps motivation high.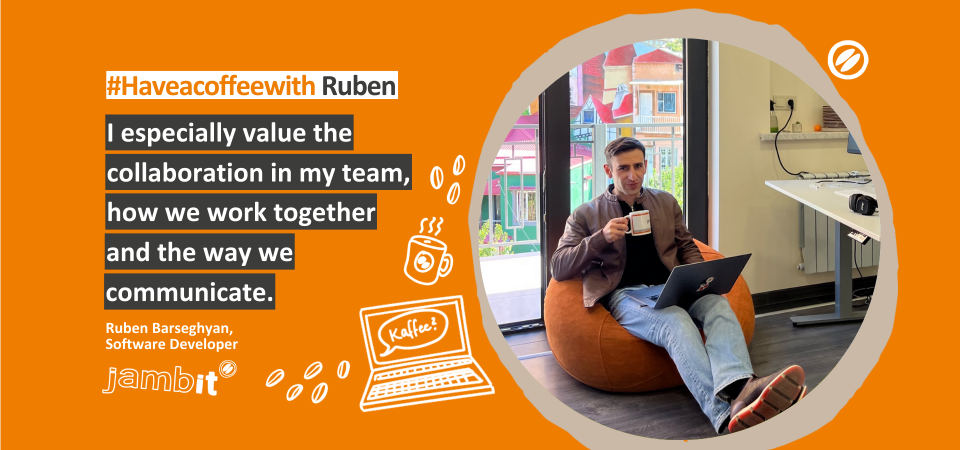 5. Which trend is awaiting us in the next years?
Something will change globally. Especially in terms of AI technology. If you have a question now, you need to think about it yourself. But all the available AI tools can help you to answer some question, completing some tasks, exploring more and developing yourself. I am interested to see the developments and if the tools will be able to solve every problem in the future including our software development issues.
6. Which advice would you give to your former self?
Be more confident and take more time to learn. I use the e-learning platform Udemy, for example. Right now, I'm in the process of improving my English.
Also, taking time to reflect on the day even after an 8-hour workday has worked for me. How did the workday go? Was there a challenge today? What can I do to solve this?
And don't waste time scrolling through social media. (Laughs) Dont' get me wrong, wasting time on meaningless stuff can also be good for clearing your head, relaxing and ending up being productive again. But there are better ways…
7. Which advice would you give to future applicants?
Believe in yourself!
You can do it. However, it also requires hard work. Because if I give everything, I can maximize my own happiness. That is also my experience at jambit. If you are a responsible employee working on your personal and professional goals, you will find happiness at jambit.
And speaking of believe and trust – also trust the company. jambit is a very sustainable organization, financially stable and a secure employer. That was very important to me when I changed jobs. I even asked Dvin in my interview, "Is jambit a safe and reliable company?" He said yes. And it was true.