Have a coffee with Franz Haßlberger and Thomas Rottach
1. How do you drink your coffee?
Thomas: Cappuccino.
Franz: Just black coffee. I also like a cappuccino, but the milk foam is usually too much work for me. (laughs)
2. You're new in the office as managing directors. Why did you decide to take over the CEO positions?
Franz: I was responsible for the Business Division Media at jambit for 10 years and experienced there how much fun and pride I can get out of building and developing something. We started with 5 people in Media, now we have over 100 in the projects. To see such an organism grow and develop is really great. And I'm not just talking about quantitative growth, but especially growth in the sense of maturation and professionalization. That continues to be my expectation and hope as CEO. This form of shaping in a larger context is my core motivation.
Thomas: When Markus and Peter opened this up to us, Franz spontaneously said "yes". I had to sleep over it for a few nights. When I thought about it, I said to myself: "Hey, you don't want to leave a company like this in someone else's hands and then just watch what happens, which you are deeply rooted with and in which you played a major role in shaping over the years. You'd rather continue to play an active role in shaping it."
And secondly, it was and is of course a huge opportunity to carry jambit into the future. Then the decision was clear to accept this insane honor and challenge quite quick.
I'm a family person and don't want to focus on work alone. It's clear to me that it'll take up a larger part in the near future. Nevertheless, I believe that this balancing act can be achieved and that it's simply a great opportunity. I set myself the goal of maintaining the core, the DNA, so to speak, of jambit in the next years.
Franz: Thomas has a good point there. For me, it was a pretty impulsive, spontaneous decision. That's rather atypical for me. I usually tend to think about things thoroughly. And I did the same with this decision afterwards and also discussed it with my family. This first impulse was confirmed anyway still.
3. Could you imagine this at the beginning of your career?
Thomas: I have always been fascinated by entrepreneurship. After graduating, however, I didn't dare to start my own company. And yet I always thought it was cool when people did something like that. That's why I've never been drawn to any corporation but made a conscious decision in favor of a medium-sized company. Something with soul.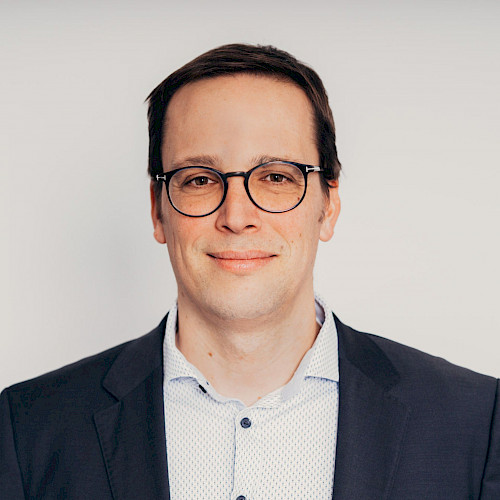 When I started at jambit we were 38 people, now we are 400 people. As a developer you first start and look. You don't think: "I'm going to be CEO here one day." You can't plan that. And then it suddenly happened to me.
But I've always been very interested in the topics that are important for a company like this beyond the work in the project. I always checked a bit what was going on at jambit. What do we actually do? What's important for our clients? How do we earn our money? And how is everything connected?
Franz: I was a developer at the very beginning, but never a really good one. I was always aware of that. (laughs) All those who developed with me will confirm that. I also didn't have that deep passion that you just need to be a really good technician. I used to look at people a bit puzzled at how deep they dug into things.
I actually hesitated longer when I moved into the Business Division management role than I did when I moved into the CEO role. But there, too, I quickly realized that working with people and in the business suits me better than being developer in the project business, and I also enjoy it more. I also studied psychology as a major. I guess there was a reason for that.
4. As we're talking about your developer skills, if you were a programming language, which one is it and why?
Franz: That's a dangerous question because I'm probably making a fool of myself among the technicians. Spontaneously I would say rather an all-rounder like JavaScript. Versatile in the frontend and backend, often underestimated, not strongly typified and you can do a lot with it. Also lots of wrong things, but if a good test coverage makes sure to assure the quality, anything can come out.
Thomas: I'd like to be a functional language, but I'm probably still a solid, good Java that can be used in many ways. Safe, widely applicable, rather generalist, stable. It's not a huge adventure, but you can count on it.... Although the new role as CEO is already very adventurous... (smiles)
5. Thomas, which tech trend can we expect in the next years?
I believe that Generative AI will become a huge topic. We already have several people who work intensively on this. This won't only affect programmers but will go through all divisions. I see lots of disruptive potential that will bring a change in the market.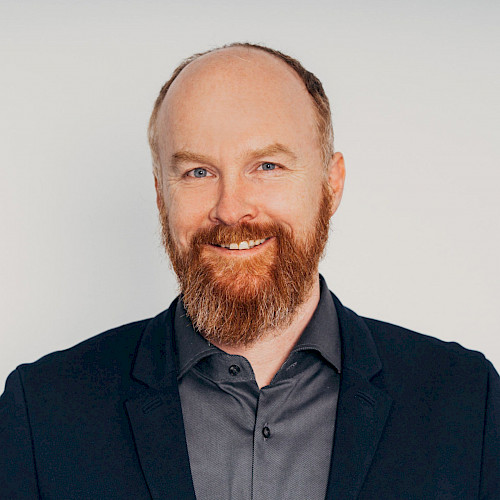 6. Franz, what has gone wrong in your career so far that you can laugh about now?
Well, I can't really laugh about this story today, but it engraved in my brain. It left a lasting impression on me, and today it's not as much of a doomsday as I thought at that time. Relatively at the beginning of my Head of BD career, I decided on a project that unfortunately addressed my interests too well - to develop a system for a book publisher.
I love books, I love to read, and I have almost a romantic attachment to this industry. And that's very dangerous. I was too emotional, had little experience and made stupid decisions because I overlooked or whitewashed all the risks. And that blew up in our faces as a team and as a company. Sorry and thanks again to everyone who suffered with me back then.
At some point it got better, there was light on the horizon, and I got support from an experienced project manager at jambit. The pressure of suffering went down. In the end, I learned a lot professionally and humanly and how to deal with difficult client situations. And also this lesson: Don't let your interests and emotions guide your project decisions.
7. Which advice would you give to your former self?
Thomas: I would tell myself to dare coming out of the box occasionally. And approach people a bit more confident and active.
Franz: Believe in yourself and don't make yourself so small. There's often more to you than you think. And you don't have to be brilliant or a genius. Persistence and hard work are often enough. I often tell this my daughter in the meantime, too.
8. Which book can you recommend?
Franz: I'm a fan of Juli Zeh right now. Her current book is called "Zwischen Welten" ('Between Worlds'). I was born in the province, but I work and live in an urban environment. She addresses precisely this tension between people from the provinces and urban milieus. She takes up this topic with intelligence and with a lot of empathy.
Thomas: At the very beginning of my leadership career, Paul Marschall told me something about motivation. The three components Autonomy, Mastery and Purpose are the mechanisms that motivate people. It doesn't matter whether you're a baker or the CEO of a DAX company. And just the other day, I read a book about it - "Drive" by Daniel H. Pink. If you know where your energy comes from, it helps a lot.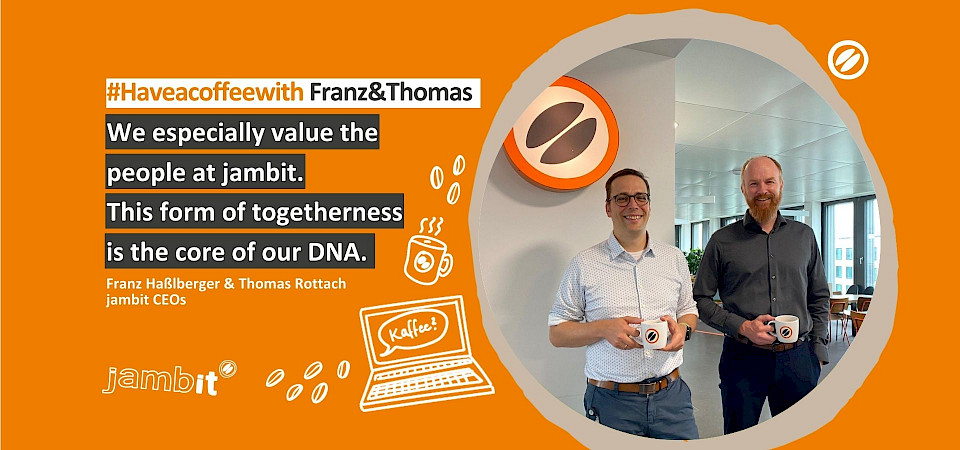 9. What excites you about jambit?
Thomas: I think this diverse bunch of people is very valuable and exciting. People who like to come to work and not only work on client projects here, but also form a community beyond that. I think that's what sets us apart - the togetherness and the family atmosphere. For me, it's a super cool company that I love being at.
And I've experienced such a positive culture of making mistakes here. The most stupid thing you can do here is to do nothing. But if you do things, even if you shoot bucks (and I've shot several during my time here), no one will say, "He did that." I had support so many times, in the mistakes I've made. Sure, you think about how we can fix it, but you don't fight alone, and I could always rely on my colleagues.
Franz: I'm also inspired by the people here. There is no one at jambit that I don't enjoy working with. Where it's not just a duty, but the group dynamics and the energy are right. The togetherness fits very well. I recently became more aware that HR explicitly pays attention to this. That's not luck or coincidence, but HR picks people who fit jambit. The people fit me and I hope that I also fit the people.
10. Which advice would you give to future applicants?
Franz: We are not looking for skills, but potential. Don't be shy if something is not on your resume, but show us and make it clear that the potential is there. And bring passion and willingness to realize that potential. I would say that's more important than knowing a programming language perfectly.
Thomas: I subscribe to that 100%. Come to us, we have a lot to offer that will help you grow personally and professionally. We offer a creative environment with lots of room to learn - not only in the technical area.