Have a coffee with Sabine Mousset
1. How do you drink your coffee?
With milk and sugar, more like a cappuccino. I have a fully automatic machine at home, and it always whips up something delicious for me at the push of a button.
2. How did you end up at jambit?
I worked as a working student during my studies and became aware of jambit through my former employer. Then I went to a recruiting fair. jambit simply made the best impression compared to all the other competitors. The recruiters presented all the advantages of jambit convincingly and comprehensively. They were very sympathetic and authentic. If you can compare it to a job interview, it wasn't me who applied, but them who came to me and gave me a great insight why jambit is such a great company. That's why it was easy for me to choose jambit. I'm still here after 8 years - so it wasn't only empty promises.
3. Which programming language are you and why?
I'd like to be Kotlin because it's very simple, uncomplicated, and enjoyable. I mostly work with Java, but for some time now I've also been using Kotlin from time to time, which is basically an add-on to Java. I see that as progress and appreciate it very much.
4. Which tools do you like to work with?
IntelliJ. It can do so much now that you really don't need many other programs. It's a little world of its own, you have everything you need. Otherwise, of course, I use Microsoft Teams very often. We have a daily call in the team to stay connected. Especially for me as a remotee, it helps a lot to stay in touch. And it also replaces small talk at the coffee machine.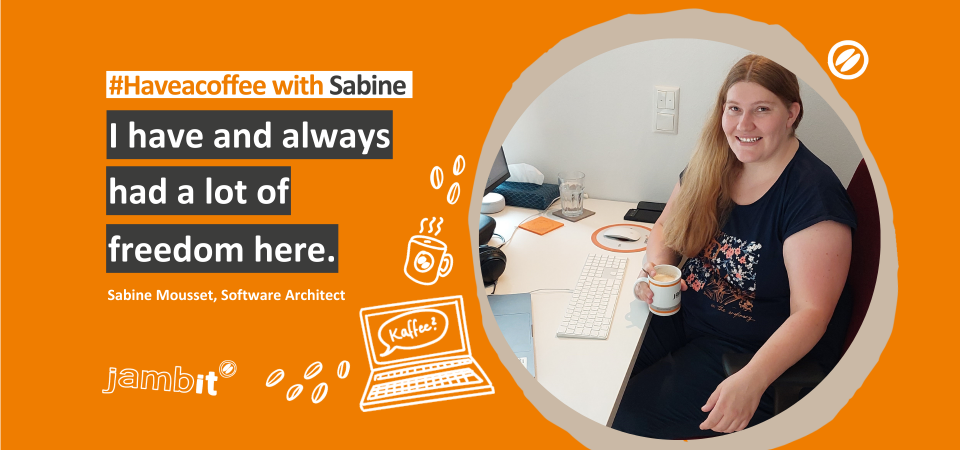 5. Where can people find you when you're not working?
I love to be in the garden. I watch with excitement and joy what grows out of our vegetable patch. (grins.) Otherwise, I like to play computer games.
6. What was your highlight at jambit?
I was once in a very small project that only ran for three weeks. I did the frontend development with two developers. The handover was quite short. Nevertheless, I had enough knowledge to lead this project on the one hand and to be able to contribute to the implementation on the other hand. A quick success - that was fun!
Another highlight is my work as an essentials trainer. During the onboarding week for our newcomers, the newbies, I present exciting topics on all subjects related to the project business. I've loved doing it for many years. I like helping and teaching people. I also do it out of conviction because I think jambit is cool and I also want to convey that to the newbies.
7. What do you appreciate most about jambit?
The people are very nice and open to each other. I have and always had so much freedom here. I can organize my working hours freely. We have people who start very early and finish at 3 pm. That works well in the teams. We also have people in the team who don't start before 10 a.m. or so, and that works great, too. Sometimes I finish work early and work a few hours in the evening. You can go on vacation quite spontaneously and so on. And I can also decide if I want to work in the office or at home. Top!
8. What would you recommend to future applicants?
Just go for it, don't worry too much if you really fit in. Just see how you get on, you won't lose anything. And I think that if you're basically interested in software development and have a bit of talent for logical thinking, then software development is certainly the right place for you. jambit is cool and welcomes everyone warmly. You'll feel comfortable here too.