Have a coffee with Anh Dung Pham
1. How do you drink your coffee?
Very controversial, I would say. With lots of milk and lots of sugar. Actually, it isn't a coffee anymore. (grins) 60 percent coffee, 30 percent milk and 3-4 spoons of sugar. Then it tastes good!
2. Which has been your most exciting project at jambit?
Definitely the RND project. Currently, there are 22 news apps spread all over Germany. The apps are updated and further developed by us in the project. There are always new features and the project continues to grow. I enjoy developing an app that people really use, that creates added value and that inspires users. This is ultimately reflected in the very good ratings in the stores. I also always proudly tell and show that I helped to develop something so cool.
3. Which advice would you give to a future applicant?
Definitely attend a meetup to get to know jambit and some jambitees and see the space. You should also be up for different projects and bring a cool vibe.
4. Do you know a movie or series you would recommend?
Moving on Disney+. It's a Korean series about superpowers. It's told in an interesting way and offers a mix of thriller, humor and a bit of drama. The series captivated me and is something different.
5. If you were a programming language, which would it be and why?
Actually, I wanted to study web development. But by chance it became app development and I don't regret it. I have to say, I really like iOS. Since Swift is always evolving as a powerful and intuitive language and I like writing in it, I guess I would see myself most likely as Swift.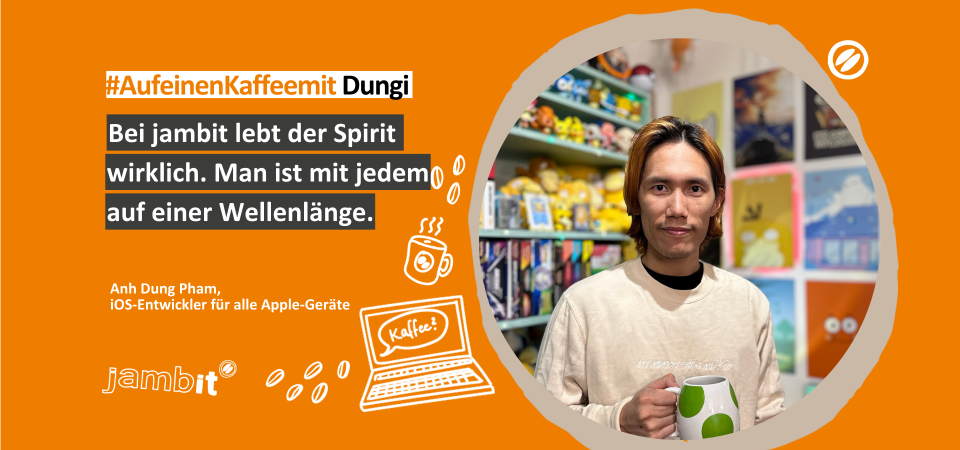 6. Which is your unpopular tech opinion?
There is often a debate regarding app development: native development vs. cross-platform development. Native development is about mobile apps that are explicitly developed for one operating system, so the code is for example written specifically for Android or iOS. In contrast, cross-platform apps consist of a unified language that works for both iOS and Android apps. I'm team native development. It fits the OS better in my eyes, is more performant and you can develop more stuff. Plus, with native development, you can theoretically launch the apps for MacBook, AppleTV, and for the new Apple AR glasses. For me, that's a definite plus.
7. What excites you about jambit?
I'm actually a job hopper. (laughs) I've been here at jambit for 4.5 years and just feel comfortable. Especially during Covid, I noticed how flexible working at jambit is and how well it works from anywhere. I also like the possibility to continue working remotely after Covid, the so-called X-Office at jambit. I was able to move to Heilbronn thanks to this offer and now finally live with my wife who works there.
I also like how we deal with stressful situations and how relaxed we're in dealing with each other at jambit. You can just sit in the bar and chat with the CEOs at the 'jupdays'. You're on the same level with everyone. There are no noticeable hierarchies. We're now over 400 jambitees and yet you aren't just a number. It makes you feel more comfortable and you can integrate quickly. The spirit really lives at jambit!
We also always try to provide benefits for our employees. Pizza is sponsored after a successful project, once a month there is free lunch and very often cool events. jambit invests a lot of money for employee satisfaction.