Have a coffee with Robert Kowalski
1. How do you drink your coffee?
I like it simple and fast. That's why I drink my coffee as a flat white from a fully automatic machine. If it's a machine using portafilters, I mostly make myself an Americano.
2. What has been your most exciting project at jambit so far?
Hmm, tough question! I find each of my projects exciting from a different perspective. There was one major logistics project at the beginning of my management career at jambit that had a lasting impact on me. At that time, I was faced with what felt like a mountain of challenges:
Working with numerous stakeholders from different companies.
The leadership and further development of my team, i.e. the jambitees.
The pressure to present a good solution and much more.
However, I quickly figured out that I was worrying about a lot of things for no reason. We jambitees always supported each other. And the experienced managers were there to help and advise me the whole time. Fortunately, all the other companies involved pursued the same goals and expectations as we did. So we were all connected and the project developed very successfully. In the end, it became clear that the biggest challenge remains one's own ambitions. Don't go nuts for no reason.
3. Shell or Klicki Bunti?
Definitely Klicki Bunti. I studied media informatics and like user interfaces to be as colorful and user-centric as possible. That's been in my DNA since day one.
4. Which programming language are you and why?
I would choose good old C or C++. On the one hand, because I'm a bit older (laughs). But the decisive factor is that these technologies are like Swiss Army knives: broad and versatile, but sometimes not so easy to handle. That's how I see myself, too. I am always motivated and willing to work on new topics and also like to help others achieve something. That's why I often assist with different knowledge formats at jambit.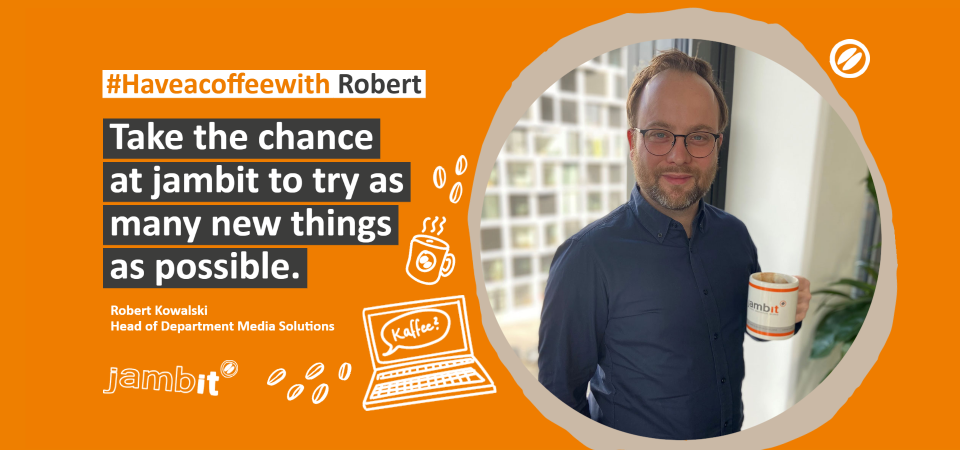 5. Where can people find you when you're not working?
Outside! Either running or stand-up paddling in the summer – perfect for clearing my head. That's not really working being in the gym. And I love to travel. My favorite destination? Definitely the USA. You can't beat hiking in the national parks and experiencing nature.
6. Which advice would you give to future applicants?
Curiosity and openness! With the different industries and projects, jambit offers diverse opportunities to learn. The more you are interested in different topics, technologies and contexts, the more fun you can have. I can only advise everyone: Take the chance at jambit to try as many new things as possible. It becomes especially exciting when you really understand cool software, i.e. what it is used for and how a company acts with it on the market.
7. What do you think will be a big tech trend in the next few years?
I think in the next few years AI & Data Science in software development will support more and more for small standard problems. We all remember the office assistant Karl Klammer, who gives us tips on writing documents. I am convinced that Karl Klammer will soon make his comeback in software development. He will then ask a backend developer, for example, if he just wants to write a security component to secure communications. With a simple click, this happens automatically. The developers will then be able to focus more intensively on the overall creative solution and collaboration. I'm already looking forward to that!