Have a coffee with Carina Schmid
1. How do you drink your coffee?
I'm definitely not a fan of black coffee – I need a lot of milk. I usually go for a cappuccino or latte macchiato. Thanks to the intro on how to brew coffee at jambit as part of the onboarding process on the first day, my milk foam skills are quite solid.
2. What was your most exciting project at jambit?
As a dual student in the Business Divisions Automotive and Business Development, I have already been able to get a taste of three different projects and found them all very interesting. The first one was my favorite. It involved the development of a web and smartphone app that makes fleet management at Daimler AG more efficient. The application supports everything from scheduling drivers to charging electric cars. You can exactly locate any vehicles of the fleet, see the distance traveled, and check when the next service is due. Drivers can also communicate with fleet managers via the app. This improves communication enormously.
When I joined the project, I was immediately allowed to test the frontend and worked a lot with Angular and TypeScript. That was cool and a lot of fun!
3. Is there a podcast you can recommend?
I don't listen to podcasts at all, but I do listen to music. My favorite? Queen! I am an absolute fan of the band and think that the music is timeless. I can also recommend the movie Bohemian Rhapsody. If you like Queen or other good music: Watch it, you won't regret it!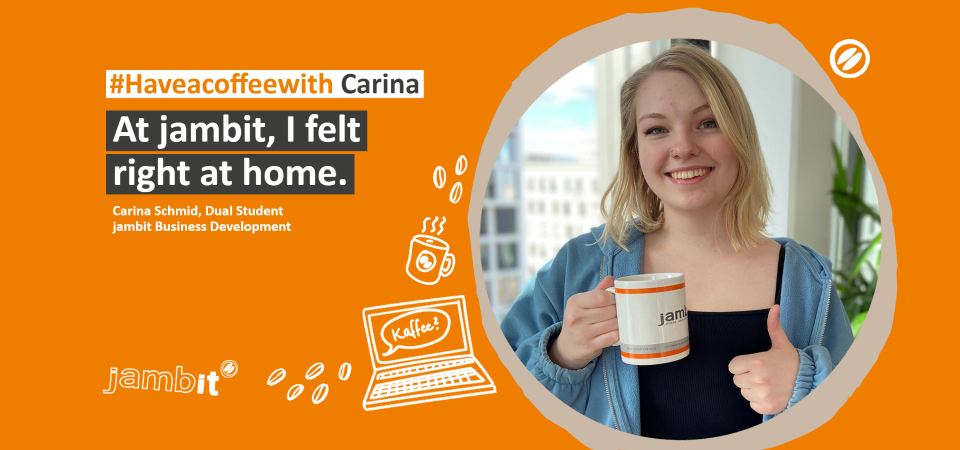 4. Which tip would you give your former self?
Until a year ago, I had little self-confidence and often felt insecure. In particular, I severely underestimated my abilities in my studies. I thought everyone else was better than me. In the meantime, my attitude has changed a lot. I know myself better, pay more attention to myself and am sure I'm on the right track. Numerous conversations with my family and with my colleagues at jambit have helped me a lot. I can always count on their support!
5. Which advice would you give to a future applicant?
I used to be really scared of job interviews. At jambit, I immediately felt comfortable. I could be myself right from the start and didn't have to pretend to be someone else. My interview partners were so likeable back then. I can still remember exactly how I felt when I came out of the interview. I was sure: "I want to start at jambit. Hopefully, they want me too." I can only advise every future applicant to stay true to themselves. A certain enthusiasm for programming is also an advantage, of course. (laughs)
6. What means 100% enthusiasm at jambit for you?
I was immediately convinced by the coffee story on the website when I first found out about jambit. I think that's charming. And the dual study program offer also sounded interesting, so I applied right away. The first impression is still valid: I think jambit is great because everyone is so helpful and you get along with everyone right away. You call everyone by their first name, even the founders and CEOs. This way, you meet each other on an equal footing. So far I haven't met anyone at jambit that I didn't find nice. The atmosphere and the spirit here are simply fantastic!