Have a coffee with Frank Strobl
1. How do you drink your coffee?
It depends on the time of day! In the morning I like to drink a cappuccino with oat milk. Throughout the day, I drink several espressos – often with jambitees for meetings outside the office. This clears my head and creates new ideas!
2. You are one of the first employees at jambit. How did you end up here?
I studied computer science at the Technical University of Munich together with our CEOs Peter and Markus. During my studies, I only knew them briefly through a mutual buddy. After my graduation, he brought me to the start-up where Peter and Markus had been working for quite some time. When both of them founded jambit in 1999, they took me on as their first employee. At that time, I would never have thought that I would still be there twenty years later. (laughs) It's really nice to be part of the journey from a start-up with five employees to a company with 400 jambitees!
3. There must be some funny stories from the early days at jambit. Would you like to share one?
Our "server room" in our first office in Asamstraße comes to mind. It only consisted of a few racks in the coffee kitchen. They simply produced so much heat that all the candles in the kitchen melted. All the warm air had to escape somehow. So we built a street of fans and opened the door to the staircase. What an adventure!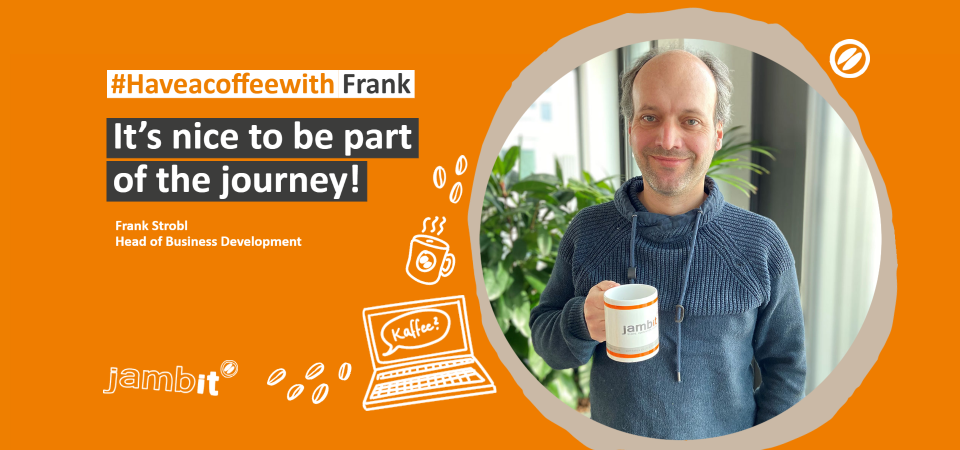 4. What has been your most exciting project at jambit so far?
Well, that's easy: the development of a trade fair demonstrator. Using the augmented reality approach, visual information was superimposed into the driver's field of vision, making the journey safer and more comfortable. For example, road signs that would otherwise disappear behind a truck can be seen as if through a pair of glasses. The whole thing has been combined with an eye-tracking module. This enables the car to track where the driver is looking at any given moment. A typical case: You're driving, you see a mountain landscape and want to know the names of the individual mountains. With the question "What is this?", the computer voice gives the desired answer – simply without moving a finger. The subject still impresses me. That's why I'm also driving our AI & Data Science and Augmented & Virtual Reality services at jambit.
5. What has gone wrong in your career so far that you can laugh about now?
Oh dear, I remember an executive training course a few years ago. After arriving, I realized that I had forgotten to bring any clothes. They were still at home – lying nicely folded on the bed. During my lunch break, I drove to the nearest discount clothing store and spontaneously stocked up on a few basic items. Unfortunately, my new outfits couldn't convince anyone.
6. Which application you can't live without?
Wait, I'll look right where my finger goes first. Ah, the Apple Podcast app. I'm obsessed with podcasts. I often start my mornings with various podcasts from the ZEIT publishing house. As an avid runner, I also really like the FatBoysRun podcast. I also often play chess on my phone. Of course, business apps also play an important role: Outlook, Teams and Power BI are my favorites. So all in all, a colorful mix of apps for every area of life!