Have a coffee with Stefan Willibald
1. How do you drink your coffee?
With lots of milk, but without sugar. I don't like the combination of bitter and sweet. Unfortunately, I also drink my coffee without milk foam because I'm not talented in making foam. Other jambitees need to show me that again. (laughs)
2. You're a dual student at jambit. How did you end up there?
That's true! Since September 2020, I'm a dual student at jambit and I'm studying Business Informatics at Hochschule München. I've already made a training in the IT industry before my studies. I really liked it and I absolutely wanted to stay in that industry. When I was looking for dual study programs, I found jambit and I was immediately excited about the contents on the website. I'm in the Business Systems Department since my introduction phase. We work on different projects, which are related to our ERP system.
3. Shell or Klicki Bunti?
Klicki Bunti. It's better and more user-friendly. If the interface is well made, you can orient yourself fast and you can start without endless training. That's how I like it!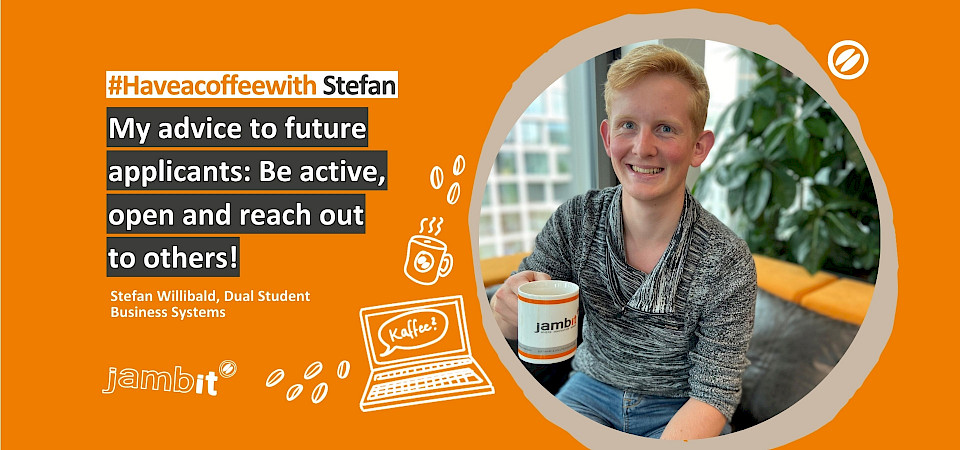 4. Which series should everyone watch at least once?
I really like watching anime series in my free time. My favorite is 'No Game No Life'. I've already watched this series multiple times. It's about the main character Shiro and his younger sister Sora. Both are transported in another world, in which any problems are solved through games. Both are unbeatable and always win. In the end, the used game strategies are presented. This is really impressive, and I can only recommend the series.
5. Where can people find you when you're not working?
Probably at home in the garden. I live with my mother and my siblings. We have a big garden where I spend lots of time. I either take care of the high flower bed, do something for my studies or I just laze in the sun. I enjoy that a lot. I also go swimming or hiking in the mountains regularly.
6. Which advice would you give to future applicants?
I think the most important thing is not to pretend and be authentic. My advice to future applicants: Be active, open and reach out to other jambitees if you want to improve something. Then you can put a lot into practice at jambit. We're a cool company, the jambitees are really relaxed and it's really fun to work here. Next year, I will even do a semester abroad. If everything works out, I'll go to Japan. I'm really happy that jambit gives me the chance to do it.