Have a coffee with Inesa Ghalumyan
1. How do you drink your coffee?
I love sweet coffee – so my favorite coffee is Glacé. This type of coffee is made with ice cream. But I only drink it once or twice a week. I don't want to overdrink myself with it, so it doesn't become a habit and remains something special.
2. Which programming language are you and why?
That's a difficult question because I have two favorite programming languages. Java for Backend and Flutter for Mobile Development. I would choose Java because I like the Java syntax, there are no boundaries and every day you can learn new things. And I would like to be Flutter because it's so flexible. I could be an iOS App, an Android App or even a Desktop App. Also, it's a very new technology, it develops every day and doesn't stop to get new features.
3. Which application you can't live without?
Definitely YouTube for music and videos! I can't imagine to live without music. It doesn't matter what mood you are in, there is always music to match. You can also learn a lot from YouTube and expand your point of view to develop yourself. That's why I would suggest everyone to watch Ted Talks to learn something new every day.
Udemy is my second favorite app. On this platform you can find free and paid courses for online learning. They offer a broad variety of courses for work and personal life. Without development you can't reach your goals – that's why I love to learn new things.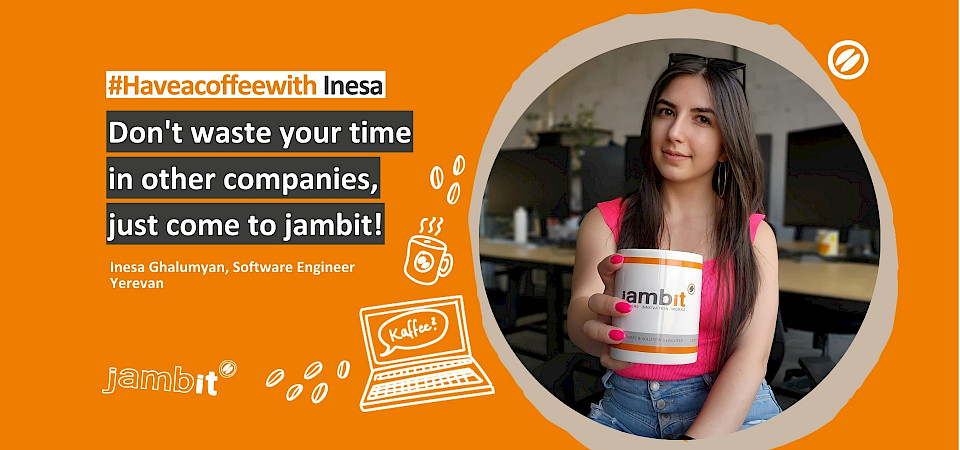 4. Where can people find you when you're not working?
After work, I usually go home and try to relax as much as I can. In my free time I like cooking and playing instruments, especially the piano and the guitar. Also I like to go for a walk or to the movies with my friends. When I have some more free time, I like to explore Armenian corners, especially in nature. I like to go on little trips and visit beautiful places that I haven't seen before.
5. Which tip would you give your former self?
Actually, I wouldn't give myself any tips at all. If I had the opportunity to give advice to my younger self, my life probably wouldn't be the way it is now. I just like to make the same choices and mistakes to get to where I am today. I am sure that if you go your own way, you will end up where you want to be.
6. Which advice would you give to a future applicant?
Don't waste your time in other companies, just come to jambit! At jambit, there are many opportunities to develop not only your professional skills but also your personality. I learn something new every day in a relaxed atmosphere. I am super happy that jambit has settled in Yerevan and that I am working here now. jambit definitely has the potential to become my favorite employer. (smiles) Thanks to Rita for recruiting me!