Have a coffee with Tina Seitter
1. How do you drink your coffee?
I hate to say it, but I'm a passionate tea drinker. The rare times I drink coffee, it's with a lot of milk and very little coffee. I also like to add cocoa powder so that the coffee flavor isn't too intense. (laughs)
2. You have already worked in different positions and at two locations at jambit. What was your path to jambit like?
After graduating with a degree in humanities, I didn't quite know what to do. In this little finding phase, I first continued to work in my part-time job in clothing retail. One day, our former HR boss Alexa came into the store. While I was advising her companion on suit shopping, I struck up a conversation with Alexa. She told me about the open position as team assistant in Munich. I was immediately convinced and sent off my application the next day. Then everything happened very quickly: I was invited to an interview and some days later to the assessment center, and in that exact same week I got a contract offer. During my probationary period, I even took over the management of the team. After the opening of the first jambit office in Stuttgart in 2017, I was drawn back to my home country in 2018 and helped build up the location. I stayed in Stuttgart and today I take care of all overarching infrastructure topics, lease agreements, setting up new offices, insurances and many other topics across all our offices and locations. I'm a bit of a unicorn and interface with a lot of departments. I really appreciate that!
3. What has been your most exciting project at jambit so far?
I had a lot of exciting projects, so it's hard to only pick one. The most challenging project, in terms of capacity and scope, was definitely planning and moving to our new Kap West office building. During this time, I also had the most defining day of my jambit career so far. Almost half a year before our planned move-in date, we received the news that there will be a delay. However, we had already quit our old office and would have been de facto out on the street. So within a very short period of time we had to find a solution, re-plan the move and reorganize everything. That was a really challenging, but also very instructive phase.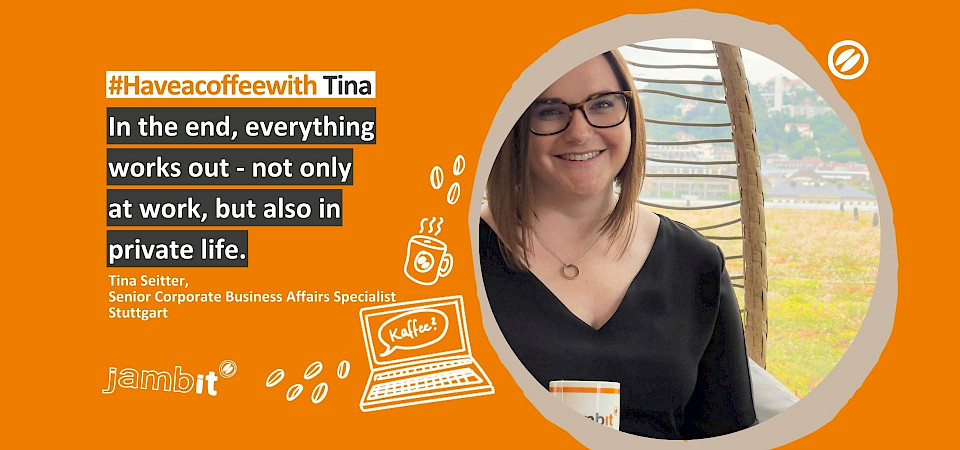 4. Which book or podcast can you recommend?
I'm a big fan of crime fiction. I love reading books of Scandinavian crime writers. The stories are really gritty and super exciting. And I also really enjoy listening to true-crime podcasts. My favorites are "Die Spur der Täter", "Akte Südwest" and "Verbrechen von Nebenan".
5. Which tip would you give your former self?
Be bold and get involved. That's what I've learned over the years. You don't have to be afraid of things, just try them out and be confident. Back then, when I found myself without a classic career plan and immediate job entry after graduating, I admit I was a bit lost at first. But an exciting path has emerged, and I'm very happy about it. In the end, everything works out – not only at work, but also in private life. There is always a solution, even if it is often not obvious at first glance.
6. Which advice would you give to future applicants?
I can only advise everyone to be bold and open. There are a lot of opportunities at jambit, both for developers and in the back office – you just have to take advantage of them! I am one of the best examples that you can shape and develop your position according to your personal strengths and ideas. My job description at jambit would probably not be found anywhere in the market in the same way. I really enjoy the fact that I can implement many different projects in a wide variety of areas and that there is never a standstill.