Have a coffee with Alexander Nachtwey
1. How do you drink your coffee?
Usually as Latte Macchiato – for the environment, sometimes with oat milk. In the afternoon, however, it sometimes has to be an espresso. It's my personal energy drink.
2. Which book can you recommend?
It's not an insider tip, but "Sapiens: A Brief History of Humankind" by Harari immediately comes to mind. The book offers many new perspectives on the world and one's own life. It has held up a mirror to me and sharpened tolerance and acceptance for others. I kept having so many wow- and aha-moments while reading, so that I had to put the book down every few minutes to think about all the eye-openers. Although it deals with the past, it makes you understand the here and now better.
3. Speaking of the past and the here and now, what has gone wrong in your career so far that you can laugh about now?
Before I visited the Munich jambit office for the first time, I felt like a minor celebrity back then. Everyone in Munich knew "the Leipzig guys", but I myself knew almost no one, so I moved from office to office a bit excitedly to say hello. Right at the beginning, I ran into someone in the hallway and simply asked, "So, what do you do here?" As he answered, I wished the ground would open and swallow me up, because he said: "I'm the CEO." I didn't recognize Peter Fellinger, one of my bosses. I was super embarrassed, of course, but Peter took it easy. It didn't negatively affect my future path at jambit. I even moved up from software developer to team leader of department II in Leipzig.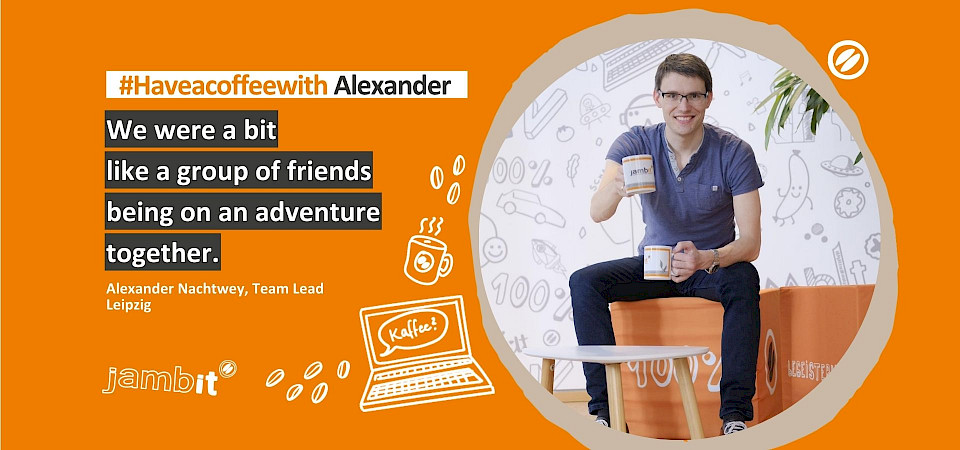 4. jambit Leipzig is a good keyword. Back then, you applied for the job before the office was even opened, making you one of the few first Leipzig employees. How did that come about?
A friend from high school was at jambit in Munich at the time and raved about it. And when he recommended something to me, it had value. The rest was simply a leap of faith, because the subsidiary in Leipzig didn't exist yet, and neither did an office. For some people that might have been a problem, but I found the start-up character special and being involved right from the start really appealed to me. We started out as a family with five people who theoretically all fit in one room, and we paved the way. It was a bit like a group of friends on an adventure together. Only without the jungle and dangerous animals. (grins)
Rather, we sat down together, discussed topics at eye level, and everyone contributed because we knew all the participants and all the potential helpers. Even after work, we often went out together. In addition to evenings with soccer, bicycle tours or beer, we created the first knowledge management formats, channels, groups, activities and a very special atmosphere, which was – and still is – shaped by all jambitees. In the meantime, we have established so many groups in Leipzig – from Lightning Talks to game nights – that I no longer have to sweat at soccer to meet colleagues, as I did in the early days. And to not get rusty at my desk, we have the daily "Fitnessly" as an alternative. And I could list so much more. There are just so many groups and opportunities to meet colleagues outside of the project and to exchange ideas.
5. You don't live in Leipzig, but commute an hour to and from Halle every day. jambit recently started offering X-Office and remote work. An option for you?
Commuting has never been a problem for me. I see it as "enforced free time", where I get to read a book on the train or dedicate myself to image editing. Photography is my passion and in everyday life I rarely get to sort out and edit photos. At home after work, I often rather tend to hang up the laundry.
In addition, working remotely would not be an option for me. I think it's a great offer, because for many people it brings flexibility, but I love the personal contact with people and simply need them around me. Even if I see people in calls all day, I just need the live contact for my salvation.
6. You are a father of a young son. How does jambit support you?
There is a daycare subsidy. Great thing! But what I appreciate even more at jambit is the flexibility regarding working hours and place of work. Not only can I spend more time with my family, but I can also cushion extraordinary situations that arise from time to time by simply being at home. I also worked part-time on parental leave, and I would also have the option of working part-time in general. Even as a manager. That's not considered natural in the working world.
7. Which advice would you give to future applicants?
Be who you are! Everybody here puts his pants on the same way as you. (laughs) And get involved – beyond your project. Taking time for your subsidiary or office, knowledge management, culture, or the jambitees is super valuable and makes the difference in the end. At jambit, people matter and that creates a very special atmosphere.