Have a coffee with Wolfgang Hieke
1. How do you drink your coffee?
I'm an absolute coffee junkie and usually drink cappuccino – I start my day with three cups. I work remotely from Wolfsburg and I'm glad to have a good coffee machine at home. Still, I look forward to the delicious jambit coffee when I visit one of our offices.
2. What do you appreciate the most at jambit?
That I feel very extremely comfortable – the atmosphere at jambit is great. Just like all the other jambitees, as a remotee I also have the opportunity to attend all events and trainings live on-site at any of our offices. I like to take advantage of that and it's always fun. In addition, jambit gives me an extreme amount of freedom. I am trusted a lot and as Sales Director Automotive I can work very independently. Often, success comes all by itself as long as you feel comfortable. Just today, I sealed a new framework contract, which of course makes me very happy.
3. Which TV series should everyone have seen?
As a real fan of TV series, I can recommend a few. Game of Thrones is a classic, of course. And recently I watched Queen of the South. It's also very worth watching. When I have enough time, usually on vacation, I prefer reading instead of watching series. I then reach for a good thriller. To be honest, though, I also just enjoy lying on the beach and doing absolutely nothing. (laughs)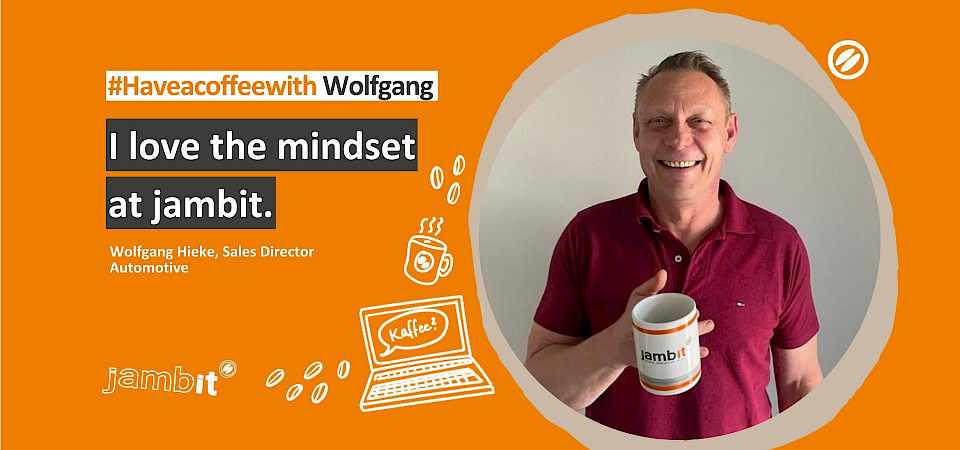 4. Where can people find you when you're not working?
I'm a big soccer fan. I've lived in Berlin for thirty years and have remained a Hertha fan. In 1976, when I went to the stadium in Berlin for the first time as a little boy I was blown away. Unfortunately, I rarely make it to Berlin anymore – but now I have VFL Wolfsburg directly in front of my door and I am the proud owner of annual tickets for the family block. I am also an active coach and train the E-youth of our local club. There, I get to coach my 8-year-old son, which is sometimes a bit difficult. (laughs) My other big hobby is my five cars. I am often turning wrenches in my free time.
5. Which tip would you give your former self?
Looking back, I really would have liked to study. After graduating from high school, I started a training as an auto mechanic. However, I realized that this was not the right thing for me and I finally dropped out of the training after two years. I then retrained as a commercial clerk in the real estate and housing industry. I definitely liked that better – but studying was still in my head. In general, though, I prefer to focus on the future rather than the past and live by the motto "If you want to do something, do it now." If I feel like doing something, I just do it, beacuse all we have is now! For example, I've been to Tomorrowland Festival three times already and next year I definitely want to go again. It's so much fun!
6. Which advice would you give to future applicants?
All I can say is, come join us! The togetherness at jambit is great, the jambitees are incredibly helpful, stand by with advice and support, and luckily you won't find any rivalry or job competition here. I love the mindset at jambit – people come first. I already noticed this in the very first interview during the application process. The HR team does a great job.