Have a coffee with Mesi Varga
1. How do you drink your coffee?
I can't function without coffee. My day always starts with a double espresso with lots of cold milk – then it has the perfect temperature and is not too hot.
2. How did you end up at jambit?
My personal jambit story could almost be straight out of a Hollywood movie. I used to be an external cleaner at the Munich jambit office at Donnersberger Brücke. In the evenings, I often talked to our former Head of HR Alexandra Mächtel about everything and anything. One day I told her that I would like to change my job. She then offered me a position as team assistant – and of course I accepted straight away! Fortunately, Alexa recognized my potential and gave me a chance. I wouldn't have dared to apply on my own. Today, I am still very happy that everything turned out the way it did. At jambit, it is never boring, my tasks are very diverse, exciting and working in my great team is a lot of fun!
3. What has been your most exciting project at jambit so far?
That was definitely moving to our new office at Kap West. We worked on this project for almost a year and took care of many issues: from communication with the moving company, to space planning, to the entire organization. There were definitely some challenges. On top of that, the office building was not finished in time. That's why we had to move twice: once to an interim solution and later to the final office. But the effort was definitely worth it. Our new office is amazing.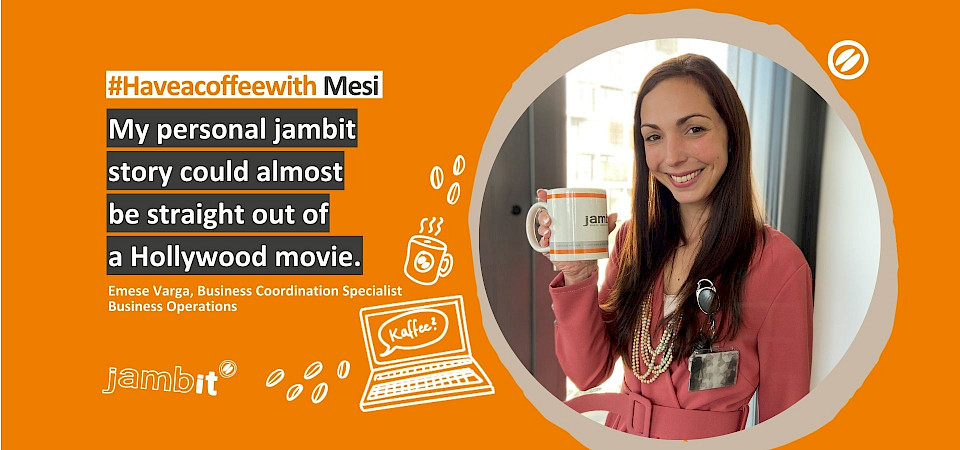 4. Which advice would you give to future applicants?
When I was still working as a cleaner at jambit, I could already see that the jambitees are like a big family and like to spend time together. After work, the employees often ate together or met outside the office. At jambit, there are many opportunities to develop and grow. I can advise all applicants to have the courage to apply! There are many opportunities waiting for each and every one of us.
5. Which application you can't live without?
That's definitely WhatsApp. My family lives in Hungary. Thanks to Whatsapp video calls, they can still be part of my life and see their grandchild every day. We talk every day and I send them a lot of pictures. It's really convenient and makes a lot of things easier.
6. Where can people find you when you're not working?
I became a mom two years ago – it's been a full schedule every day since then. Since my daughter can walk, we've been at the playground every afternoon. In the summer, we like to go to the outdoor pool and enjoy the sun. In the evenings, I'm an absolute Netflix fan and love watching series. A Spanish production has become my favorite series: Money Heist. I'm almost addicted to it and could watch it over and over again.