Have a coffee with Gayane Kasparova
1. How do you drink your coffee?
I love coffee! I prefer to drink Caffè Americano – prepared by diluting an espresso with hot water. My husband and I always start our day together with a cup of coffee. When I get to the office, I drink my second one, after lunch another one and I enjoy a last cup in the evening.
2. You were the first jambitee in Yerevan. Can you tell us a little bit about it?
I actually wasn't thinking about changing my job. One day, I saw a job opening posted on a recruiter's profile and it caught my eye – it said that jambit would open a new office in Armenia. I applied and had my first interview with the jambit recruiter Alisha. It was so warm and friendly and we chatted like old friends. After that call I thought: "Wow, I really would like to have this job!". Alisha told me about the jambit vision, the culture and how much the employees are valued. I got so excited to work there. And nothing has changed! It's a very special role to be the first person in a company. I remember when I walked into the office on my first day. All the walls and tables were empty, and it was only Dvin and me with flashing eyes excited to get started. I feel very honored to be able to shape the culture and I'm proud to be the first jambitee in Armenia.
3. What would be your dream project that you would like to work on someday?
That's easy. If I could choose a project, it would be something with eye catching UI & UX experience and magnificent animations. I'm a Frontend Engineer and really love those kinds of things. My passion is to create things that users can remember and talk about. I'm very excited about all the upcoming projects at jambit!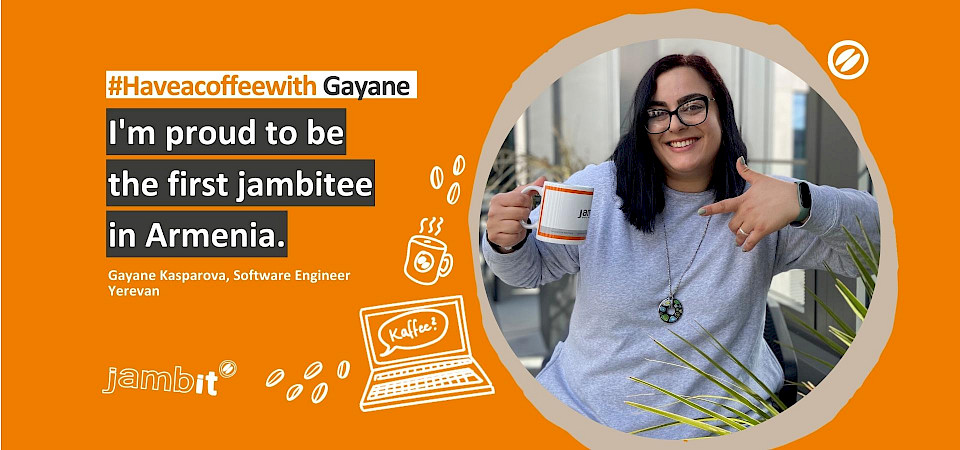 4. What has gone wrong in your career so far that you can laugh about now?
I had a break during my study process and started to work in a call center. I ended up working there for five years in total! To be honest, it was the worst job I could imagine. But today I know what I don't want and what I'm really passionate about. It also gave me the best practice on how to communicate with different kinds of people in various situations. I'm glad that I work in the IT-sector now and get to enjoy what I do every day.
5. Where can people find you when you're not working?
Before I had kids, I had a huge list of hobbies: Swimming, playing the guitar, reading, climbing, hiking … to only name a few. My daughters are two and four years old and now I mostly spend my free time with them and my husband. We either play at home or are drawn out of the city to hang out with friends. I also enjoy cooking!
6. Which advice would you give to future job applicants?
jambit really is a Great Place to Work. It's not only a slogan or a trophy. Just apply and join jambit – you'll have the perfect work-life balance, opportunities to learn and grow and also the chance to develop personally. I haven't heard of any other company, which offers benefits in a similar way. We are a great bunch of people in Armenia and get along really well. I can only emphasize that it's very special to be one of the first people at a new company location. Building something from point zero with the possibility to create something different is very exciting. This thought has driven me from day one and it still makes a lot of fun.