Have a coffee with Andreas Lemke
1. How do you drink your coffee?
I don't drink coffee at all. I mostly drink chamomile tea. My wife is still shocked about that fact, but it's like that. (laughs)
2. How did you end up at jambit and which role do you have?
Before I came to jambit, I've already been in partial retirement in my previous company for four years. When I turned 63, this time ended. I had to decide whether I retire or whether I start a new job. I checked the job market, and I sent my first application directly to jambit. Since then, I'm working as a tester in an exciting automotive project. We develop an app for the controlling of Smart Home features in motorhomes. You can control lots of settings of the home features with one device – heating, illumination, step, and a lot more.
I really enjoy work. The jambitees and the customer team are great, and the atmosphere is fantastic. I could also contribute to develop the testing further. I've always tested with lots of manual effort on real vehicles or on a test stand so far. That's why I picked a trainee and dual student, and we developed a simulation (hardware-in-the-loop) prototypically. Features can be tested on the test stand without reserving a motorhome every time. We also showed that app tests can automatically be executed. The customer is also very enthusiastic about this possibility and now promotes the automation actively.
3. You are also active in university marketing. At which campaigns do you participate?
I recently participated in a Hackathon at the university Stuttgart. It was organized by Arena2036, which is a cooperative research campus for mobility and production of the future. I was there together with Mercedes-Benz and we organized a challenge for the students about test automation with hardware-in-the-loop – matching to my work field. This was an exciting experience, and we all had much fun. I could also take the chance and talk about jambit with lots of students. I'm also in the management board of the IT forum in Stuttgart, which is a booster club for the regional IT. I'm very active in different formats.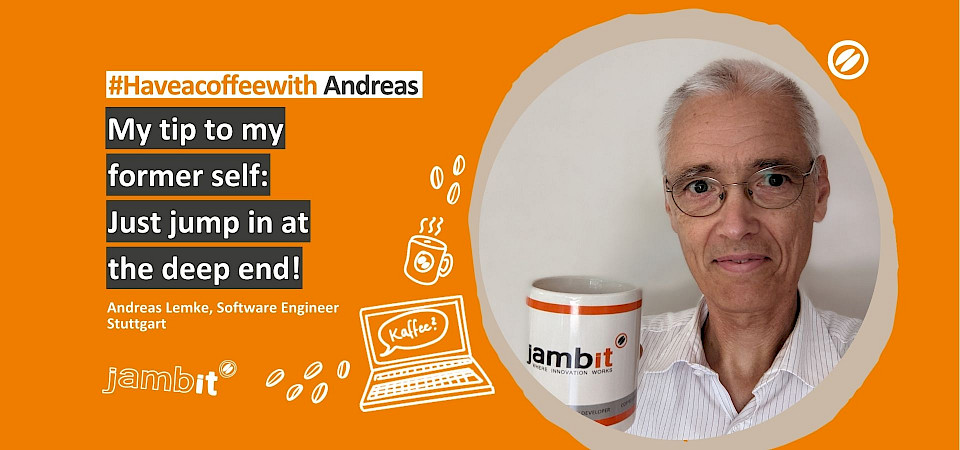 4. Which application you can't live without?
It's actually the browser app. I'm a real news junkie and read at least four different newspapers. Also FAZ.NET, which is attended by jambit, as you know. I'm very interested in politics and inform about current news.
5. Where can people find you when you're not working?
Mostly on the bike. This is my sporty balance to work. Through all of the working from home, I notice that I don't have much exercise in daily life. That's why I'll go biking later. Apart from that, I'm also involved with current topics like climate change, renewable energies, and ideas how we can optimize our house in the future.
6. Which tip would you give your former self?
I would give myself the following tip: be more brave to take up challenges and to just jump in at the deep end. I'm a person that focuses more on safety. If I had been able to go back a few years, I would have dared to take such a position even without leadership experience. You can't be 100% an expert in all areas in advance, you just have to start. In Stuttgart we'll have a quite young team leader called Ferdi starting in September. It's great that he gets the chance from jambit and that he also takes it.
7. What do you think will be a big tech trend in the next few years?
I rather have a tech trend wish: I hope that the digitalization in Germany will even more establish. We've already moved forward in companies, but especially in the public area, like schools and authorities, there's a high backlog demand. We're still in the Stone Age there. Through the pandemic, the digitalization was speeded up, but I wish that the transformation moves forward even faster.