Have a coffee with Alunciano Rivera
1. How do you drink your coffee?
I don't drink any coffee at all. It's actaully to crazy for me. (grins) I generally try to avoid caffeine. And if I have to overcome an annoying midday slump, I drink a mate for a little energy boost.
2. What movie can you recommend?
Without a doubt, "A Knight's Tale". It doesn't have a freaky plot, twist or special effects, but it's still my all-time favorite. The movie combines several genres – from comedy, adventure, fight scenes to romance, it has everything. It just spreads such a feel-good energy for me again and again.
3. Why software development?
When I was a kid, I used to take computers apart. Later, I decided for a training as IT specialist for application development. Programming is simply fun for me and I can be creative. What can I say, I can really imagine worse things than software development! (laughs) Then I also wanted to dive a little deeper into the field and started studying computer science. I am currently doing this part-time and work 30 hours at jambit. I could have also taken a working student position, but I would rather work more and gain practical experience.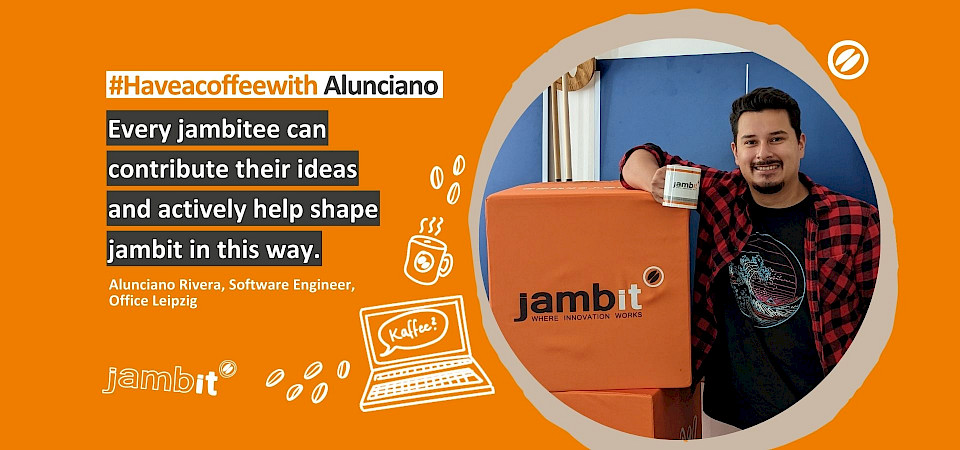 4. How did you end up at jambit?
After my temporary job at the computing center of the University of Leipzig expired, I was looking for a job. On kununu, the top rating of jambit made me curious. I then came across the 2-year video of the jambit office in Leipzig and that finally convinced me to apply. It's totally likeable and authentic. You can see that a lot of heart and soul has gone into it and that it is not a dry, boring image film. This good gut feeling was confirmed in my first meeting with HR.
5. What has been your most exciting project at jambit so far?
Actually, I have no projects to choose from so far. I haven't been with the company that long and am currently still working on my first project. And that is quite challenging right away. We took over the legacy system from another service provider, who also just took it over and so on. In such a chain, a lot of knowledge is lost and you have to really dig in to be able to understand the code. And yet I currently have no desire to change. On the contrary, I have just taken over the project lead together with a colleague here in Leipzig. I'm very excited about this new task.
6. Is there a memorable moment for you so far that expresses what jambit means to you?
The fundraising for Ukraine immediately comes to mind. A jambitee posted internally in a Teams chat the idea to donate overtime. Our CEOs Markus and Peter read this, sat down with our Finance department to see if and how this was possible, and just a few days later this great initiative was implemented. All our employees have a lifetime work account, on which they can collect overtime hours. These can later be used as holiday or you can have the hours paid out. From this account, all jambitees could then voluntarily book the time quota they wanted to a specially set up donation project. This was then converted into the monetary value and rounded up again by jambit. Not only did more than 80,000 € come together and were donated to aid organizations, but it also showed me that all jambitees can contribute their ideas.
7. Which advice would you give to a future applicant?
Just do it and be yourself! This already applies to the first interview. Don't pretend to please the other person. Only if you are already yourself, you will realize if you fit to jambit. And of course vice versa. So don't worry, they are all very nice.