Have a coffee with Sabrina Reichert
1. How do you drink your coffee?
I prefer to drink Americano with oat milk. In the past I drank around two liters of coffee per day, but I can control myself better now (smiling).
2. Is there a book or podcast you can recommend?
Both. Normally I read every evening. At the moment, I'm reading "How do you live". The inspiring Japanese classic by Genzaburo Yoshino is a coming-of-age story about what's really important in life.
And I can highly recommend the podcast "Drinnies ". They talk about the topic introversion in an easy and enjoyable way mixed with a bit of humor. You can listen to the Drinnies' view of the current events and the world.
3. Why software development?
I see myself as an interface between computer and human and I want to offer systems to people without technical knowledge, which they can use without any problem. That's where my social streak shows itself a bit. I wanted to study social work but after my voluntary social year, I noticed that it gets too close to me and I thought about it too much at home. Afterwards, I luckily decided to do software development and wrote my first lines of code only in my mid-twenties. This sounds a bit strange but makes completely sense. And it worked out fine for me up to now.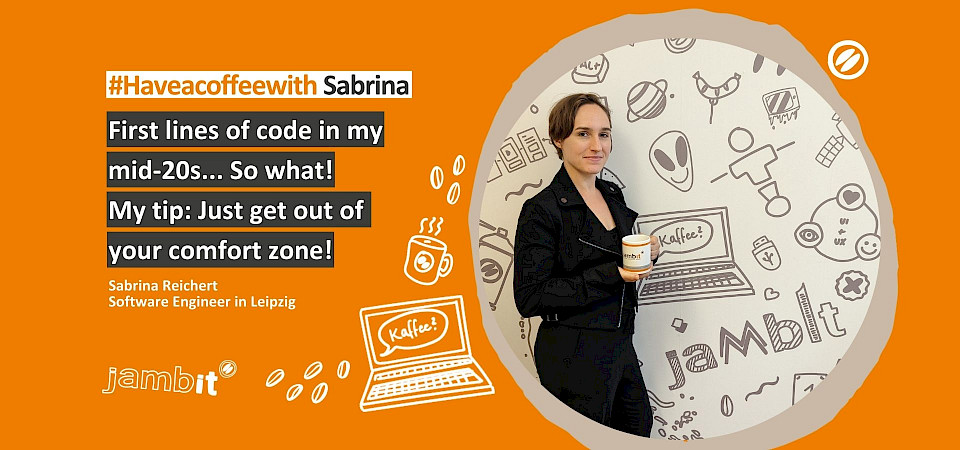 4. What has gone wrong in your career so far that you can laugh about now?
When I was at the beginning a couple of years ago, I had to deal with the WIFI at a JavaScript conference. I started talking to some participants and said proudly: "I also do something with Java at the moment." The others looked at me with big eyes and answered: "You aren't coding for a long time, right?!" As I know now that Java and JavaScript are different programming languages, it was a bit embarrassing. But I can laugh about it today.
5. How did you end up at jambit?
Someone in my friend circle told me about jambit. Afterwards I looked at the homepage and contacted the human resources team. The first conversation was really nice and inviting. In the end I was convinced by the topics knowledge sharing and transfer at jambit and the model of Vertrauenslernzeit to gain knowledge. Then I first started as a working student, I wrote my bachelor thesis at the same time and since August I'm a software engineer at jambit.
6. Which advice would you give to future applicants?
Just get out of your comfort zone more often! I have a bachelor's degree in ethnology and only in my mid-twenties I chose a completely different way into software development. And it worked. Don't be scared to show that you don't know everything and can't do everything. That's the only way how you can learn something new, grow and develop in your field. You can't be an expert in everything - everybody starts somewhere. And to ask questions doesn't hurt. I've already had some questions during my technical interview at jambit and they explained things after. It seems that it wasn't a problem, because after all I was hired.
And another tip, especially for more inexperienced developers: do Code Katas before. The tasks really help and also prepare you well for the technical interview.