Have a coffee with Kevin Schaefer
1. How do you drink your coffee?
I was kind of a coffee addict and cut down on my consumption a few years ago. But when I really need some coffee, I drink a cappuccino with lots of milk and sugar.
2. How did you end up at jambit?
Through jambit meetups! A few years ago, I regularly did some meetup hopping with my buddies to get to know cool companies and listen to exciting talks. During that time, we also attended meetups from jambit. Apart from the delicious free pizza, which of course also attracted me as a student, I was always very interested in the topics of the talks. Another big plus at jambit was and is the relaxed atmosphere. All the jambitees always welcomed us openly. And since I wanted to gain new experience anyway, I applied directly. I've been working at the Stuttgart office for three years now, first as a working student and since January 1, 2022, as full-time employee.
3. Which programming language are you and why?
Interesting question! I wish I could say Elixir: a functional, easy-to-understand programming language with only few bugs. Currently, however, I see myself more as SWIFT, an efficient language but (still) with some room for improvement.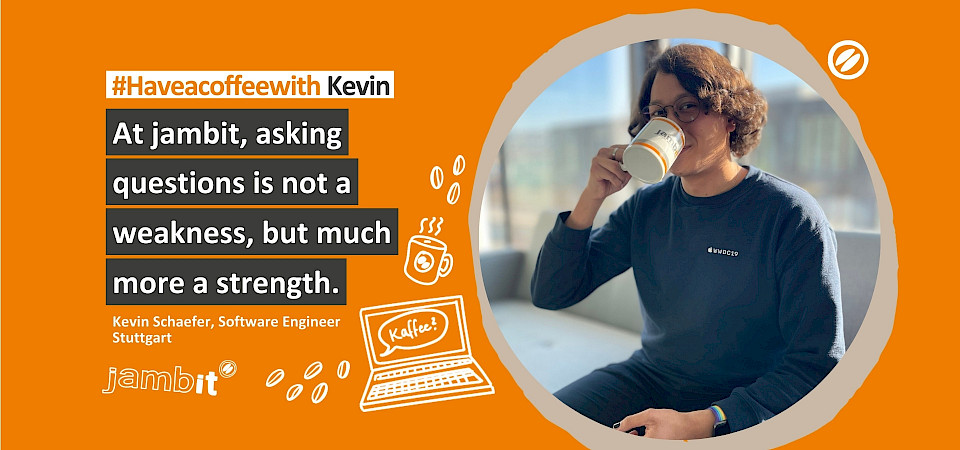 4. What has been your most exciting project at jambit so far?
I found all projects exciting from different perspectives. From the technical ppint of view, there is one project with an automotive manufacturer that stands out. The mathematics part was very high – so the project was challenging but at least as interesting. My current project convinces with great cooperation with our client. The collaboration is fun and we get a lot of constructive feedback. The product is particularly exciting because the focus is on user experience. Here I was also allowed to participate in the release process. That was really exciting!
5. What has gone wrong in your career so far that you can laugh about now?
I can't really think of anything that has gone fully wrong. That's mainly because of our jambit culture where it is okay to make mistakes. That is hardly avoidable in computer science. At jambit, you can talk about every challenge, learn from it and counteract early if things go wrong. In my current project, I am the only Junior Software Developer in a team of several experienced jambitees. I can always count on their support and help. At jambit, it is absolutely not a weakness to ask questions, but much more a strength.
6. Which application you can't live without?
Apple Music! Music is essential for me. I use it to process my emotions. That's why I'm currently founding a jambit band in Stuttgart. In Munich, the jambit band has been rocking at the summer and Christmas parties for many years – now we want to get active ourselves! We are a group of several musical jambitees. I myself am singing and learning guitar and piano at the moment. Soon, we want to meet for the first time to rehearse. I am really looking forward to that!