Have a coffee with Daniel Schröpfer
1. How do you drink your coffee?
I like my coffee just the way I like everything else: black. Preferably so strong that the spoon gets stuck in it.
2. Which programming language are you and why?
I would choose Malbolge. For one thing, it's an esoteric programming language that doesn't take itself too seriously – neither do I. Also, it was named after the eighth circle of hell. This reflects my fascination with dark themes. And last but not least: Malbolge claims to be a terrible programming language that is difficult to master. In fact, I have also met a complete stranger on the street with the words "Lots of terrible people running around outside these days". So it fits. (laughs)
3. In addition to the project, you also work in our website team. What do you do there?
For several years now, I have been working a few hours a week for our jambit website team alongside the project. It's a great feeling to actively help shape a product that is so relevant to the company. We work with ProcessWire, a content management system that works with PHP. In close coordination with the marketing team, we clarify which projects are next in line for publication on our homepage. Depending on the content idea, we program new features, integrate new tools, restructure and much more. For example, we just recently added a recruiting tool and embedded this very interview format "Have a coffee with". To support us with the many and diverse topics, we are looking for a working student.
Check out our job ad for more information. (currently only available in German)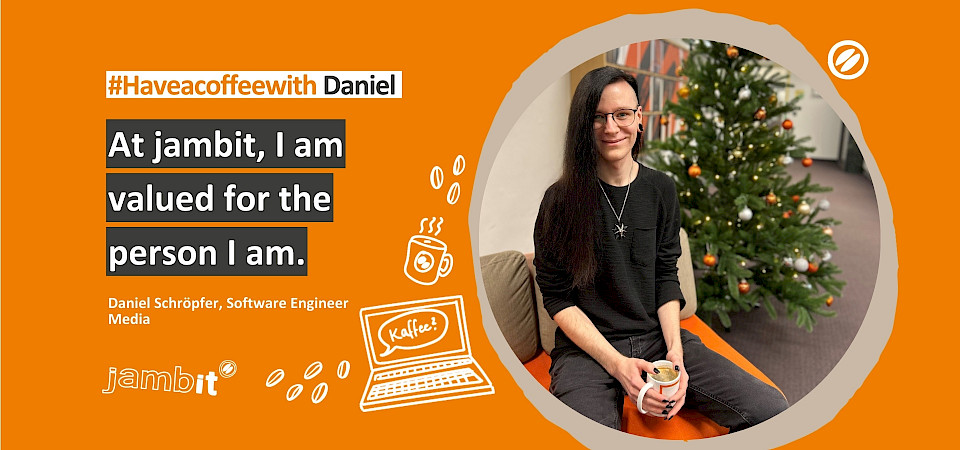 4. Which book can you recommend?
Definitely my favorite book: "Biography: A Game" by Max Frisch. The drama is about looking back at your own life and realizing that you can't change it retroactively. The book encourages you to think about how you want to shape your own life. After all, you only get one chance. I used to worry a lot about finding my identity. That was a difficult phase. Looking back, I'm glad I went through it. Now I'm completely satisfied with where I stand in life.
5. Where can people find you when you're not working?
Physically, I am very much at home. Mentally, I'm always traveling in some other worlds. (laughs) I also work on many different hobby projects. I like programming a lot in my free time and I'm into fiber crafts and everything to do with fabrics. I made my own scarf and gloves, for example. And I listen to music all the time. Just last week, the Spotify year in review came out. With my 29,901 minutes, I probably listen to more music than 80% of all Germans.
6. More than five years ago, you started as a trainee at jambit. Which advice would you give to future applicants?
jambit was my employer of choice from the very beginning. Even as an applicant for the vocational training position, I could see how much value is placed on individuality. I think you should definitely remain authentic and not pretend to be somebody else. You spend a third of your life at work. That's why you should definitely feel free and like yourself. Fortunately, at jambit you are allowed to do that completely. Only when I'm feeling really free, I can concentrate on work and put all my energy into it.
I often hear from friends and family how they are treated in their companies. I honestly find that pretty shocking. At jambit, we have the luxury – which should be standard – of being respectful and kind to each other. Giving constructive feedback and motivating each other helps us grow. Nobody is being put down here. I like to stay at jambit because I am valued for the person I am.