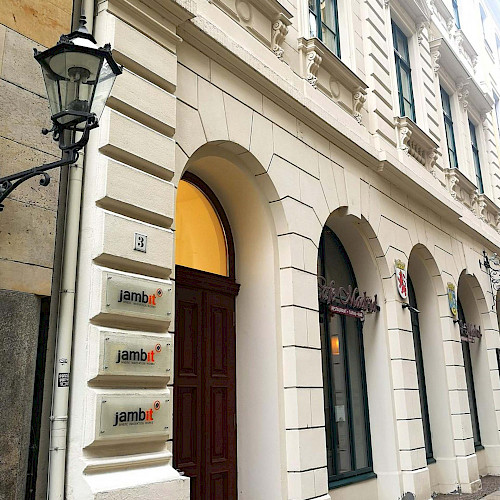 jambit Leipzig is expanding
The jambit house
Leipzig Episode III: Where People Work
In January 2022, our software developers at the jambit office in Leipzig were finally able to inaugurate their new floor after a lot of exciting renovation and construction work.
At the grand office opening in 2018, the small team moved into the 3rd floor of the central building in Klostergasse directly at the heart of Leipzig. Already after one year and a fast growth, the office one only one floor became to crowded. Luckily, one floor below had just become available. So we were able to celebrate the occupation of the 2nd floor just in time for our 1st birthday in May 2019. Guests at our big Level-Up birthday party were our Leipzig jambitees, some Munich and Stuttgart colleagues as well as other invited family & friends and business partners. As this floor also filled up quickly, we were happy when we the last office space in the building had become available. We seized the opportunity and jumped at the chance. With the expansion we are now ringing in the next chapter in Leipzig and are already being celebrated as "the jambit house". For us, however, the opening of the 1st floor primarily enables us to expand further and to implement even more innovative software projects with renowned clients.
More space for social areas: On the new floor, in addition to new workstations with electric height-adjustable desks, there is now a chillout meeting room, a spacious dining area, a green courtyard and a large room for our Fitnesslys and a multifunctional game table with table tennis, billiards and air field hockey.
Driving growth and providing space for jambit culture
Philip Achenbach, Head of Subsidiary jambit Leipzig, is pleased about the continuous growth since 2018 in Leipzig. "I wasn't surprised that after moving into the second floor, we soon needed another office expansion," he smiles. "Our Leipzig jambitees are continuously doing a great job here and we have established a good reputaion. We are all the happier that we were able to grab the additional office space within the building. Such an expansion is easier for everyone involved than moving to a completely new office building."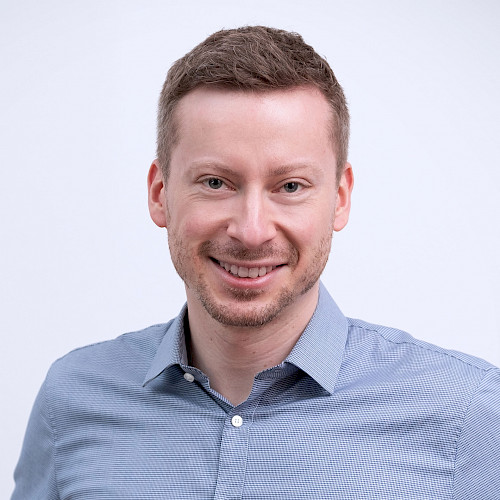 With the additional second floor, jambit Leipzig has again created enough space to work and for many additional social and activity areas. "Our participatory culture makes the difference, i.e. our employees, who also like to interact with each other beyond work and enjoy meeting in the office," adds Achenbach proudly. "By gaining the new space, we continue to allow plenty of room for our jambit spirit and, of course, to expand further to support even more projects from a wide range of industries, from automotive to media."
Our growth course continues: We are hiring and we still have some empty chairs...
Jetzt Kontakt aufnehmen!
If you are interested in our office in Leipzig beyond our vacancies, Philip Achenbach, Head of Subsidiary Leipzig, will be happy to answer your questions. Simply leave a message using the contact form.
Or contact him directly via LinkedIn.
* Mandatory field