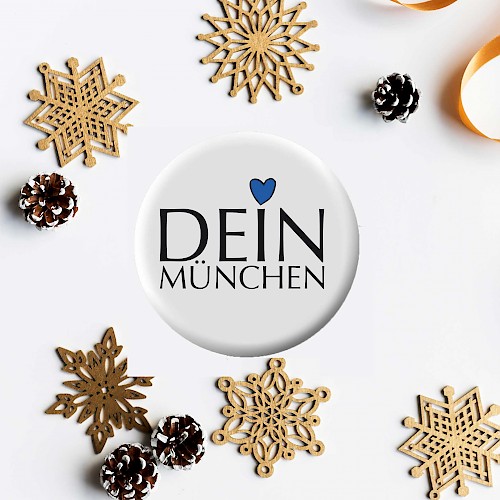 Christmas donation for "DEIN MÜNCHEN"
Christmas and presents simply go hand in hand. In particular at Christmas time, jambit cares about supporting projects with wise and meaningful donations that help people who have less. Our jambitees have decided: The jambit Christmas donation 2018 goes to "DEIN MÜNCHEN". With this gift, jambit hopes to share joy and to make a positive difference to the future of the children and adolescents of the non-profit organization.
On December 10th, we had the nice opportunity to hand over personally the donation cheque of 5,000 € to DEIN MÜNCHEN!
Photo: Franziska Kupfer, Head of Marketing and Communications, jambit GmbH; Mara Bertling, Founder and Managing Director, DEIN MÜNCHEN; Katja Schubert, Project & Partner management, DEIN MÜNCHEN, Armin Herzig, Sales Director Banking & Insurance, jambit GmbH (from left to right)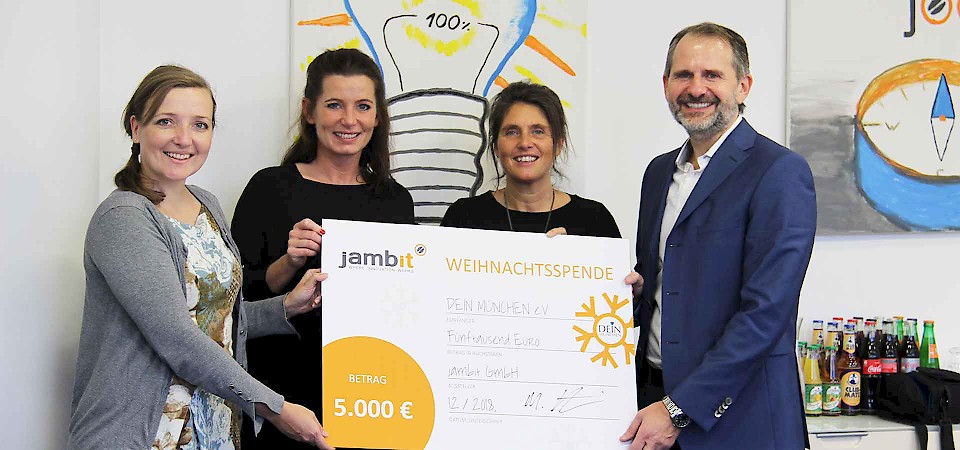 Thanks to our donation to DEIN MÜNCHEN, disadvantaged children and adolescents are being reintegrated into community life in Munich. By giving them free access to education, culture and sports, they can sustainably participate in social life.
We at jambit believe in this way of promoting the future. That's why we support the non-profit association with a Christmas donation of 5,000 €. In this way, the children and adolescents also experience the meaning of Christmas – grace of charity, hope and confidence.
Embracing social responsibility
At jambit, great emphasis is put on social commitment. Our Corporate culture is characterized by responsible and sustainable behaviour (jambit Corporate principles).
In this hectic and loud world, please do not forget those to whom fate has been less kind. Please do not forget those who cannot help themselves and are not responsible for their personal circumstances. DEIN MÜNCHEN is promoting the development of children and adolescents and is thus creating the foundations and opportunities for a positive future.
Learn more about the social commitment of jambit and DEIN MÜNCHEN
At this point we would like to thank again Mara Bertling and Katja Schubert, who, together with their colleagues, achieve so much and make DEIN MÜNCHEN e.V. become strong. We are very pleased to support this valuable organization with a Christmas gift!