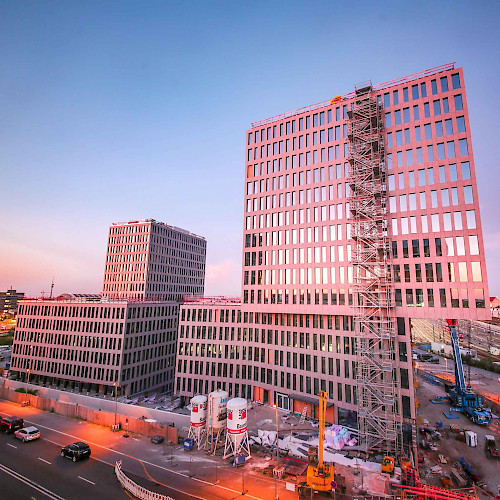 #PackMas – jambit Munich is moving to the next station
jambit's new heart will soon be beating at Hirschgarten. There is still some construction work to be done on the new office building Kap West. Craftsmen, electricians and painters are working hard on every floor.
The first moving boxes are already being packed in the current office at Donnersbergerbrücke. By mid-November 2019, the time will have come. Nearly 300 Munich jambitees are going to move into their new offices. We are looking forward to an ultra-modern office that offers us plenty of space for meetings, meetups, football matches, coffee-talks and much more!
jambit is relocating its Munich headquarters – why?
jambit is going to move from Arnulfpark to Kap West at Hirschgarten and expands to more than 6,500 square meters. This also includes a rooftop terrace measuring over 100 square metres with a view of the Alps and Munich's city centre. Why did jambit decide to change its location and move into new offices? The answer is perfectly clear: for the employees.
As a software service company, our employees are the producers who keep everything running and generate turnover. And the number of jambitees is increasing more and more – from Software Developer to DevOps Engineer, AI Research Scientist, Sales Manager and Team Assistant. Just recently, during the summer of 2019, we have broken the 300-employee-mark. As Great-Place-To-Work® we are of course happy about this growth.
Due to this constant employee growth, the jambit founders and CEOs Peter Fellinger and Markus Hartinger started looking for suitable larger office spaces 2 years ago. Over the years, additional floors were added to the Arnulfpark jambit office, expanding the area from 2,000 to 4,000 square meters – with ever longer walking paths for some jambitees. Direct connection areas were unfortunately no longer available. For this reason, a more compact solution was sought outside the office building, which was also convincing due to its central location.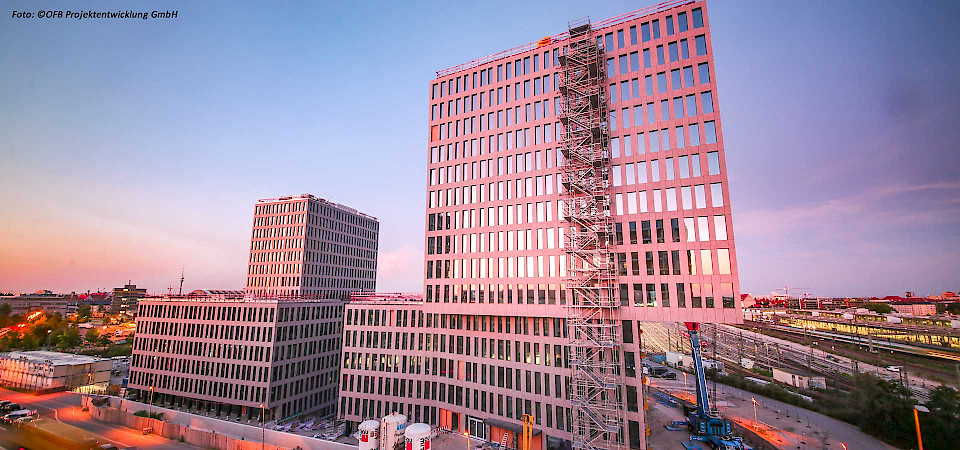 The new office convinces with its central location and design freedom
With an office a little further outside or on the outskirts of Munich, you could certainly save some rental costs. But a central location with good infrastructure and direct connection has always been one of jambit's most important criteria for choosing an office location. The new jambit office is centrally located at Hirschgarten, more precisely at Friedenheimer Brücke.
"Excellent accessibility and immediate recreation for our employees – that's what we have found here with the new Kap West building project," recollects Markus Hartinger when he was looking for an office.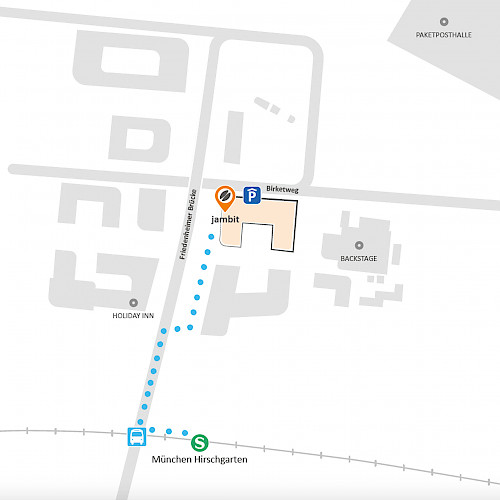 The new jambit office: The S-Bahn station Hirschgarten is only a 3-minute walk away, with connections to all lines of the S-Bahn main line, and only 15 minutes to the Königlicher Biergarten, which is with around 8,000 seats probably the largest in the world. "We are an active company and love the athletic balance. Due to the proximity to Hirschgarten, we can play football or go jogging during the breaks. The excellent location makes it possible to come to work by bike and the connection to public transport is still excellent for our employees," Hartinger continues. Gastronomy and shopping facilities can be found in the "forum am Hirschgarten" directly opposite the Kap West. Inside Kap West, there will also be a restaurant, a café, fitness and wellness facilities.
In addition to the fact that Hirschgarten is easily accessible, the most convincing part to choose Kap West was the opportunity to actively co-shape. Small and medium-sized offices have proven their worth in the project business. An open-plan office would have been out of the question. "Thanks to the new building, we were able to adapt the size of the individual offices to the project requirements and have many things designed according to our wishes. For example, the three large floors are connected by an internal staircase, which is very much in line with our open corporate culture with direct, personal communication". This allows our jambitees to network as quickly as possible and to keep walking distances as short as possible.
#PackMas – The new jambit headquarters is almost ready.
In a few weeks, by mid-November 2019, the new jambit headquarters will change its official address to Friedenheimer Brücke 20, 80639 Munich.
Four floors, an area of 6,500 square meters, a rooftop terrace of 100 square meters, technological equipment at the highest level and high sustainability standards are waiting to be occupied, used and filled with life. The North Tower in Kap West offers optimal conditions for our team work and personal productivity. The first working day in the new office is scheduled for November 18, 2019.
Since they broke ground in 2017, a lot has happened. The shell construction progressed rapidly, so that the topping out ceremony could be celebrated after one year. And another year later, the building's completion is imminent. Interior construction is currently in full swing. And jambit is also busy planning, ordering new furniture and packing - even the CEOs themselves are being packed. At this year's Wiesn, the two were thickly packed and addressed to our jambit offices in Stuttgart and Leipzig true to this year's motto #PackMas! O'packt is! The kick-off for moving is done.
We are happy and can hardly wait!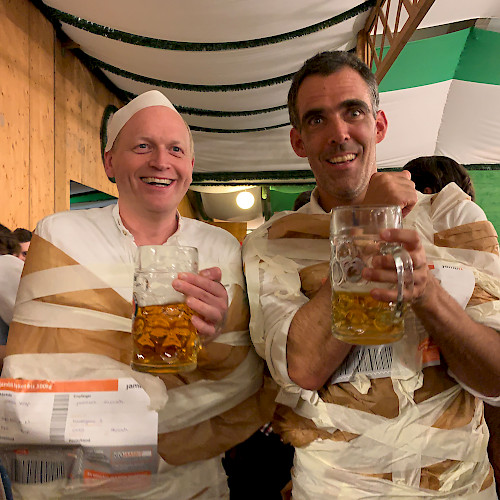 Official opening on March 27, 2020
In spring 2020, the final step of the Munich expansion will be done. We will move to the 13th floor, our new conference floor. 670 square meters for knowledge transfer and training. We would like to celebrate this in a fitting manner. The new office will be officially opened on March 27, 2020. From 2 p.m. onwards, families, customers and invited guests can explore the new building and celebrate the office with our jambitees. Save the date – an official invitation will follow!