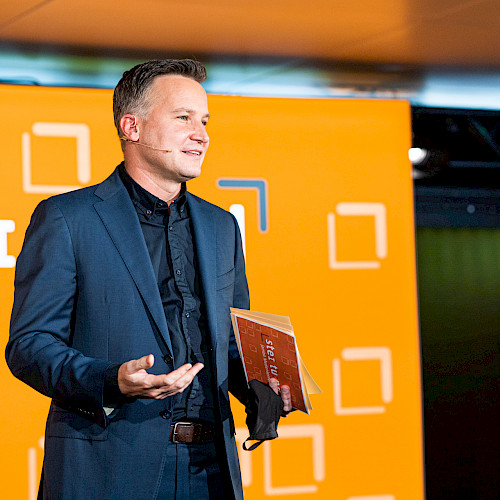 Challenge everything – A recap of jambit's [stei tu:nd] media conference 2020
Media companies present digitization projects at the premiere of the media conference [stei tu:nd]
With more than 350 registrations, the media conference [stei tu:nd] was a great success for jambit. Digitization projects such as use cases in artificial intelligence, the cloud-first strategy in the architecture of a media company, and the use of immersive solutions inspired the audience. On November 12, 2020, participants of the online conference were able to follow a live track and stream selected content via video-on-demand, which is still available until December 10, 2020. More than 20 speakers from renowned media companies such as F.A.Z. and SZ.de, ProSiebenSat.1, ZDF Digital, and Bayerischer Rundfunk spoke in three topic panels: Data & AI in Media, Formats & Monetization, and Publishing Strategies.
Opening: Optimism and a call for more diversity among top media decision-makers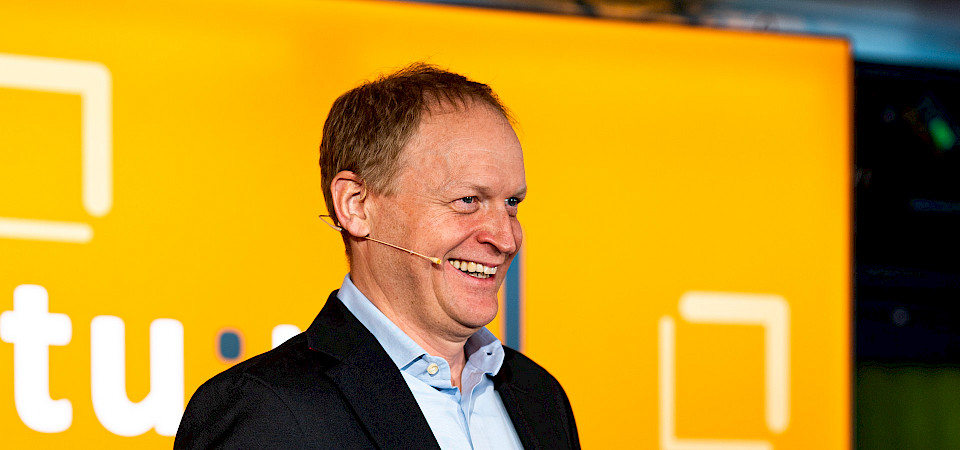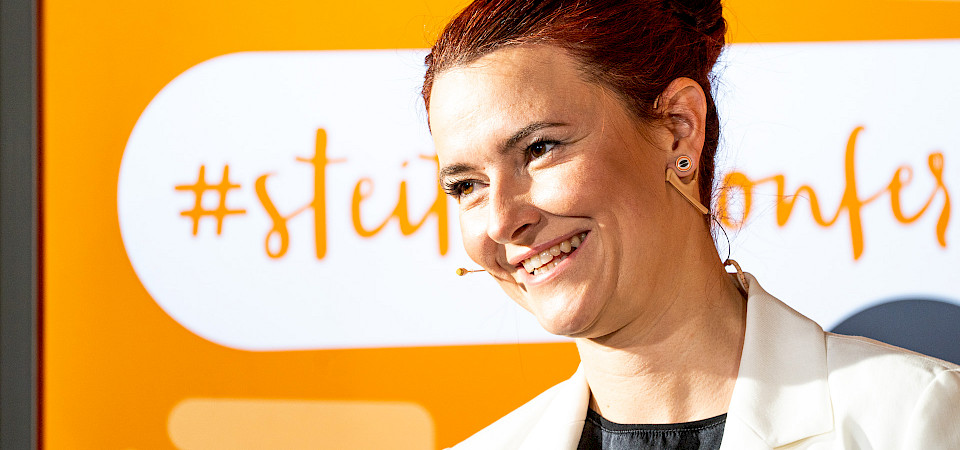 Alexandra Mächtel, Head of HR at jambit, addresses in her opening something that jambit had to face not only in a retrospective but already before the event started: Only one woman among 23 speakers. Although we wanted to create a gender-balanced program and contaced a large number of women in advance, they did not find their way into the program. This has to change. It needs more female top decision-makers in the future. Not only behind the desks, but also on the stages.
Media expert and journalist Richard Gutjahr addresses key topics in his keynote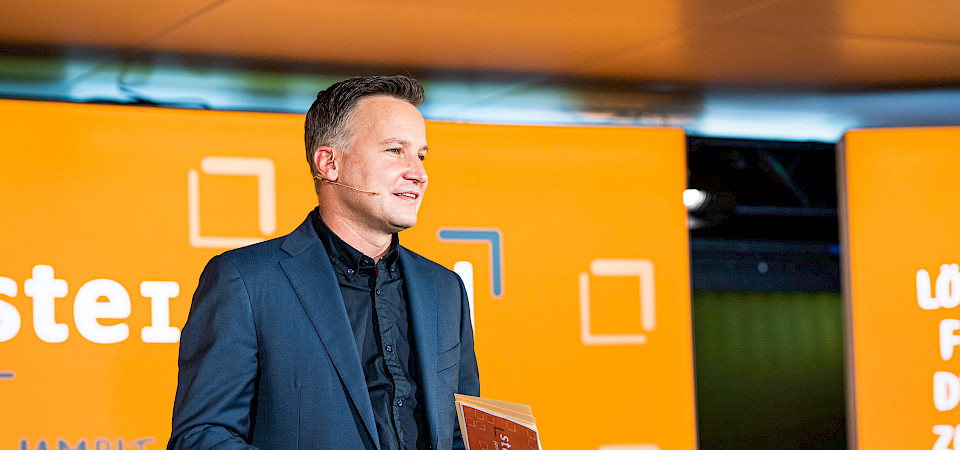 With "seven bets on the future", Richard Gutjahr gave an outlook to some technologies that were waiting for the audience during the course of the day. Journalist Richard Gutjahr made a provocative start: texts will become superfluous in the next few years, he said, the future lies in moving images. Every publisher who misses out on that is ill-equipped. With this statement, he offered exciting discussion potential for the virtual chat right at the beginning of the day. Over 300 participants engaged in committed and critical discussions during the media conference. One participant referred to the current strategy of the newspaper Bild to establish a professional media format with Bild TV. One user was optimistic regarding Print: "Print content and music content fortunately differ significantly. Music is created once and print is created and updated permanently".
Gutjahr also focused on new formats & platforms in the media world. YouTube is already the most prominent platform for podcasts, but producers of these formats continue to rely on traditional platforms that cannot keep up with YouTube in terms of commitment and followers. Gutjahr showed the effects of artificial intelligence on media coverage with an impressive example. A deepfake video showed the participants what it means when users can no longer believe their eyes.
With the media coverage of a past incident, Gutjahr showed that everyone becomes a reporter today. The incident was recorded on various smartphones, opening up a variety of perspectives on one and the same event. In future, classical news formats will also transfer control over parts of the reporting into the hands of the viewer. Users have a strong device in their hands with their smartphones. It is not only media companies that decide on the relevance of the news, but also the viewers who become reporters now. With changing user behavior, media companies must also develop a mobile service strategy that includes voice assistants as well.
In the future, the entertainment sector will be seamlessly linked to the department store and media companies will have to create new subscription bundles. A late-breaking outlook on the topic of monetization. One week after the media conference, the social network Instagram published a new layout that puts the shopping button in the center of the user's attention.
In addition to all the technical achievements, Richard Gutjahr focuses less on a technical than on a human asset: trust is the currency of the future, especially regarding the wealth of information. This was an ideal starting point for the first panel, which focused on the effects of artificial intelligence on marketing and also on its influence on editorial departments in renowned media companies.
Plug & Play: How do media companies use artificial intelligence?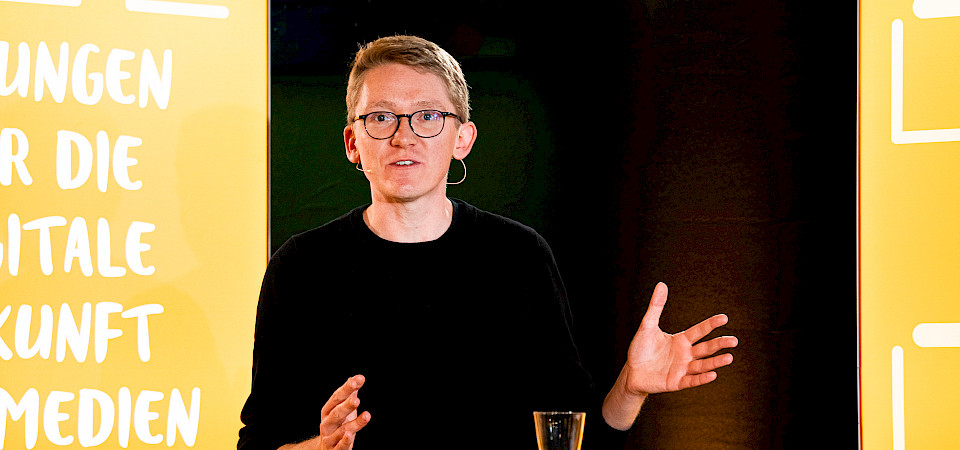 In the live track, Thies Haas and Sebastian Döring, from ProSiebenSat.1, gave exciting insights into the use cases of the TV station's data strategy. They showed how data helps to develop new features for B2C marketing and how B2B customers gain a better selection of suitable content. In the food sector, for example, advertising customers can find the content that really suits the customers faster and better. At the same time, AI optimizes the workflow in TV stations. "Automated tagging" in the video archive helps to curate suitable content for TV reports and data experts gain more time for more complex questions through supporting technologies. However, the focus of all technical developments at the TV station remains on entertainment. "We will remain an entertainment house, but alliances on technologies will become important for the future," says Haas.
Stefan Bornemann, Chief Operating Officer at wetter.com and geodata expert, showed with a pictorial example of a baker how companies can save production costs with artificial intelligence in the future. Weather data can already provide information about potential for reducing error costs in the daily production of baked goods. He also gave interesting insights into the use of auto-generated content in the field of weather information.
Nico Wilfer, Chief Product Officer at F.A.Z., gave insights into the digital strategy of the daily newspaper. Artificial intelligence currently offers great potential for increasing the loyalty of the readership and a better strategy for paid content. Project example: Together with jambit, F.A.Z. developed a tool that helps editorial offices to decide which text should appear in front of or behind a paywall. An idea that did not originate from technical product management but from the editorial staff. However, with all technical decision aids, the journalistic strategy and the intuition of the editor remain important decision criteria. For the future, Nico Wilfer took a look at the topic of text-to-speech. Because the constantly improving artificial voices of Microsoft and Google offer meaningful possibilities for publishers to reach readers in new situations of use.
Formats & Monetization: Exploiting synergies and focusing on customers
In addition to text-to-speech solutions, the conference focused on the topic of audio. Panel 2 offered the audience a format that has become a trend product for many media companies in recent years: podcasts. In the video-on-demand track, Product Manager Oliver Neumann gave an insight into the experiences of the Süddeutsche Zeitung with its focus on podcasts. He also showed successful examples of close cooperation between editorial staff and product management.
Thomas Schwarz from Seven.One Ad.Factory critically questioned whether brands might have overslept or even gambled away their home advantage in terms of monetization. One example: the largest provider of apartments no longer owns its own property. Brands will rebuild their value in the future.
In her talk "Immersive Storytelling at Bayerischer Rundfunk", Katrin Nachbar from Bayerischer Rundfunk (BR) explained where and why BR is focusing on virtual and augmented reality applications and pushing these. In addition to exciting applications, which she highlighted with a "Chose your own Adventure" inspired immersive adventures, she also presented challenges. For example, when working with large corporations like Google & Amazon, you are often confronted with their international regulations. Sascha Stojakovic from Joyn offered an exciting insight into the meaning of "Contextual Targeting" in a cookie-less age. Context-based targeting is an important tool for the future monetization strategy of digital offerings of media companies, while still focusing on users.
With [stei tu:nd] we have created a platform-independent conference for top decision makers. I am amazed by the willingness and grateful for the many insights of our customers and partners after this great day.
Publishing Strategies: Cloud-first strategy with SPIEGEL TECH Lab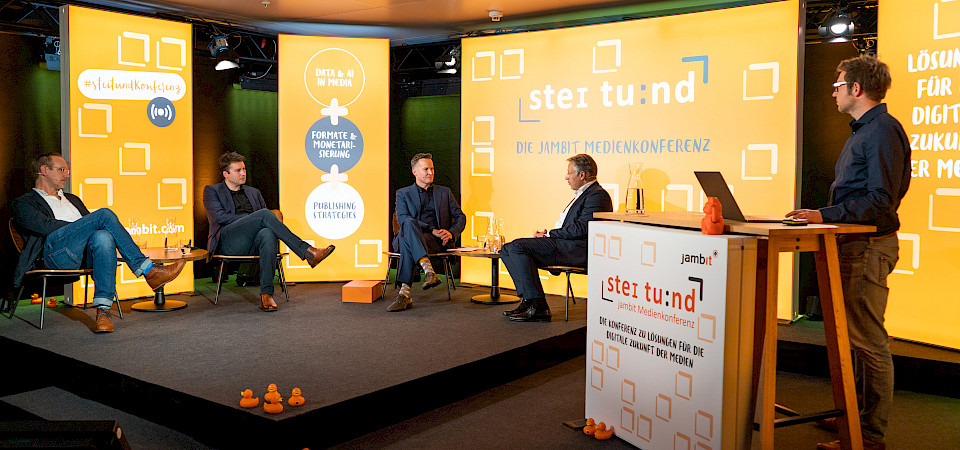 In Panel 3, André Basse from the SPIEGEL Tech Lab explained the technological requirements for a successful product strategy at SPIEGEL and how their modular architecture works. The news portal has recently been relaunched. The renewal of the digital offering also meant a fundamental technical modernization towards the modular architecture of "Polygon". Basse also showed how the team of the Hamburg news portal uses requirements engineering in its projects.
Stefan Mennerich, Chairman of the Management Board of FC Bayern Digital & Media Lab, and Manuel Kröppelt, Head of Digital Media at kicker.de, proved that a former "prole sport" today stands for best cases in the field of innovation. Participants of the conference learned from Stefan Mennerich how the German record champion FC Bayern is generating a new revenue stream with digital offers. The three speakers emphasized how to ensure quality management in the development of new products with the motto: "Challenge everything". In addition to the critical illumination of their own work, the cooperation with partners is also important. Although companies must retain their data sovereignty and keep the lever of strategy in their hands, know-how is usually developed in collaboration.
The conference began with a critical call and ended in the same way. Under the topic "How will the future media world look like?", the speakers, under the moderation of Richard Gutjahr, concluded with a political and in some cases very personal discussion of the currents of technological, but also social nature – about the role and influence of the media world for future generations in dealing with information.
These companies took part in the media conference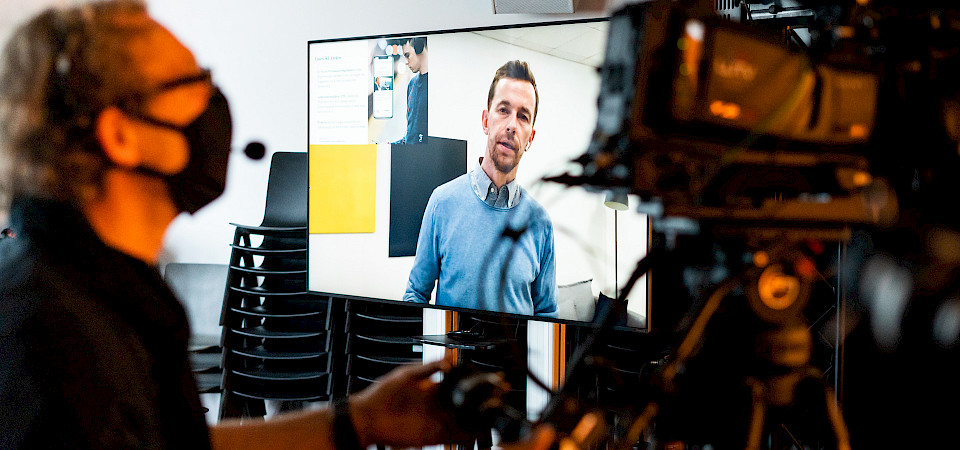 BurdaForward, FC Bayern Digital & Media Lab, Frankfurter Allgemeine Zeitung, JOYN, digital kompakt, kicker.de – Olympia Verlag, Livingdocs, MADSACK Mediengruppe, ProSiebenSat.1 Digital, ProSiebenSat.1 Tech Solutions, ProSiebenSat.1 TV Deutschland, Seven.One Ad.Factory, Bayerischer Rundfunk,  SPIEGEL Tech Lab, Süddeutsche Zeitung Digitale Medien, wetter.com, ZDF Digital Medienproduktion GmbH.
Any questions or feedback about the conference?
Contact us now!
Franz Haßlberger, Head of Business Division Media Media
* Mandatory field