Integration of the content management system Livingdocs for kicker.de
Methods: Agile approach, user-centered design, requirements engineering.
Technologies: Livingdocs CMS, JavaScript, TypeScript, Node.js, Angular, Vue, Nest.js, Docker, ElasticSearch
Project duration until go-live: Nine months
kicker.de offers its users reliable content on a high technical level and creates a unique experience for soccer fans. jambit accompanied the product team of the kicker digital editorial office during the CMS integration of Livingdocs.
Software development for the leading German news provider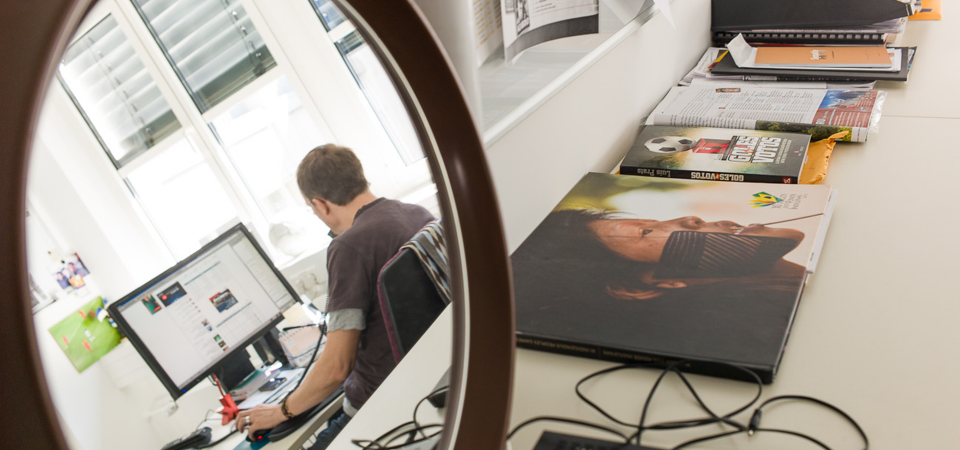 Among sports fans, the kicker is the undisputed leader in German-language news offerings. The impressive number of two billion page views per month (as of January 2021) challenges the kicker digital team to deliver top performance in real time. Via stream on the field, via live ticker from the sidelines, or via podcast from the half-time break: editors and content producers at kicker.de have to be on the ball everyday to ensure multimedia and fast reporting for the soccer-loving audience. To do this, the reporters need a system that reacts quickly and precisely to their requirements, ensures the quality of the news, and provides an efficient workflow. The kicker.de team is now gearing up for the future and preparing its platform for new media content. Because in addition to articles, kicker.de and the associated apps for smartphones, smart TV, and voice assistants offer a whole range of other formats such as extensive statistics, interactive polls, videos, and podcasts. Before the project began, kicker's existing content management system had difficulties adapting to current requirements. At the same time, the CMS provider no longer ensured support, which made requirements such as the integration of third-party services challenging. jambit supported kicker.de in choosing a new content management system.
A new content management system for the number one player in German-language sports media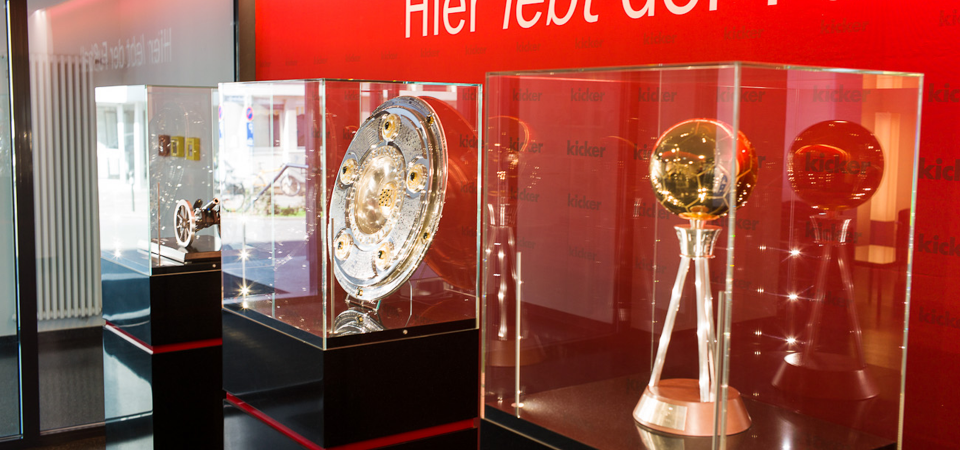 In this project, two top agile teams met each other. The Olympia publishing house sent an experienced Scrum Master onto the field. The jambit team provided reliable technical implementation and advice on processes and the moderation of individual Scrum events. After in-depth consultation, the decision was made in favor of the content management system Livingdocs. The platform is a modern digital content creation and publishing system that is used by various media companies such as NZZ or t-online. The system is based on a customizable building block technology and delivers reliable collaboration applications. With other CMS products, these are often tightly coupled to a front-end, which was not an option for the kicker products. The advantage of Livingdocs is that as a headless CMS it has no preference regarding a front-end. It can basically serve all front-ends, which can also be based on different technologies. Together with jambit, those responsible created the basis for an integration of the CMS with a user journey and derived technical work steps for the features. The project flow was seamless and productive. In daily consultations, the jambit kicker team responded proactively to customer requests and recorded project risks. This ensured great satisfaction among all stakeholders and reliable project planning without surprises. With regular user tests by the editors, the team gained valuable feedback for the ongoing development.
Trust-based scope of action for jambit developers

Individual additional system components required the developers' own initiative. The jambitees developed special solutions with technologies of their own choice, researched, and designed them. An additional microservice now takes care of special tasks related to the publication of articles. The jambit team decided to use Nest.js and Typescript.
"jambit is a reliable and experienced partner for CMS integration. Our wishes and requirements were realized with a lot of heart and soul. Together we identified and reduced project risks at an early stage. The jambit colleagues were motivated at all times, easy to reach, and contributed their own ideas. As a consequence, we were able to provide our editors with a very well functioning product."
P. G., Project Manager at kicker.de
jambit is a reliable and experienced partner for CMS integration. Our wishes and requirements were realized with a lot of heart and soul. Together we identified and reduced project risks at an early stage.
A CMS must focus on editors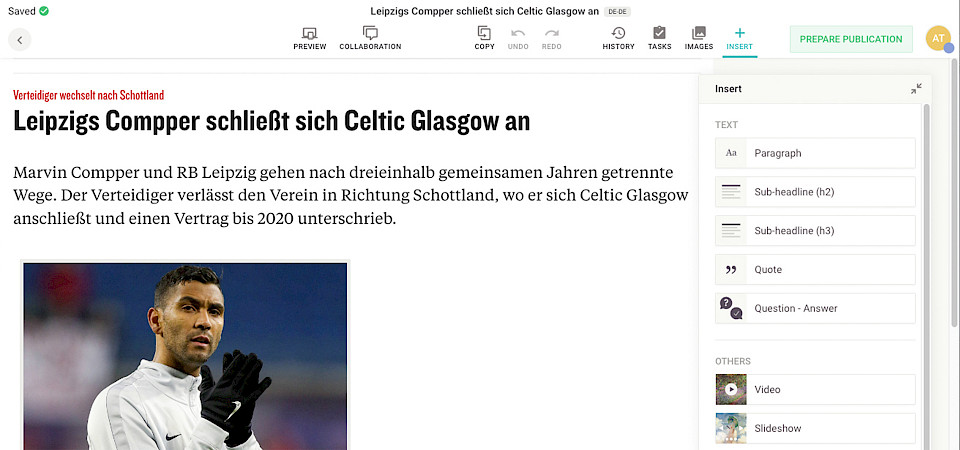 The transition from legacy system to new CMS must involve all parties of the newsroom. After all, their working comfort is crucial for a product that inspires readers. Therefore, it was a great benefit for the project with kicker.de that two editors supported as product owners. With Livingdocs, kicker.de chose a CMS that provides a user-friendly and intuitive editor. The fine-tuned role system also enables the individual assignment of author rights, depending on the status of the editors. This option helps to ensure quality and is particularly in demand in an environment with learners, such as volunteers or trainee editors. At the same time, the CMS is an optimal foundation for the strategic development of digital journalism and can be easily expanded for new forms of reporting.
Strong partner for publishers

In the media industry, jambit has achieved an excellent reputation through successful projects with well-known media brands such as SZ, F.A.Z. and RND. Customized software and complex requirements in the media sector – jambit is the right partner for the implementation of a CMS. The software service provider supported clients such as Süddeutsche Zeitung in the implementation of Polopoly, a CMS for the daily newspaper's online offering. In addition, jambit supported Redaktionsnetzwerk Deutschland in setting up RND.de on the basis of Arc Publishing. jambit understands the special requirements of journalists in their everyday editorial work, from content production to editorial planning processes, and translates this knowledge about the domain of journalism into successful software development.
Individual support for your project challenge

You are about to replace your outdated CMS? We accompany you in the selection of the tool and take over the consulting regarding technical requirements. In an introductory workshop, we look back on successful example projects and can help you elaborating your vision.
Success at a glance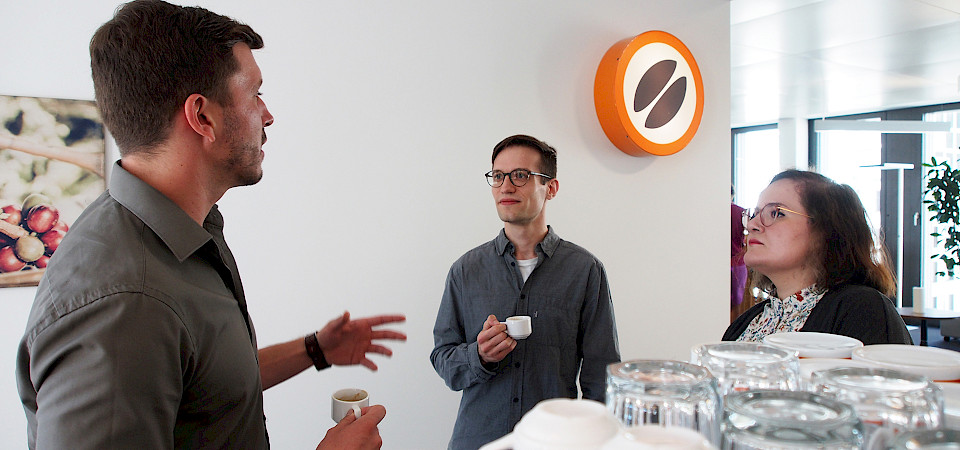 Successful restructuring of one of the highest-traffic sports portals with two billion page views per month (as of 2021)
Holistic support in the development process from agility to risk analysis to technology decisions
Transparent and efficient moderation between customer and CMS provider Livingsdocs
Successful switching between different project phases from efficient development of large features to fast detail customization