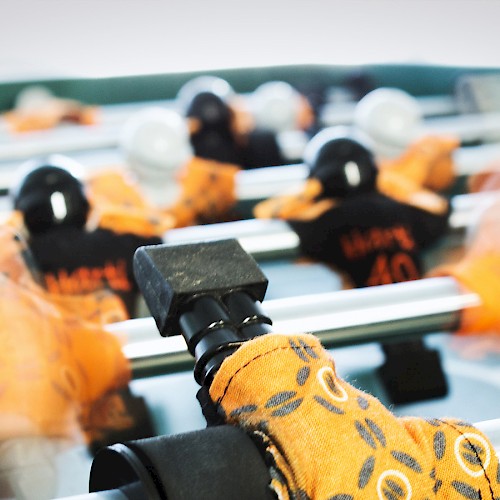 , from 6 p.m.
jambit, Munich
Table soccer tournament spring edition
Gates and fame
Code, table soccer and coffee... for jambit this three things just belong togetzer. Short breaks are often spent at the coffee machine. For more action and distraction, our jambitees take the chance to challenge the colleagues at the soccer table in between.
The eager practice is rewarded again: Our table soccer tournament goes into the next round. In April we will be launching the table soccer spring edition 2018.
Twice a year the jambitees compete against each other. Whether you are a total beginner, an ambitious hobby player, a self proclaimed professional or a real soccer hero – this is where our jambitees can prove their table soccer skills in order to win the "jambit-Kicker-Championship"!
Pizza and drinks are provided for the physical well-being of the table football fans. And there will be plenty of time in between the preliminary and knockout rounds to get to know jambitees from their own or other business divisions in a relaxed atmosphere.
Do you recognize yourself and would like to join our table soccer turnaments? If so, apply to jobs@jambit.com. You are welcome to make a direct reference to one of our job openings. Or you get creative and explain us, what soccer skill can enrich jambit the most...