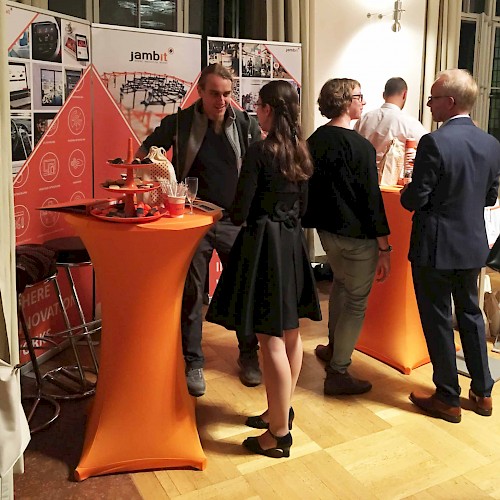 , 5:30 p.m. – 10:00 p.m.
Ludwig-Maximilians-Universität Munich, "Große Aula"
LMU Graduation Ceremony of Informatics 2019
jambit celebrates the graduates of the Institute for Computer Science at Ludwig-Maximilians-University
The graduates of the courses Computer Science, Media Informatics and Computer Science Teaching will celebrate their successful graduation on November 8, 2019 at 5:30 p.m. at "Große Aula" of the LMU main building. jambitee Robert Kowalski, Head of Department Automotive Baden-Württemberg, Business Division Automotive World, will provide personal insights of his professional life during the graduation ceremony.
"We are very pleased to be one of the sponsors of this ceremony for the IT graduates. jambit and the Ludwig-Maximilians-University, as well as Munich's entire university landscape, have a long-standing partnership", says Markus Hartinger, CEO of jambit. The two founders, Markus and Peter, as well as most of the employees, are graduates of Munich universities and colleges – and have found their proper place in software development. If you are a computer science graduate and are not sure yet where your journey will take you, you will find the right contacts at our jambit booth. Alexandra Mächtel, Head of Human Resources, and recruiter Hannah Feuchtenberger, are happy to show the different career opportunities at jambit.
Thinking outside the box as a key competence: jambitee Robert Kowalski's keynote speech
One highlight of the evening will be the keynote by jambitee and LMU alumni Robert Kowalski. After his studies of media informatics at the LMU and stations at the CDTM of TU Munich as well as the University of California in Berkeley, he started at jambit in the field of research & development.
During his lecture, he will deliver tips from ten years of software development experience but also very personal thoughts: why is thinking outside the box important for your career path and how to keep your own freedom in a new professional environments – these are some topics of his speech.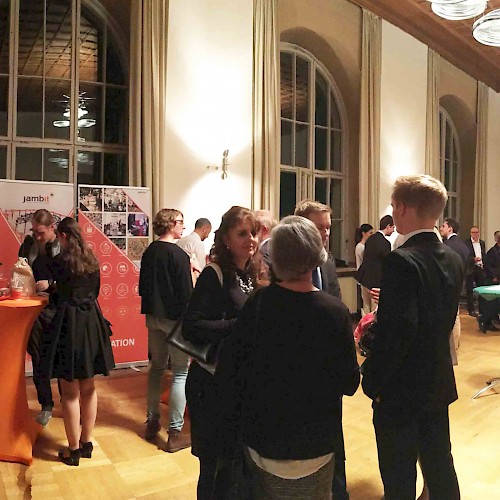 We are looking forward to accompanying the graduates on their graduation ceremony and expect many interesting and personal discussions.
WHO? You meet our HR team and Robert Kowalski, Head of Automotive Department Baden-Wüttemberg
WHAT? Graduation ceremony of the Institute of Computer Science at the Ludwig-Maximilians-University 2019
WHEN? On Friday, November 8, 2019, starting at 5:30 p.m.
WHERE? Ludwig-Maximilians-Universität Munich, Große Aula, Geschwister-Scholl-Platz 1, 80539 Munich, Germany

Would you like to get an impression of jambit in advance?
Then find out here what it means to be a jambitee.
Click here for our current job offers.