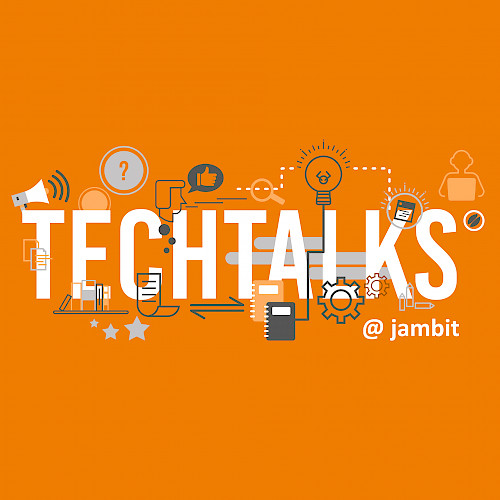 , 5 p.m. – 7 p.m.
Online via livestream
TechTalks @jambit Meetup #2: IoT quick start & user feedback in the development process
As the first successful remote edition of our new Tech Talks @jambit Meetup group has already shown, even in times of social distancing, we won't slow down our knowledge exchange culture!
Various tech topics around software development are the focus of our Meetups in Munich. In 2-3 presentations each, our jambitees are dealing with all technologies from A to Z, from front-end development, native app development for iOS/Android, DevOps, IT security, AI topics, cloud technologies to classic back-end development.
Our next online Meetup on June 30, 2020 will focus on IoT quick start and user feedback in the development process. In the usual jambit manner, we would like to welcome all Meetup participants personally with pizza, beer and our famous jambit coffee in our office at Hirschgarten. But as long as the topic corona virus keeps us on our toes, let's rather meet virtually. The Tech Talks @jambit Meetup will start at 5 p.m. live on https://meet.jambit.com/meinmeeting!
We are looking forward to two exciting talks:
Talk 1: "User feedback in the development process: methods and examples from everyday project life" – David Schopf, Software Architect, jambit
These days, a good user experience is required by both stakeholders and users. However, to customize the product optimally to user needs, feedback from users in software projects is indispensable. In his presentation, Software Architect David will use practical examples from his everyday project work to show the different methods for obtaining user feedback and how these can be integrated into the agile development process.
Talk 2: "Becoming a maker: IoT quick start with ESP32" – Veit Kötting, Software Architect, jambit
Open the curtains by voice command or let the coffee machine heat up while you jump in the shower in the morning? It's easier than you think! In his lecture, jambitee Veit will present the ESP32 – a microcontroller for device control – as a powerful platform for a do-it-yourself IoT construction. Veit will help to reduce fears of electronics and show the most useful extensions for the smart home.
Our Meetup at a glance:
WHO? jambit Meetup Group Tech Talks @jambit with our jambitees David Schopf and Veit Kötting
WHAT? IoT quick start and user feedback in the development process
WHEN? Tuesday, June 30, 2020, from 5 to 7 p.m.
WHERE? Online via live streaming
Join the Tech Talks @jambit Meetup group now and never miss a Meetup again!
Looking for a new challenge? Then take a look at our software development vacancies.