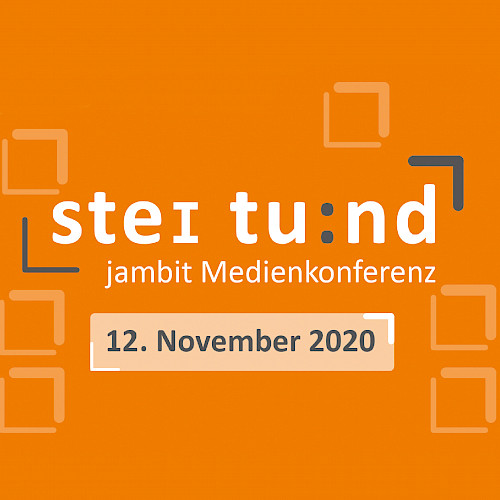 , all-day
Online via live stream
jambit media conference [stei tu:nd]
Stay tuned with [stei tu:nd] – The jambit media conference on November 12, 2020
How will the digital future of media houses look like? What innovative solutions are media already working on today? And what role does software play in all of this? These questions will be addressed on Thursday, November 12, 2020 at our jambit media conference [stei tu:nd]. Learn from speakers from successful German media companies how they inspire customers and optimize internal processes with AI and machine learning, digital media services and interactive storytelling, amongst others. Also get to know jambit's wide range of services in the area of software solutions for media.
Due to this year's Corona restrictions we will conduct the [stei tu:nd] conference completely remotely - so you can participate comfortably from your home office. Please note though that the conference will be only in German. Save the Date and Stay Tuned!
You want to learn more and register for the jambit media conference for free? All information about the [stei tu:nd] media conference can be found here!
The most important information about the [stei tu:nd] conference at a glance:
WHO? Various speakers from renowned German media companies
WHAT? [stei tu:nd] – the jambit media conference (language: German)
WHEN? Thursday, November 12, 2020
WHERE? Online via live stream