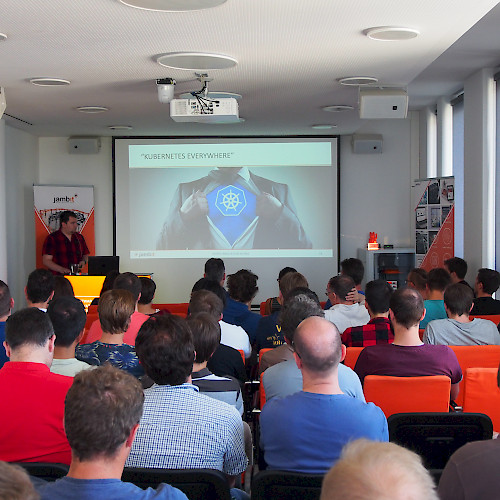 , 1.00 p.m. – 4:45 p.m.
jambit GmbH, Munich
jambit CoffeeTalks IV / 2019
Blockchain, Design Systems and Secure Mobile Apps
In the fourth CoffeeTalk 2019 exciting lectures await employees and guests. How does the insurance industry benefit from blockchain solutions? What is a design system and how does it improve the collaboration between frontend and UX/UI design? How do apps become more secure and how does the Munich Startup Build38 support this? Three questions and three speakers who will give us an insight into their work.
This year's fourth and final CoffeeTalk will take place for the first time in the new Munich jambit office in Kap West. Not only jambitees, but also clients and interested applicants are welcome to join.
The CoffeeTalks lecture series takes place several times a year. They deal with topics from the field of software development, but also with innovative projects that jambit implements with various customers. The CoffeeTalk is an important part of the jambit work culture with the focus on sharing knowledge with everyone in the company.
Our jambit CoffeeTalks IV / 2019 at a glance.
You would like to visit the CoffeeTalks, but don't work at jambit? No problem! Simply register by e-mail at coffeetalks@jambit.com.
WHO? Our jambitees Mathias Michel and Aysegül Karakus as well as Torsten Leibner of Build38
WHAT? jambit CoffeeTalks IV / 2019
WHEN? Friday, 6th of December 2019, from 1:00 p.m. to 4:45 p.m.
WHERE? jambit GmbH, Friedenheimer Brücke 20, 80639 Munich, Germany
Not in Munich? No problem! Also at our locations in Stuttgart and Leipzig our CoffeeTalks are shown via livestream on big screens. Just get in touch with us.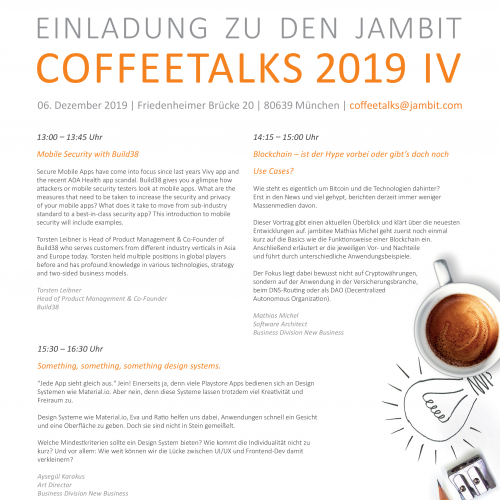 Any questions? Then feel free to contact us. We look forward to your mail and many visitors!