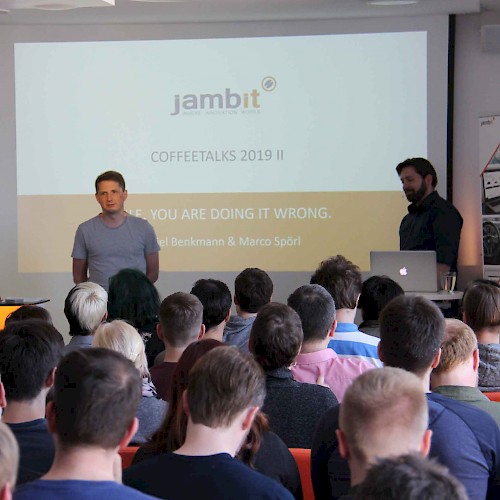 , 1.00 p.m. – 4:45 p.m.
jambit GmbH, Munich
jambit CoffeeTalks III / 2019
Learn More About Kubernetes Cluster, Convolutional Neural Networks and Daimler EQ in the Cloud
Several times per year, jambit is organizing the CoffeeTalks for all employees, where usually jambitees or sometimes also external guests give a talk about a specific topic. Most times, these talks are about a specific area of software development or project management, but also about innovative projects by jambit with different customers. In short: the CoffeeTalks are a vital part of our jambit work culture, with the focus on sharing knowledge with everybody in the company.
On July 5, the third edition of 2019 focuses on automated installation of Kubernetes Clusters and the functions of Convolutional Neural Networks, as well as on a recent cloud project of jambit for Daimler EQ. Next to our software architects Sergii and Michael, we are excited to welcome Dr. Emre Yay and Alex Berger from Daimler as guest speakers for our CoffeeTalks III / 2019. You are invited to join and listen to these interesting talks while enjoying a delicious cup of jambit coffee.
Our jambit CoffeeTalks III / 2019 at a glance.
You are not working at jambit but however want to hear our CoffeeTalks? Simply register by e-mail: coffeetalks@jambit.com.
WHO? Our jambitees Sergii Kudriavtsev and Michael Panchenko, as well as Dr. Emre Yay and Alex Berger from Daimler
WHAT? jambit CoffeeTalks III / 2019
WHEN? Friday, July 5, 2019, from 1:00 to 4:45 p.m.
WHERE? jambit GmbH, Erika-Mann-Straße 63, 80636 Munich, near the train station "Donnersberger Brücke"
Not in Munich? No problem! At our subsidiaries in Stuttgart and Leipzig, our CoffeeTalks will be transmitted via livestream to the big screen.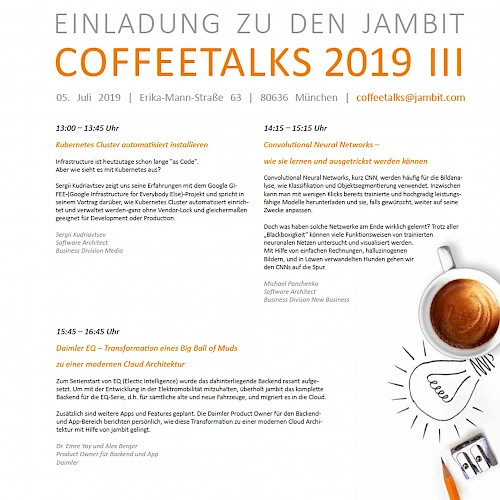 Any questions? We are happy to receiving your message and welcoming you on-site at our CoffeeTalks!