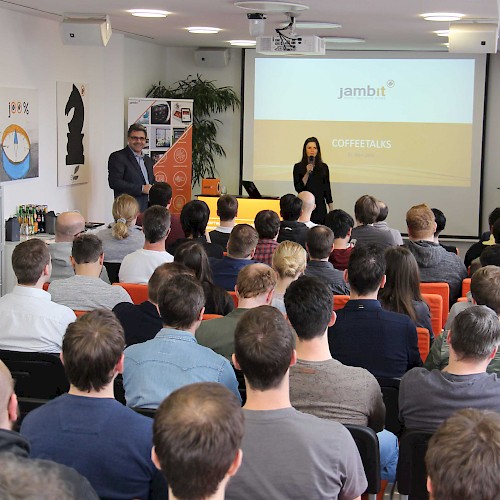 , 1.00 p.m. – 4:30 p.m.
jambit GmbH, Munich
jambit CoffeeTalks II / 2019
Four times a year, the jambit CoffeeTalks offer entertaining lectures from our colleagues. They are just one of many reasons, why it's great to be a jambitee.
While enjoying a delicious cup of jambit coffee, we will learn more about AWS Lambda Functions, how systemic attitude can help us in the daily work, and which problems occur with the practical implementation of agility. Interesting topics that should not be missed by all jambitees and also external interested parties.
Our jambit CoffeeTalks II / 2019 at a glance.
External guests wanting to participate please register by e-mail at coffeetalks@jambit.com.
WHO? Our jambitees Christian Mang, Thomas Müller, Daniel Benkmann, and Marco Spörl
WHAT? jambit CoffeeTalks II / 2019
WHEN? Friday, May 17, 2019, from 1:00 to 4:30 p.m.
WHERE? jambit GmbH, Erika-Mann-Straße 63, 80636 Munich, near the train station "Donnersberger Brücke"
Not in Munich? No problem! At our subsidiaries in Stuttgart and Leipzig, our CoffeeTalks will be transmitted via livestream to the big screen.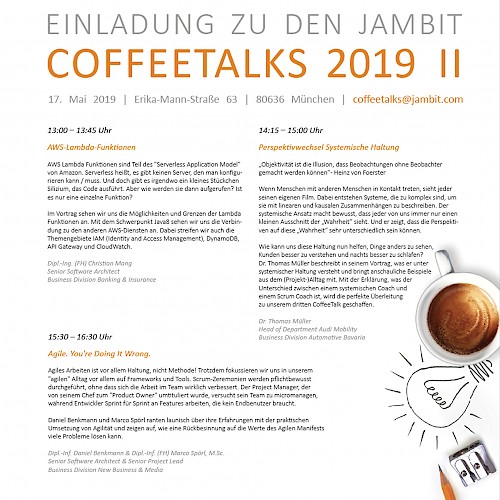 Any questions? We are happy to receiving your message and welcoming you on-site at our CoffeeTalks!