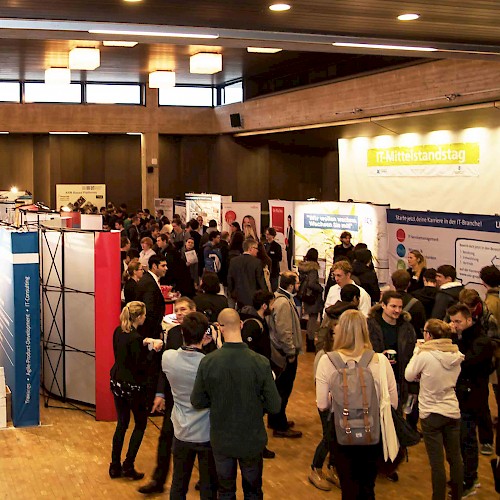 , 2 – 6 p.m.
Online via Zoom
IT Small and Medium-sized Enterprises Day 2021
Meet jambit at the company contact fair for small and medium-sized IT companies
The IT SMEs Day will take place online in 2021 on Wednesday, November 24. Almost 50 companies from the IT industry in the Stuttgart area will present themselves as potential employers – in particular small and medium-sized companies that you may not have had on your radar when looking for a job. However, it is especially SMEs that very often offer attractive jobs and good career opportunities.
As an innovative software service provider, jambit is of course taking part. For over 18 years and with now more than 350 employees, we have been developing customized software solutions for a wide range of industries – from the automotive industry to media to banking & insurance. Since 2017, the Munich-based company has also been speaking Swabian through its office in Stuttgart. The Stuttgart office is centrally located at Schlossplatz, modern, easily accessible and close to clients. Many jambit clients from industries such as automotive or media are located nearby and can therefore work even better with jambit.
It's a match ...
The IT SMEs Day consists of two phases. In the first phase, students and companies can briefly get to know each other via the Talentefinder recruiting app. If a match is made by both sides on the basis of the profiles, it's about time for phase 2 on November 24. On the IT SMEs Day itself, the 15-minute calls selected in advance via the integrated appointment tool will then take place via Zoom.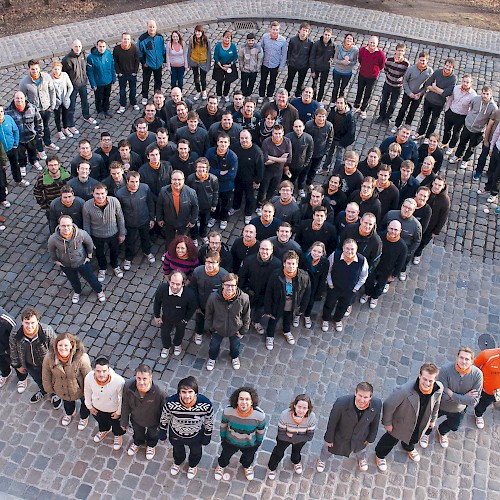 In the video calls, our recruiters Hannah Feuchtenberger and Tina Fischler look forward to you, exciting conversations, great exchanges and new contacts. Another highlight are the company pitches. In it there are. Stuttgart's head Andreas Bernauer will tell a lot of interesting things about jambit, our projects, the company culture and the Stuttgart office from 3:30 to 3:40 p.m.
Take the chance to plan your individual career start with jambit!
No match or too late and didn't catch a free appointment? No problem! Just send an email to jobs@jambit.com or contact jambit via Talentfinder. We will be happy to talk to you even after the trade fair is over!
The IT SMES Day at a glance:
WHO? Meet our recruiters Hannah Feuchtenberger and Tina Fischler and experience Andreas Bernauer, Head of Subsidiary Stuttgart, during his jambit enterprise pitch from 3:30 until 3:40 p.m.
WHEN? Wednesday, November 24, 2021, 2 – 6 p.m.
WHERE? Online via Zoom