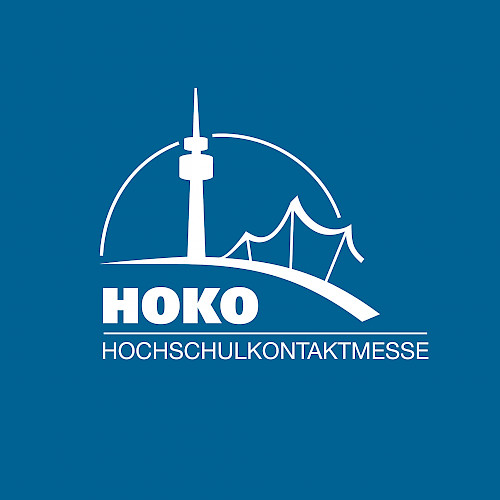 , all day
Munich University of Applied Sciences (MUAS)
HOKO - Job Fair Munich
Find Your Profession
303 exhibitors, 15,000 expected visitors and everything on 2,500 square metres. It is impressive how the HOKO has grown to one of the largest student career fairs in Germany since its beginnings in 1997. This year again, students and interested parties can look forward to three days of relaxed networking at the Lothstraße campus of the Munich University of Applied Sciences.
The HOKO® - University Contact Fair takes place from Tuesday, 05 November to Thursday, 07 November 2019 and transforms the area around the "Red Cube" into a professional playground for students and companies. Whether internships, working student jobs or theses, the fair offers many opportunities to find the ideal entry into the dream job and the right company. This year's motto "Find Your Profession" sums this up very aptly.
Personal exchange and delicious jambit coffee at booth B-26
In Munich jambit was founded in 1999 by two TUM students. No wonder that we feel especially connected to the Munich universities. In the heart of one of the largest European high-tech and business metropolises, the HOKO offers a great platform especially for computer science students.
Are you also enthusiastic about programming? Then meet our founder and managing director Markus Hartinger, the recruiting team around Johanna, Hannah and Nina as well as software architect Andrea Maierbacher. Over a good cup of jambit coffee you can learn more about the entry opportunities and perspectives offered by jambit's locations in Munich, Stuttgart and Leipzig.
Young technical talents will find exactly the right environment here to find out about internships, student jobs, theses and permanent positions. Take a look at the jambit booth (#B26).
Prospective Software Developer? Here and now there is time for coffee and new career perspectives::
WHO? Get to know us, from CEO to recruiter to software developer
WHAT? At HOKO Information booth B-26, with free jambit coffee
WHEN? On the 8th of November 2018, all-day, 10 a.m. – 4 p.m.
WHERE? Information booth B-26 in R building (red cube) of Hochschule Munich, Lothstraße 64, 80335 Munich
We look forward to meeting you!
You would like to contact us in advance? You are welcome to send us a message at jobs@jambit.com!
Let's have a look at our job openings.