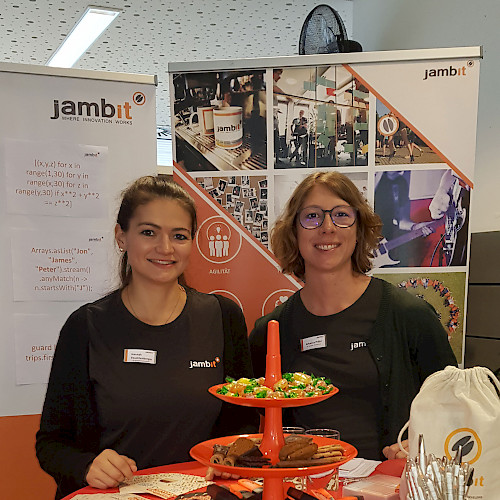 , 10 a.m. to 4 p.m.
HTWK Leipzig, Germany
18th WIK-Leipzig 2019
Diverse agenda at the job fair
On November 27, 2019, the Wirtschafts- und Industriekontakte WIK-Leipzig organizes this job fair already for the 18th time. At the 18th WIK-Leipzig 2019, many graduates and companies will make first contacts at the HTWK Leipzig.
From 10 a.m. to 4 p.m., all visitors can look forward to interesting discussions at the information booths of the participating companies as well as to a diverse agenda. Among other things, there will be company presentations on the topics of internships and theses, career lectures, expert rounds, free professional application and CV checks, free application photos and an applicant's outfit and styling check.
Get to know jambit as employer
Among the almost 60 companies, jambit will also be on-site as an innovative software service provider and attractive employer. Our recruiters Johanna Pröhl and Hannah Feuchtenberger will be happy to give you an insight into the topics of career entry and career opportunities at jambit. They will also provide lots of relevant information for students regarding internships, theses, working student jobs, trainings and student jobs.
Our recruiting team will be accompanied by two jambitees from our Leipzig office: our working student Jonathan Wagner, who will chat about his working life as a student, and our DevOps engineer Max Brenner, who is looking forward to telling exciting stories from everyday project life.
Admission is free and registration in advance is not necessary. Just drop by and maybe already bring your documents with you.
Check out job opportunities at jambit!
WHAT? University job fair for graduates 18. WIK-Leipzig 2019
WHO? jambit's recruiters Johanna Pröhl and Hannah Feuchtenberger together with our DevOps Engineer Max Brenner and working student Jonathan Wagner
WHEN? Wednesday, November 27, 2019, 10:00 a.m. – 16:00 p.m.
WHERE? jambit booth at foyer Nieper-Bau, HTWK, Karl-Liebknecht-Straße 134, 04277 Leipzig
We are looking forward to getting to know you in person!
Would you like to contact us in advance? Please send us a message to jobs@jambit.com
Want to know more?!
What it means being a jambitee