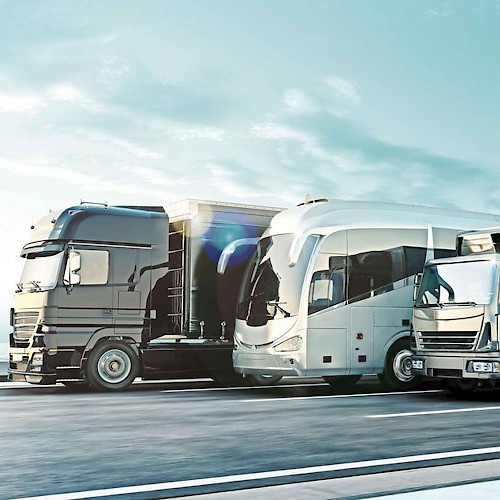 –, all-day
Baden-Baden, Germany
VDI Conference: Commercial Vehicles 2019 Truck, Bus, Van, Trailer
International Engineering Conference for the Commercial Vehicles Industry
The commercial vehicles industry is confrontated with new challenges due to changing customer demands. On top of that come market and regulatory requirements that vary regionally and internationally. At the 15th international conference Commercial Vehicles 2019 Truck, Bus, Van, Trailer, the industry gathers once again to exchange views on technology trends in commercial vehicle development. Europe's largest engineering conference for the commercial vehicles industry is taking place on June 4 and 5, 2019 at the Kongresshaus in Baden-Baden, Germany.
Conference visitors will have the opportunity to listen to more than 30 international speeches and keynotes on the transport solutions of the future. Apart from topics like electrification or smart logistics solutions, the development and process optimization approaches by means of simulation methods will be also part of the top issues. Among the visitors are typically experts and decision-makers, who work for fleet operators or transport companies, or who are active in automotive development and production.
Our jambitee Gerhard Kogleck will be joining the commercial vehicles conference 2019 as well to learn about industry challenges and solutions. As an innovative software service provider and trusted partner of the automotive industry, jambit is naturally interested in the news and trends in commercial vehicle development. You are joining the conference as well and want to contact Gerhard in advance? Just send him a message and he will be happy to advise you on our customized software solutions for your industry.
Key facts at a glance:
WHO? Our jambitee Gerhard Kogleck, Sales Director Business Division Automotive Bavaria
WHAT? Europe's largest engineering conference for the commercial vehicles industry
WHEN? From Tuesday, June 4 to Wednesday, June 5, 2019
WHERE? Kongresshaus Baden-Baden, Augustaplatz 10, 76530 Baden-Baden, Germany
Learn more about our portfolio in the area of software development