IoT app development for the workplace of tomorrow
Fujitsu Smart Desk
Technologies and methods: C# UWP (Universal Windows Platform), C/C++, BLE (Bluetooth Low Energy), user-centered design and MVP development
Project duration: February 2020 – Today
By developing the "Smart Desk" app for Fujitsu, jambit created a solution for networking IoT devices in the office. Workplace users can now control lamps and desks via app and store individual profiles. Using the minimum viable product approach and a user study, jambit validated the presumed needs and goals at an early stage and developed an optimal solution for Fujitsu. The collaborative project with Fujitsu shows how jambit accompanies projects from idea to prototype, which is initially tested internally within the company. The project's next stage is market maturity. In our jambit innovation story, readers also learn why spontaneity and hands-on spirit are important in product development.
Software development for increasing demands on work mobility and health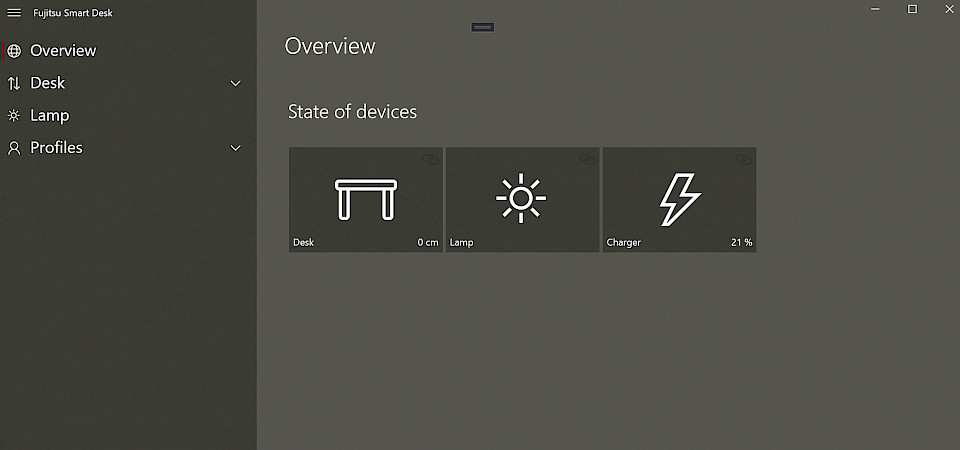 People expect digital services not only in their private lives, but also at work. A new work culture requires mobility of employees and their workplaces – not just since the pandemic. Since health awareness is increasing, solutions that integrate physical activity into everyday working life are in demand. As holistic service provider in the field of workplace equipment, Fujitsu is exploring the Smart Desk concept and sharpening the future image of our workplace with this solution. Users can individually adjust the lighting state and seat height with standing and sitting profiles and create additional individual profiles. A reminder function motivates users to move and change their working position. To enable a wide range of application fields with this Fujitsu solution, the app is applicable to a majority of office desk suppliers.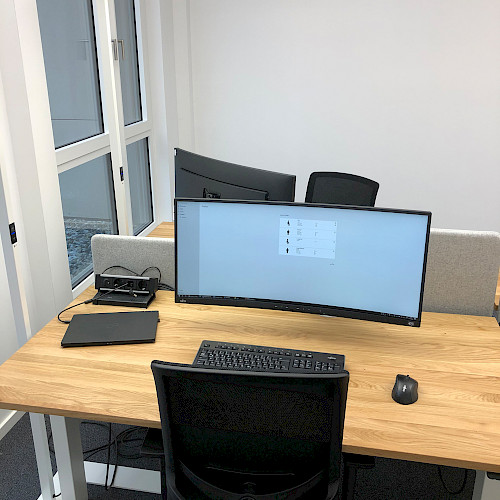 Experience the Smart Desk concept in action
jambit worked consistently and goal-oriented in this project. Even in these uncertain times, we could rely on jambit during every project step. We were impressed by their way of working and their commitment.
User research approach for cost-efficient app development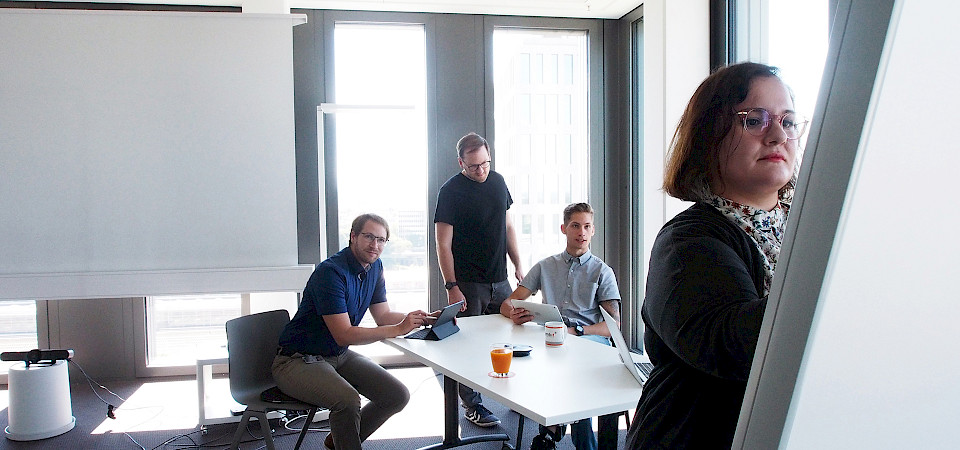 How to develop an app focusing on user needs of modern workplaces while still meeting the requirements for development costs? jambit offered a cross-functional team of Scrum Masters, software architects, UI/UX designers and user research experts for this task. In consultation with Fujitsu on the use case, the team agreed on a user-centric and agile approach. Early on, the project started with prototyping to learn more about the technical challenges and identify the real needs. With jambit's specialized user-centered design business division, the team conducted a user study in the first phase of the project. Their findings refined the product requirements.
In this agile development project, jambitees developed features in the shortest possible time, which they constantly improved in iterative cycles. They successfully worked out solutions for the various APIs of the different device providers of lamp and table. Since the original Bluetooth protocol was not designed for fast responsiveness, jambit developers optimized the speeds for practical use. Open APIs were also used in some cases, such as with the light source's Bluetooth low-energy API. The completed prototype is now being tested at the customer's site in various use cases, is available for download in the Microsoft App Store and creates the basis for an unprecedented workspace – innovative and holistic.
Hands-on spirit: Unconventional solutions for unconventional times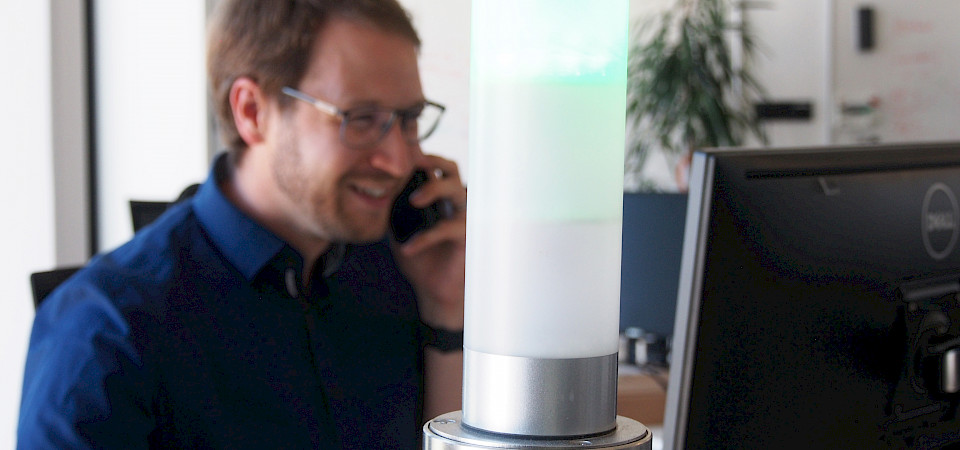 For the established and experienced Japanese IT manufacturer Fujitsu, this agile software development project with an external software service provider was a premiere. jambit met the high expectations with transparency in the project process and weekly refinement meetings via Kanban. A special challenge was the lockdown situation during the project period. Even if hardware was missing during the remote phase, the team at jamibt found creative solutions. A mixture of using things from their own homes, spontaneous hardware logistics between the Bavarian countryside and jambit's office in Munich, and mockups, jambitees simulated the missing elements and were still able to complete the software in time.
Prototypes as innovation drivers for future workplaces

Fujitsu is leader in the Gartner Magic Quadrant 2019 for Managed Workplace Services and offers solutions for the human-centric innovation workplace. Fujitsu also aims to become a holistic companion for companies in the workplace sector, independent of its own products. With the jambit collaboration, Fujitsu increases its lead as a pioneer of Smart Desk solutions.
Project success at a glance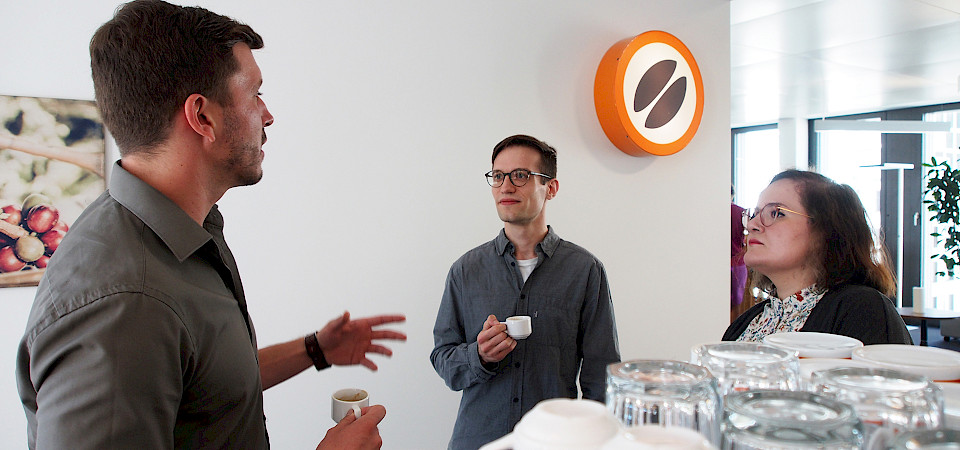 IoT-Use-Case Workshop mit jambit

Working in IoT areas requires a creative and conceptual approach. Together with jambit, you will find use cases for IoT potentials in a workshop and create an investment-safe basis for our joint project.
Talk to our experts
If you have any questions, please contact Maximilian Claus, Business Relationship Manager Industry & Energy, by simply leaving him a message here.
You can also contact him directly via LinkedIn or just call him on +49 1516 7853678.
* Mandatory field