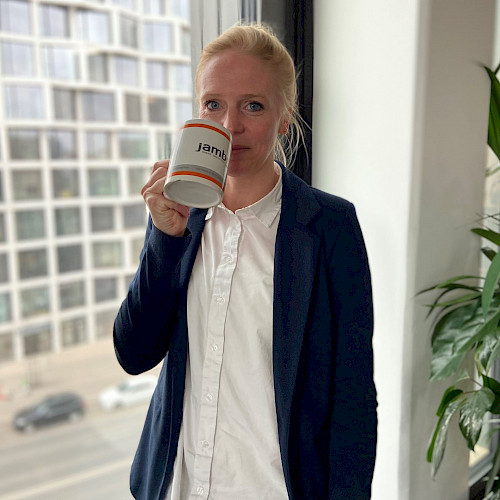 Have a coffee with Ulrike Schopf
1. How do you drink your coffee?
For the past year, I've been drinking only tea, because I don't like coffee so much anymore. However, I still like the smell and I hope that the taste will come back soon, so that I can finally enjoy jambit coffee again.
2. What do you remember from your first day at jambit almost 10 years ago?
At that time, a friend recommended jambit to me and I applied directly. After the acceptance, everything went very quickly: I packed all my stuff into my car spontaneously, drove from Stuttgart to Munich and spent the night in my new shared apartment. The next morning, I was allowed to introduce myself directly to all jambitees at the jupdate. Immediately afterwards, our CEO Markus Hartinger asked me if I would like to join the jambit fitness group. Of course, I immediately agreed and fekt already integrated before my first day at work. Almost ten years later, we still meet once a week to exercise together. I liked jambit right from the start – the sporty lunch breaks, events, the atmosphere, culture and the family-like cohesion among the jambitees are so special. I still feel very much at home!
3. What has been your most exciting project at jambit so far?
It's definitely the whole setup and development of the finance division at jambit. I started in 2012 as an assistant to our CEO Markus Hartinger and gradually took over the finance division. Ever since then, a lot has happened: there is more structure, many processes have been brought to life and we have built up a controlling area. My great team has already grown to eight jambitees and I enjoy shaping the further development together with them. Everyone is really keen to tackle things and develop the finance division further.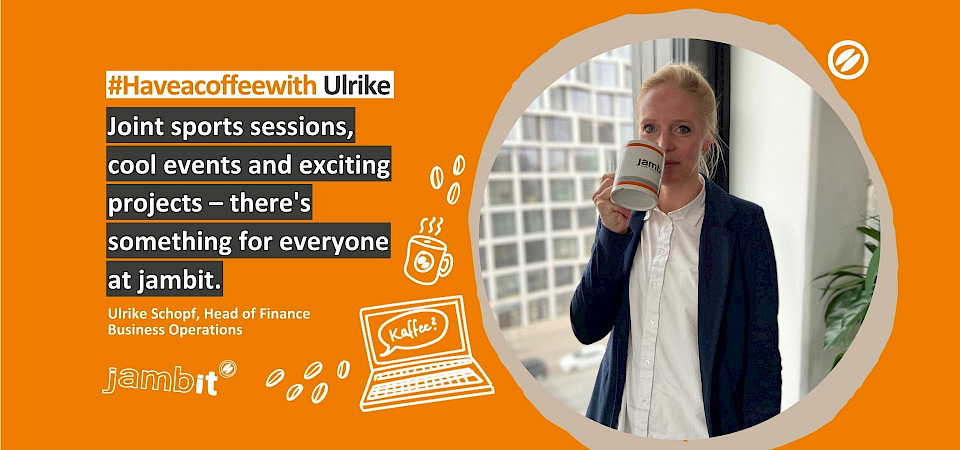 4. Which advice would you give to future applicants?
At jambit, you should definitely enjoy working in a dynamic team and be open-minded for new things, the culture and the atmosphere. The ears for new ideas are always open and you always have the opportunity to get involved. jambit offers so many benefits for the employees: whether it's joint sports sessions, cool events or exciting projects – there's something for everyone. Everyone has the chance to make a difference. And you should make the most of it! Creativity is always in demand – in all areas at jambit.
5. What has gone wrong in your career so far that you can laugh about now?
Two funny stories come to mind: I ride my bike to work every day. When I had my stand-up meeting with Markus, he suddenly asked me if the hole in my pants was intentional. The pants were torn from riding the bike and I hadn't noticed. That was quite embarrassing but I can laugh about it now.
I also accidentally set fire to the toaster in the coffee kitchen in our previous office. Since then, fire blankets have become standard equipment in our kitchens.
6. Which podcast can you recommend?
I am an absolute fan of podcasts. Whether it's while biking, running, driving, or falling asleep – I'm always listening to something. My favorites are "Handelsblatt Morning Briefing" and "Auf den Punkt" from Süddeutsche Zeitung. For financial topics, I can highly recommend "Finanzfluss" and "Finanzrocker". "Zeit Verbrechen" I also like to listen to – but this true-crime podcast is less suitable for falling asleep, but rather for staying awake.
7. What do you think will be a big tech trend in the next few years?
I have high hopes for beaming. (laughs) Then I would beam myself directly into the sun under palm trees and generally save myself a lot of commuting time. But that won't happen anytime soon, I'm afraid. But I am relatively sure that autonomous driving will become a big issue in the future – it is already in the starting blocks. I think it would be really great to be able to put my feet up while driving and use the time for other useful things. In the course of this, I also hope for more environmentally-friendly driving options.
Wanna learn more about entry opportunities at jambit?
Please feel free to contact our recruiter Tina Fischler!
* Mandatory field