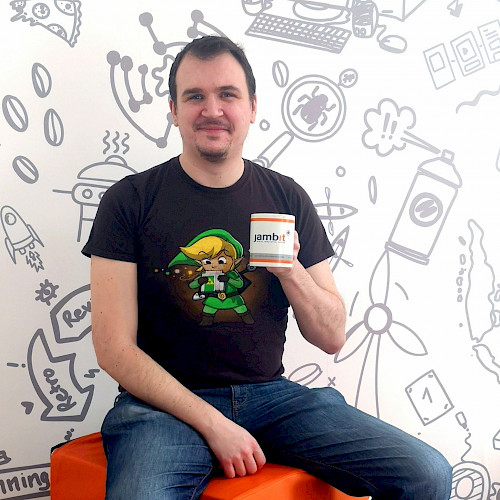 Have a coffee with Thomas Güldner
1. How do you drink your coffee?
With milk but without sugar. In the afternoon, I sometimes drink a latte macchiato or a cappuccino. But the most important thing is milk!
2. Which programming language are you and why?
I'm like JavaScript – always a surprise. Let me explain: You can experiment and do lots of funny things with JavaScript. In the end, you either experience a good or a bad surprise. In my case, for sure, no bad one hopefully. (smiling)
3. Which application you can't live without?
That's clearly Visual Studio Code! I can't live without this free tool with extremely good TypeScript support. I especially use it for my private hobby project. I am developing a smartphone gaming app, where more than 1000 gamers can play at the same time. Well, that's at least the plan. I often work with IntelliJ at jambit, but I could also imagine changing to Visual Studio Code for professional work.
4. In 2018, you applied at jambit Leipzig before there was even an office, making you one of the first employees in Leipzig. How did this happen?
I really like that story because fortune played out so well. I came back to Germany in February 2018 after I had spent a couple of years in Japan and I registered at the job center. They recently started a new program for master's degree graduates who were looking for a job. Shortly before, jambit announced that they will open a new office in Leipzig. The employment advisor thought my profile was matching. I applied for the job very fast, was invited to Munich for an interview, and already had the job before the new office even existed. Before the office opening in May 2018, the few of us jjambitees could lend a hand or two: carrying tables, hanging up pictures, wiring technology. This was also fun apart from the normal work routine in front of the laptop and we got even more connected. From the start, we had lunch, played foosball, and also made a few bicycle trips together after work. I'm still feeling this special team spirit and that's what I especially value at jambit in Leipzig.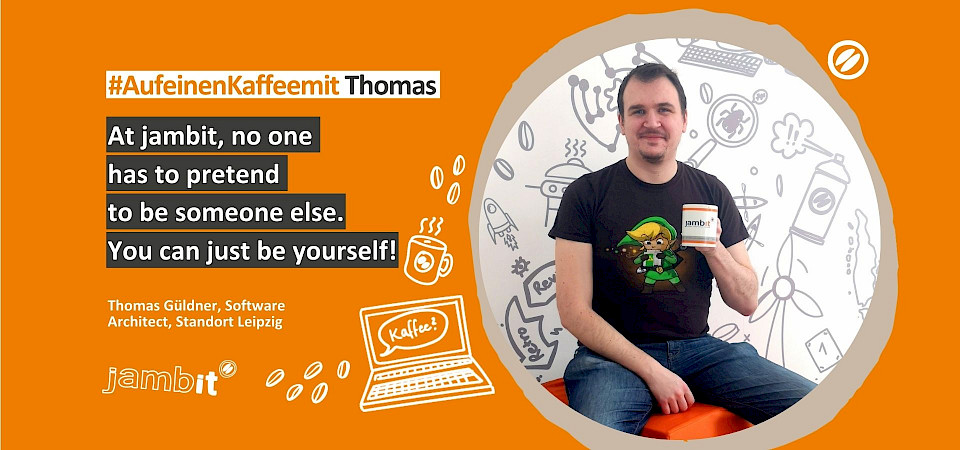 5. What has been your most exciting project at jambit so far?
On one hand, it's my last project, where we replaced a legacy system of a service platform of a well-known automotive group. It was especially exciting for me, because it was the first time that I could prove my skills as project manager. I could also learn a lot about myself at that time.
On the other hand, I want to mention my recent project. This project is unbeatable due to the extent, meaning for the customer and jambit's responsibility. We develop a corporate platform for a well-known media group. It merges all current newspaper platforms, which cooperate with the media group. On March 17, we had the big release. Fingers crossed; everything is working so far. My whole team and me as Area PO for CMS feature development are very proud. Our client is also very impressed. 100% enthusiasm.
6. Which tip would you give your former self?
Tackle tasks as early as possible! It just causes unnecessary stress if you do things last minute. That's also what my mother always tried to teach me back then, but I didn't listen. I never passed with bad grades, luckily. If I had paid attention to this earlier, I would have saved some sleepless nights, in which I studied last minute or had to write a seminar paper. The result also would have been better in the end. At least at jambit, I learned to prioritize and time my tasks better and also start early with them. In my private life, I'm still late doing some things. (laughing)
7. Which advice would you give to a future applicant?
Just be open – to people and topics. And of course, show interest and enthusiasm for topics that you are really interested in. Independent from the technology, hobby, or whatever topic is trending and you think you can impress your colleagues with. At jambit, there is space for many different interests and characters. No one has to pretend to be someone else at jambit. You can just be yourself!
Wanna learn more about our vacancies in Leipzig?
Feel free to contact our recruiter Franziska Guhr!
* Mandatory field