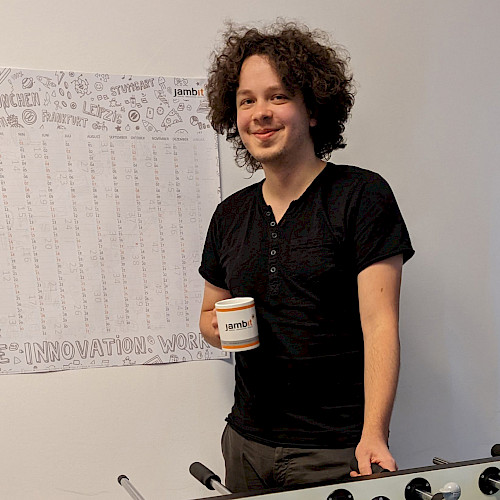 Have a coffee with Emanuel Krämer
1. How do you drink your coffee?
During the day in form of Spezi aka Coke Orange – coffee is just too bitter for me. In the past, I was used to rely on energy drinks, but today I'm fine with still water to wake up.
Pro tip: Put a glass of water out the night before, then you only have to grab it, drink it and wake up the next morning.
2. Which TV series can you recommend?
The best series of all time is definitely The Mentalist. But if you're not into crime, I can recommend Avatar – The Legend of Aang. In this animated fantasy series, important themes such as fate, violence and self-discovery are dealt with in great pictures and stories suitable for children. And let's face it, there's still a child in all of us who wants to watch cartoons. (grins)
3. Where can people find you when you're not working?
Quite a lot at home or with and at friends. I used to play a lot of foosball. I even played in the regional league. Unfortunately, just before the Bundesliga, the club disbanded and I quit. On my first day as a working student at jambit Leipzig, they held their biannual foosball tournament. After a break of five years, I played again for the first time and won the cup. Since then, there have been other tournaments and I am still the reigning winner. I even took part in the 2022 Munich fall tournament and won... All I need now is Stuttgart for the jambit title in Germany. (laughs)
In the meantime, I have even become the organizer of the biannual foosball tournament in Leipzig. With my tournament experience, I know the requirements and procedures and could bring in game modes and the necessary tool. Besides, I like to organize in general. Last time, I also offered a small training phase a few weeks before the tournament, in which I shared a few tips and tricks to get the players fit.
4. You are involved with many initiatives. What are they and what motivates you?
In addition to the foosball tournament, I have initiated a longer table tennis tournament and, together with two colleagues, a multicompetitive tournament. The scores from all the tournaments that take place, such as table tennis and darts, and competitive events like laser tag and karaoke lecture are included in this. I am also active in the board game group. It's great when a lot of jambitees end up joining in and we spend funny evenings together.
I also find the topic of knowledge management very exciting. Among other things, I participate as a moderator in our Leipzig Lightning Talks, in which we present a wide variety of topics around tools and technologies in small and intimate groups in max. 5 minutes every week. This way, small, useful "tidbits of knowledge" can be shared in an uncomplicated way. I think that's a great thing.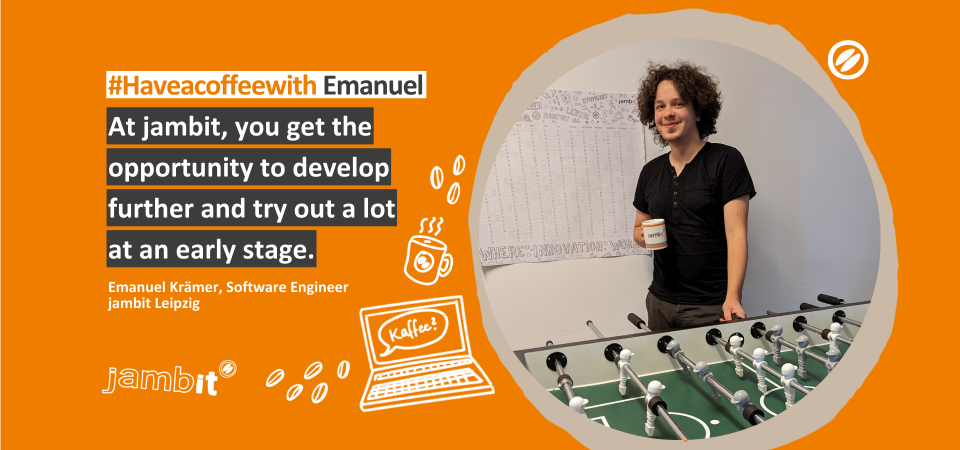 5. How did you actually get into software development?
I first studied math. Due to the lack of career prospects, I changed to teaching math and physics. Later, I stuck with math and computer science. During my studies, my passion for computer science was awakened and I deepened it. At the same time, I started to develop games. There are still a few waiting to be finished – let's see when I'll get around to it. Finally at the job fair WIK 2021, I got to know jambit, applied and here I am now.
6. You started as a working student at jambit. How did your path continue?
I switched to a permanent position after just three months as a working student. At the same time, I wrote my bachelor thesis. In the last year, I have done everything from classic software engineering tasks, full stack development, proxy PO, to project management and was even able to get a taste of being a Scrum Master. I didn't have a set plan beforehand of where I wanted to go or what I wanted to achieve in that year, but at jambit I had the opportunity to develop further and try out a lot at an early stage. And my path certainly continues.
7. Which advice would you give to future applicants?
As already briefly touched upon, you can try yourself out at jambit. So if you want to try out different roles, jambit is the right place for you. In addition, you can contribute your own ideas and initiatives in events, culture and knowledge management. I couldn't imagine that so many of those things would be implemented and realized in the end.
I also advise applicants to get to know the office and employees in advance, for example at Meetups. And if you become a jambitee for sure, you can take part in some events before your actual entry date. In this way, you're almost part of the team before you've even started. I can only recommend it.
You would like to learn more about jambit?
Feel free to contact our recruiter Franziska!
* Mandatory field